The International Trade Blog
Export Compliance
Understanding ITAR: The International Traffic in Arms Regulations
On: October 26, 2022 | By: Kathryn Toomey | 4 min. read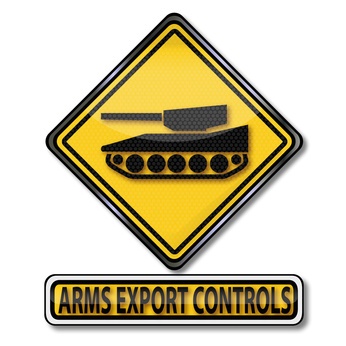 A variety of U.S. laws and regulations exist to monitor and control exports from the United States. These laws and regulations are designed to comply with trade agreements, embargoes, sanctions and other political measures the U.S. has with other countries. Most importantly, the laws and regulations are designed to protect U.S. national security and keep the most sensitive information and technology out of the wrong hands.
This is where the International Traffic in Arms Regulations (ITAR) come in. ITAR is part of a web of laws and regulations prohibiting U.S. individuals and companies from engaging in business with prohibited/sanctioned countries and persons for various economic, financial, anti-terrorism and human rights reasons.
The ITAR Regulatory Framework
To understand ITAR, you must first understand the regulatory framework of export laws of the United States. In simplest terms, the Export Administration Act (EAA) of 1979 as amended under 50 U.S.C. app 2401-2420 and 50 U.S.C. 1701-1706 under Executive Order 12924 is the basis for all U.S. export controls. In August 2001, the EAA technically expired and President George W. Bush extended it by virtue of Executive Order 13222. In 2007, he signed the International Economic Powers Enhancement Act (IEEPA), which continued the EAA and increased penalties for violations.
The Export Administration Regulations (EAR) of the United States implements the EAA and is managed by the Bureau of Industry and Security (BIS) under the Department of Commerce. The EAR covers all commerce and dual-use, non-military items. Articles, technology and services that exceed the EAR criteria are deemed to be controlled by the Department of State, unless otherwise determined by a formal commodity jurisdiction (CJ) request.
The Arms Export Control Act (AECA) authorizes the president to designate items that shall be considered as defense articles and services, and these items constitute the United States Munitions List (USML). The ITAR implements the AECA and is managed by the Directorate of Defense Trade Control (DDTC) under the Department of State. The ITAR covers all military articles, services and technologies.
Additionally, there are other regulations under U.S. legal authority such as, but not limited to, Customs and Border Protection (CBP); Office of Foreign Assets Control (OFAC); Bureau of Alcohol, Tobacco and Firearms (BATF); and Department of Homeland Security (DHS), which jointly and severally add to the EAR and ITAR controls.
The 11 Parts of ITAR
To clarify the relationship between the USML and ITAR, the USML is a list of articles and/or services that are specifically designed, developed, configured, adapted or modified for a military application and do not have a predominant civil application or civil performance equivalent; have significant military or intelligence applicability; and are determined or may be determined as a defense article or defense service.
The ITAR is divided into 11 parts:
Part 120 – Purpose and Definitions
Part 121 – USML
Part 122 – Registration of Manufacturers and Exporters
Part 123 – Licenses for the Export of Defense Articles
Part 124 – Agreements, Off-Shore Procurement and Other Defense Services
Part 125 – Licenses for the Export of Technical Data and Classified Defense Articles
Part 126 – General Policies and Provisions
Part 127 – Violations and Penalties
Part 128 – Administrative Procedures
Part 129 – Registration and Licensing of Brokers
Part 130 – Political Contributions, Fees and Commissions
DDTC has just begun the process of reorganizing the ITAR, beginning with changes in Part 120 that went into effect in September 2022. The DDTC's stated purpose is to clarify and better organize the regulations, and they expect this to be a "multi-year, multi-rule project" that will require companies to stay apprised of the changes and update their internal compliance procedures accordingly.
The ITAR is vague and open to interpretation. That is not by mistake but by design to allow the government the most flexibility and control over the military articles and services and, again, for anti-terrorism and to protect U.S. national security. ITAR covers:
Companies that deal directly in defense articles and services.
Manufacturers who produce defense articles and services (even if they never export their articles or services).
Brokers and agents who connect buyers and sellers.
Collaborators with non-U.S. persons and companies, including universities or groups studying USML-controlled articles, technology and services.
Anyone dealing with all other goods, services and technologies that exceed the Commerce control under the EAR or that have a specific military application.
You need to do more than just read a few articles to really understand ITAR and the implications it may have on your company's exports. While you can review the archive of articles I've written on the topic for the International Trade Blog, I hope you will use the information in these articles as a springboard to learn more about the topic. Doing so will allow you to ask the questions necessary to avoid fines, penalties and imprisonment under ITAR and other export regulations.
---
Like what you read? Subscribe today to the International Trade Blog to get the latest news and tips for exporters and importers delivered to your inbox.
This post was originally published in January 2009 and has been updated to include current information, links and formatting.
About the Author: Kathryn Toomey
Kathryn has twice founded a run a successful global trade compliance and business consulting firm. She is a passionate leader that believes in creating positive and healthy work environments where all employees are supported and encouraged to be their personal best.
She has nearly 30 years of expertise in regulatory affairs, global trade compliance, risk management, manufacturing, supply chain operations, and defense program management, and is recognized as the go-to leader who effortlessly goes from the boardroom to the shop floor and turns challenging situations into successful win-win solutions.