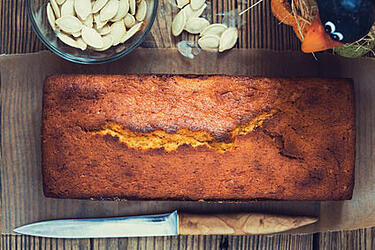 The golden glow of an early autumn sunset shone through my kitchen window. The smell of pumpkin bread wafted through the kitchen, and I quickly removed it from the oven as the timer buzzed.
Eagerly, I took a knife, cut a thick slice of the bread, covered it with a pat of butter, and took a big bite.
And then, I spit it out.
The bread tasted less like pumpkin and more like paste… and I knew why. In my haste to get to the finish line, I'd neglected the directions. I'd put in too much flour and baking soda and not enough sugar, and in the process, I'd ruined my final product.
That's disappointing when you're baking a loaf of bread, but even more so in business. I often see a similar scenario occur in our industry. In their haste to ship out a product, exporters neglect to convey specific instructions to their forwarders, and the results are less than desirable.
That's precisely why a Shipper's Letter of Instruction is so important.
What is the Shipper's Letter of Instruction (SLI)?
An SLI is an optional document that conveys specific instructions from exporters to their agents (usually freight forwarders) for ocean and air shipments. Think of it as a letter that tells your agent/forwarder how and where they need to send your products.
It's purpose is three-fold:
1. To provide transportation and documentation instructions;
2. To provide export control and reporting information; and
3. To convey authorization to the agent to transmit Electronic Export Information (EEI) to the Automated Export System (AES).
Who Uses the SLI?
The Shipper's Letter of Instruction is completed by the exporter in advance and is sent to the freight forwarder with the other export paperwork. It's really a cover memo for the rest of the paperwork and a summary of information your forwarders need to know.
How Does Using an SLI Benefit You?
You don't have to use an SLI, but, as with any set of good instructions or recipe, providing thorough directions makes sure your forwarders know exactly how you want and expect them to treat and manage your shipment.
Keep in mind that it takes only a few minutes to complete an SLI with Shipping Solutions export documentation software, and that could be time well spent if your instructions end up saving your freight forwarder from making a mistake that could delay your shipment or your paycheck.
What Should an SLI Include?
In 2014 the National Customs Broker and Freight Forwarders Association of America (NCBFAA) introduced a model SLI that includes the data forwarders need to meet regulatory and shipping requirements. While this suggested format isn't a requirement, the NCBFAA hopes it provides some consistency in what and how data is provided by the exporter to the forwarder.
Now is a good time to check your forms to make sure you're using a version similar to the new SLI in NCBFAA format. At the very least, whatever version of an SLI that you use should include the additional data fields added to the Foreign Trade Regulations in 2014 that are needed to authorize and allow a forwarder to transmit Electronic Export Information (EEI) to the Automated Export System (AES) on the shipper's behalf.
What's Next?
Using the right version of the form doesn't provide much help if you are entering the wrong information. Shipping Solutions export software guides you through the process of completing an SLI along with all the other export documents you may need. And it does it efficiently, so you never have to enter the same information over and over again as you complete the various forms.
---
This article was first published in October 2014 and has been updated to include current information, links and formatting.