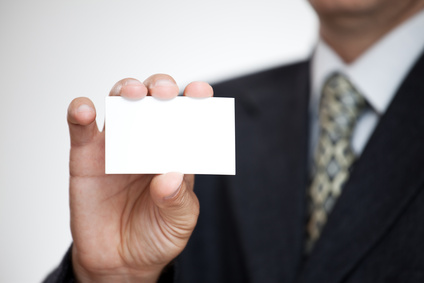 Even in today's digital age, the exchange of business cards remains a common practice. A business card is an effective tool for both broadening your network of contacts and promoting your company. This is especially true for a small and medium-size company looking to expand internationally.
In many countries, business cards are exchanged at the onset of introductions and thus play a role in fostering long-term business relations. A business card is a reflection of your company and can create an important first impression. In fact, when handled effectively, it can be one of your company's most valuable marketing tools to promote and further the credibility of your business.
Here are some suggestions for using business cards when traveling overseas.
Include the Right Details
In addition to the primary details—company, name, address, phone, fax, email and website—be sure to include your title. Doing so indicates your rank and hence status within your organization. Include USA in your address to lessen the chance for confusion when presenting your card. Also, in many parts of Europe business people include their advanced degrees on their cards. Based on the industry you work in, you may want to follow suit.
Include a Short Tagline
If you are a new business and your company name does not indicate your line of business, a tagline may be just what is needed. Just keep it brief. Some examples would be "custom cable manufacturing" or "on-site machining solutions."
Have the Cards Professionally Printed
You may want to save money by making your own cards in-house rather than using a professional printer, but the difference will be noticeable. First impressions count, and business cards are often one of the initial ways potential clients learn of your company. When printing, remember that heavier paper and embossed lettering demonstrate quality and reliability. A wide range of reasonable options are available for printing cards, many even available online, so don't skimp.
Have Your Card Details Translated
In many countries, the back of the card is not blank but shows the translated version of your card details. When traveling overseas, present this side of the card face-up. If you travel to a range of regions, you may want variations of your card in different languages. If you are traveling to Chile, you would have one side in English and the other in Spanish; when traveling to Brazil, the translated side would be in Portuguese. Just be sure to have an experienced translator do the translation for you and a printer who can support foreign language alphabets.
Use a Business Card Holder
It is worth having a separate case or card holder just for business cards. This both looks professional and keeps your cards organized, reducing the risk of pulling a wrinkled card from a back pocket. Not only can you keep you own cards in there, but you can place cards you receive from your prospects in the back of the holder so they won't be misplaced.
Have Cards on Hand
In some cases that means plenty of cards. A common complaint of Americans exhibiting at their first overseas tradeshow in Asia is too often they run out of business cards just when a key prospect appears. Even though you may be selective with whom you exchange cards, prepare to bring an abundance. Likewise, keep a few in reserve so you are not caught on the spot empty handed. In some cases, receiving a business card without presenting one in turn hurts your chances for establishing a business relationship.
Learn the Appropriate Business Etiquette
It is not uncommon in the U.S. to hand out business cards in a meeting as if dealing cards in a poker game. But for international visitors, the exchange of business cards may have its own protocol, such as presenting a card with your right hand only in the Middle East or using two hands in Japan. In many parts of Asia, writing on the card and sticking it in your back pocket immediately upon receiving it shows a lack of sensitivity. So learn the appropriate etiquette in the country before traveling.
Store the Cards You Collect
It does no good to collect business cards if you cannot locate details in a prompt manner. When you come back from an overseas trip, you may have a stack of cards that needs to be sorted. Many scanner and software options exist for scanning in your cards, such as CardScan or CardSnap. This enables you to readily organize and search card details, sort as needed, and easily contact people afterwards.
Success in any new business venture is directly impacted by the range of contacts you know and, just as importantly, who know you. Business cards can play a key role in growing your network of contacts. As you expand your network overseas, a professional quality business card presented in the proper manner at the appropriate time can create a critical first impression. So spend the time and plan accordingly.
---
FRANCIS "CHIP" PETERS is the Commercial Counselor for the U.S. Commercial Service at the U.S. Embassy in Nairobi, Kenya.
About the U.S. Commercial Service
As the trade promotion unit of the U.S. Department of Commerce's International Trade Administration, the U.S. Commercial Service connects U.S. businesses with international buyers through a network of offices in 108 U.S. cities and U.S. Embassies and Consulates in more than 70 countries. Services include export counseling, market research, business matchmaking, participation in trade events, international partner searches, advocacy and more.
---
This post was originally published in March 2013 and has been updated to include current information, links and formatting.