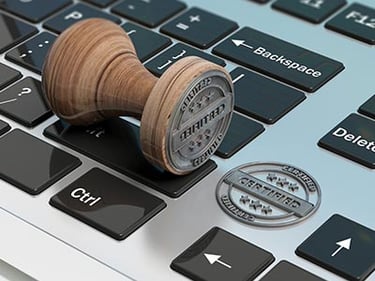 Have you heard about electronic certificates of origin (eCO) available for exporters? The online version of the certificate of origin form is cheaper and easier to complete than the traditional paper format—and equally secure.
In case you missed it, here are 3 Reasons Exporters Should Use an Electronic Certificate Of Origin. Here's information on how to complete your eCO online.
Completing a Certificate of Origin Online
For almost a century, chambers of commerce have been the organizations most exporters have relied upon to sign and stamp their certificates of origin. The old way of doing this was tedious. It required exporting companies to:
Manually create the certificate of origin form.
Deliver or courier it to the chamber.
Wait for an appropriate staff member to review and certify the certificate.
Return it to the exporter's office.
Forward the certificate of origin by international courier to the importer.
The traditional process was (and is!) expensive and time-consuming when you add in all the delivery and courier fees. But the online version—the electronic certificate of origin—is an easier way to get the certificate you need.
How to Create an Electronic Certificate of Origin
1. Fill out and submit the registration form on the Shipping Solutions website. There is no cost and no obligation until your first electronic certificate of origin is approved.
2. Once your registration form has been submitted, you will receive your eCO login credentials and user guide by email within 24 hours.
3. Login to the eCO portal to enter your export shipment details. Click Submit when ready.
In just a few hours, you'll receive email notification that your eCO is approved, certified and ready to use.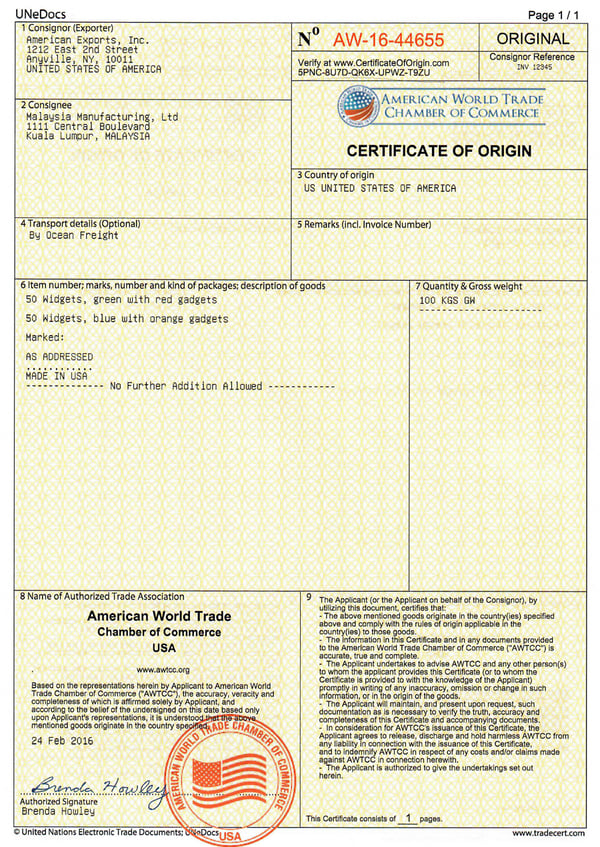 Time Savings
Complete a certificate in hours rather than days. Print certified documents at your own desk!
Cost Savings
$25 - $50 for an electronic certificate of origin vs. $100 - $150 for a paper certificate.
There's no doubt that creating an electronic certificate of origin is faster and easier than doing it the traditional way! Our secure web portal ensures your documents stay safe.
Create Your eCO Now!
Ready to start using electronic certificates of origin? Head to our certificates of origin page and fill out this form to begin generating certificates you can use for your export shipment.
If you aren't interested in or don't need an electronic version of the certificate of origin form, you can download and print a PDF version of the form.