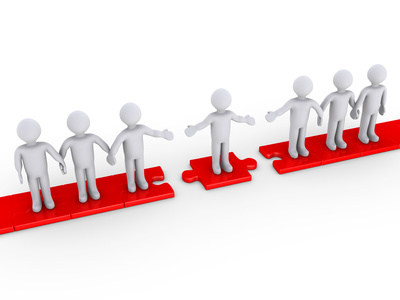 A middleman is a person or organization that provides services and offers something of value to both buyer and seller. In other words, a bona fide middle person bridges the gap between suppliers and buyers by initiating quality contacts, providing sourcing services for buyers, assuring reliability of suppliers, and ensuring a continuous supply of products.
This matchmaking process can be hard work and deserves to be appropriately compensated. But once the suitors have been introduced and the relationship has been consummated, how can you, as a middleman, protect yourself from being cut out of the deal?
Unfortunately, there's no way to ensure 100% fair treatment all the time. However, you can employ some techniques to discourage a supplier and/or buyer from taking advantage of you.
Hugh Henderson, President of HCI International in Lexington, Virginia, offers this advice:
Make yourself perceived as an indispensable employee by emphasizing the services you are providing to both parties. Remind them that the amount of money they pay you, as the middleman, is less than they can perform those services themselves. Demonstrate that you are the best person to structure the best deal for each party.
Contracting with the Buyer and Seller
One of the most effective ways to protect yourself is to obtain an exclusive contract with the manufacturer or the supplier. This contract should ensure that you receive a fee or commission on all business you generate within a defined set of parameters such as geographic area or industrial application.
Wise and experienced traders take this a step further. They also obtain an exclusive agreement from the buyer that stipulates a predetermined fee or commission payable to the trader for services rendered.
The more you control international commercial transitions, the better position you are in to protect yourself and assure payment for your services. Strive to act as a filter for every possible communication between the seller and buyer in order to keep in the loop from beginning to end on all transactions.
For example, you may want to act as the exporter of record in all transactions. Consider doing all pertinent paperwork and documentation in order to maintain control over your supplier.
The ultimate way to protect yourself is to purchase the product directly from the supplier at an OEM discount. You can then sell directly to the end user at a markup and manage all paperwork.
I have worked for many years with a three-man company that buys and sells compressors, valves, actuators and flow control industrial apparatus to a pipeline in Asia. The owner of this company explained the above technique and stated that his profits last year exceeded several million dollars; not bad for a three-man organization that neither manufactures nor inventories any product whatsoever but simply provides middleman services.
Remember, it is a natural phenomenon for buyers and sellers to connect directly. By offering value to both parties, controlling the transaction, obtaining exclusivity in written agreements, and passing title to the goods through your organization, you will be in a good position to benefit financially as a middleman in international commerce.
---
This article was first published in December 2002 and has been updated to include current information and formatting.