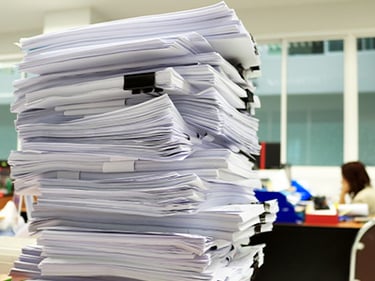 For exporters, OFAC compliance is non-negotiable: If you're shipping to one of the people or companies identified by OFAC, you must be aware of the associated sanctions for every single shipment.
Unfortunately, this isn't as simple as checking one list one time. OFAC lists may change at any time based on current events or changes in the political landscape.
And there isn't just one single list that needs to be checked. The Federal Register compiles at least 125 relevant lists every day; and it's up to you to keep up with them. Fortunately, there are best practices that can help you stay compliant with regulations. Read about them below.
What are OFAC regulations?
The Office of Foreign Assets Control (OFAC) administers and enforces economic and trade sanctions based on U.S. foreign policy and national security goals. The OFAC is charged with creating sanctions against the following:
Targeted foreign countries and regimes.
Terrorists.
International narcotics traffickers.
Those engaged in activities related to the proliferation of weapons of mass destruction and other threats to the national security, foreign policy, or economy of the United States.
As I discuss in our article, What Are the OFAC regulations?, regulations can also be directed against people, companies, charities and groups considered to be enemies of the U.S. or threats to national security.
OFAC sanctions lists include the following:
A complete list of sanctions programs is available on the OFAC website.
Consequences for Noncompliance
Noncompliance with OFAC regulations may significantly impact your ability to conduct future transactions, as you could be subject to a steep monetary penalty and potentially even jail time. And compliance isn't something only for bigger companies—even small and medium-sized exporters are liable, too.
With compliance, there's no such thing as "too small to be noticed." All companies must exercise their due diligence in meeting export control responsibilities.

OFAC Compliance Screening Best Practices
OFAC screening isn't as simple as checking a name against a file you have saved on your computer. The best practices that follow are important to ensuring your compliance.
1. Review Specially Designated Nationals
OFAC sanctions include a list of individuals and companies owned or controlled by, or acting for or on behalf of, targeted countries, called the Specially Designated Nationals (SDN) List. This list also includes individuals, groups, and entities, such as terrorists and narcotics traffickers designated under programs that are not country-specific. The assets of SDNs are blocked, and U.S. persons are generally prohibited from dealing with them.
The EAR require a license for exports or reexports to any party in any entry on this list that contains any of the suffixes 'SDGT', 'SDT', 'FTO', 'IRAQ2' or 'NPWMD'. Specially Designated Nationals list should be reviewed for every export shipment.
2. Understand the 50 Percent Rule
OFAC's 50 Percent Rule blocks property and interests of entities owned 50% or more by parties sanctioned by the Treasury Department, even if they are not sanctioned by name on the list. The most recent evolution of the 50 Percent Rule now means the rule applies when an entity is owned by more than one person under the SDN list if the combined total is more than 50% (for example, two people listed on the list each own 25% of a company).
This means your customer as an entity may not be blocked, but you could be in violation if your customer is owned, in aggregate, directly or indirectly by a blocked party or parties with a 50% or more ownership stake.
The 50 Percent Rule highlights that OFAC compliance screening requires more than simply looking up names of people or companies on a list—it requires making determinations about who owns companies.
3. Track Entities That Control Less Than 50 Percent
Even if they don't qualify yet, at some point, companies or persons may own or control more of a company, thus qualifying under the 50 Percent Rule. This is something exporters should stay aware of! The last time I checked, there are more than 200 entities covered by this rule that don't appear specifically on this list.
4. Use Restricted Party Screening Software
Using Restricted Party Screening software is the best way to ensure you're following the best practices for OFAC compliance every single time you export.
Shipping Solutions' Restricted Party Screening Wizard is OFAC compliance software that specifically addresses the issues addressed above. Rather than checking each of these lists individually, our Restricted Party Screening Wizard makes it easy for you to check more than 150 lists at once, right from your computer desktop. And because this information is stored online on our secure web server, you can be sure that you are accessing the most current information available.
Sign up now for a free trial subscription to the Restricted Party Screening Wizard.
Of course, tools are great, and they make our lives much easier (especially as exporters)—but they're still just tools. The final, and most important, part of the export compliance puzzle is you. It is your responsibility to do your due diligence—including screening any potential customers against OFAC sanctioned lists and all restricted parties, and documenting your entire process along the way, in your export compliance program.