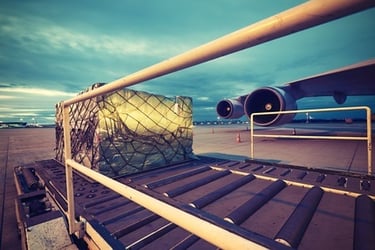 Ask anyone on the street to define "export," and you'll almost certainly get an answer, and it will probably be accurate (but not complete). Read more at Surprise! You May Be an Exporter Without Even Knowing It.
Ask those same people to define "reexport," and you're bound to get some interesting (and confusing) answers. Really, go try it. It's an interesting way to spend your lunch hour.
According to the U.S. Bureau of Industry and Security (BIS), a reexport is "the shipment or transmission of an item subject to the Export Administration Regulations (EAR) from one foreign country (i.e., a country other than the United States) to another foreign country. A reexport also occurs when there is 'release' of technology or software (source code) subject to the EAR in one foreign country to a national of another foreign country."
Why is that important? If your item, technology or software requires a license before you can export it from the United States to a specific country (let's call it Country C), that same item, technology or software requires a license to be reexported from it's current non-U.S. country to that same Country C. And that's true whether we're talking about finished goods or parts that are used to make finished goods.
Important Reexport Facts
Your reexport is subject to the EAR if it is of U.S. origin wherever it's located, unless:
It is exclusively controlled for reexport by another U.S. government agency.
It is publicly available technology or software, except encryption.
If you are a foreign company that incorporates U.S.-origin parts or components in a foreign commodity, you need to do the following:
Classify the U.S.-origin parts or components exported to you according to the classification system set forth in the EAR. The U.S. exporter may be able to assist you in determining the Export Control Classification Number (ECCN).
Determine if the U.S. parts or components are "controlled content." Per the BIS, U.S. controlled content requires a U.S. license if it were to be reexported as separate parts or components to the country of ultimate destination.
Determine if the U.S. controlled content is greater than 25% of the value of your finished foreign product. You'll use the de minimis rule to make this determination.
De Minimis Rule for Export Control
De minimis is defined by the EAR as foreign-made items incorporating, commingled with, or drawn from controlled U.S. origin items exceeding:
10% for Cuba, North Korea, Sudan, Syria and Iran.
25% for all other destinations.
If the U.S. controlled content is 25% or less of the value of your finished product (or 10% or less for applicable countries), you qualify for the de minimis exception, and your product is not subject to the EAR.
If the controlled content is greater than 25% (or 10% for applicable countries), your product is subject to the EAR, which means you need to:

More Information about Reexport Regulations
Reexports and reexport controls can be confusing—and while this article is intended to give you a good summary of the topic, there is a lot to know that we can't cover in just one article.
The BIS has several tools and publications that can help you better understand reexports starting with the Guidance on Reexports web page. If you need help with a reexport license or product classification, contact BIS or speak with someone at the U.S. Commercial Service Office nearest you.
And check out these BIS publications:
---
This article was first published in April 2016 and has been updated to include current information, links and formatting.