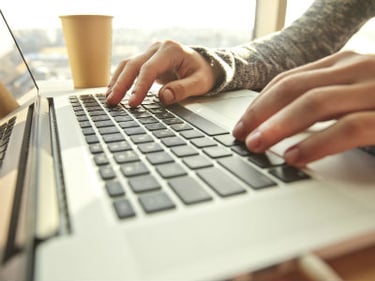 "I am spending way too much time creating exporting documents—half my day is gone by the time I finish creating all the required forms."
"Creating export forms is tedious! Just one little mistake or inaccuracy on one form can hold up our goods (or worse)—and with all the forms I have to make, there's a lot of room for error!"
"I'm panicking because I don't know if our company is in compliance with export regulations for every shipment we do."
"Our team has to keep track of so many different documents, forms, records, etc. for shipping. It's become too much to manage, and I am frustrated I can't keep it all in one place."
Sound familiar? Many of our customers found Shipping Solutions export documentation software because they were facing one (or all) of the problems I've listed above. Small- to medium-sized companies represent 97% of all exporters, but until Shipping Solutions software was created, there was no affordable software solution for companies of this size. Now, with Shipping Solutions, you don't have to be a major corporation to automate your export documentation process.
Shipping Software That Actually Works
Shipping Solutions dramatically reduces the time it takes to complete your export forms, file through AES, and run your export compliance screenings. Our all-in-one, export documentation solution helps you:
1. Create Export Forms Five-Times Faster
Enter your information once and the software automatically formats and places it on the right spot on the right forms every time. Shipping Solutions also improves the accuracy of your export paperwork by reducing typos and removing inconsistencies that slow down shipments and delay payments.
2. File through the Automated Export System (AES)
Instead of paying hundreds of dollars for a third party to file for you, use Shipping Solutions and file through AES yourself. It's the best way to make sure accurate information gets filed—and it's easy! Or, if you are repeatedly retyping all your export shipment information directly on the Automated Commercial Environment (ACE) portal, you're wasting time!
With Shipping Solutions, you can simply click a button to submit your export information to AES without any redundant data entry. Shipping Solutions makes it easy to file yourself by prompting you to enter all the required information before you submit a form to AES.
3. Stay Compliant with Current U.S. Export Regulations
Make sure more than just your export documents are done right. Shipping Solutions' Export Compliance Module includes three tools—Restricted Party Screening, Export License Determination, and Document Determination—for avoiding fines and other penalties that could cost your company dearly.
Request a Free Demo
These are just three of the ways Shipping Solutions export documentation software has radically improved the export forms process for thousands of exporters like you. To see how Shipping Solutions can help you specifically, fill out the form to the right to schedule a free demonstration of the software.
Not quite ready for a demo? Depending on your needs, another type of software might also be a valuable addition to your toolset. Keep reading to learn more about seven other types of shipping software products, what they are used for, and who might use them.
7 Other Shipping Software Products and Their Uses
1. Multi-Carrier Shipping System Software
Multi-carrier shipping software allows shippers to select carriers and prepare documents from a single system, which allows shippers and exporters to switch between carriers easily. It allows shippers to compare carriers to secure the best rates, transit times, and arrival dates for each shipment individually. This shipping software is used by shippers and exporters of high volume and/or high value goods as well as time-sensitive global shippers.
2. Freight Broker Software
Brokers who need help managing their customers' freight, invoicing customers and paying carriers likely need to purchase freight broker software. Freight broker software is designed to allow freight brokers to easily enter loads, source and qualify carriers, dispatch drivers, invoice customers and pay carriers. As you may have guessed by the name, this type of software is intended for freight brokers.
3. Freight Forwarding Software
These programs manage a freight forwarding business, including the documents, email templates, notifications to customers, dashboards, and other business tools a forwarder needs to be successful.
4. Freight Management System Software
Also known as a transportation management system, a freight management system helps shippers streamline supply chain operations, simplify the shipping process, and increase logistical efficiency. It is a subset of supply chain management that deals with the planning, execution and optimization of the physical movements of goods.
In simpler terms, it's a logistics platform that enables users to manage and optimize the daily operations of their transportation fleets. Shippers and logistics service providers, including manufacturers, distributors, eCommerce organizations, wholesalers, retailers and third-party logistics companies use this type of software.
5. eCommerce Shipping Software
eCommerce shipping software helps companies organize their eCommerce data, integrate cloud systems, configure business rules, and consider important factors like consumer buying decisions and shipping strategies. It is intended to help eCommerce businesses cut down on overall costs and improve efficiency with advanced inventory management and import/export options. eCommerce shipping software can be used by eCommerce business owners who ship domestically and export.
6. Shipment Tracking Software
This software allows shippers and exporters to see where their shipments are at every point in a shipment. There are several types of shipment tracking software products depending on shippers' needs, from land to air to sea (or any combination thereof). Ocean container tracking software can track supply chain shipping containers; certain types allow shippers and exporters to find a specific voyage, book containers, submit shipping instructions, track container movement, manage ocean freight rates, compare container rates, and more.
Shipment tracking software is useful for both shippers and exporters who want a clear look at where their freight is at every point in its journey.
7. Shipping Label Software
A quick Google search will provide myriad options for shipping label software, templates, printables, etc. that shippers and exporters can use for their goods and freight. Shipping label software makes it easy for shippers to create and print shipping labels right from their desktops.
While it may seem simple to use this type of shipping software (and in many cases, it is), exporters and shippers alike must keep in mind that export shipping cartons and containers have specific markings and labeling that must:
Meet shipping regulations
Ensure proper handling
Conceal the identity of the contents
Help receivers identify shipments
Ensure compliance with environmental and safety standards
Users of shipping label software must be aware of their goods' shipping label requirements.