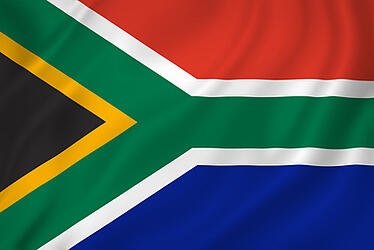 In 2001, Goldman Sachs economist Jim O'Neill coined the term BRIC to identify four large emerging economies and describe their geopolitical influence in years to come.
The BRIC economies (Brazil, Russia, India and China) accounted for approximately half of global growth between 2000 and 2008 and are expected to account for 61% of global growth in 2014, according to research by the International Monetary Fund (IMF).
Not surprisingly, South Africa, the largest economy on the African continent, was recently invited to join this group. Now the powerful group of emerging economies can be proudly referred to as BRICS. South Africa's invitation by BRIC to join BRICS as a full member is an affirmation of its status as part of the dynamically evolving world economy. Membership has the potential to boost investment and trade opportunities for South Africa.
I have already written about the challenges of marketing in BRIC economies. Now it is time to discuss South Africa.
An Introduction to South Africa
Located at the southern tip of the continent of Africa, South Africa is a middle-income emerging market with an abundant supply of natural and labor resources; well-developed financial, legal, communications, energy and transportation sectors; a stock exchange that is the 18th largest in the world; and a modern infrastructure supporting a relatively efficient distribution of goods to major urban centers throughout the region.
South Africans had an estimated per capita income of $10,700 in 2010, and the country is projected to be the seventh fastest growing economy by the year 2050 with an average annual growth rate of five percent, as per projections by consultancy firm PwC in its report, The World in 2050.
With a wealth of natural resources including gold, chromium, antimony, coal, iron ore, manganese nickel, phosphates, tin, uranium, gem diamonds, platinum, copper, and natural gas, South Africa promotes and supports its mining industry. As an importer of products ranging from pharmaceuticals to telecommunications and a host of other industries in between, South Africa is creating opportunities for global markets for a multitude of products.
South Africa imports machinery and equipment, chemicals, petroleum products, scientific instruments, and foodstuffs. South Africa also offers opportunities to invest in tourism and recreational facilities, aviation, mohair, agra processing, agriculture and solar, electronic manufacturing, golf courses, housing developments, biotechnology, and wind technology.
International companies that have already chosen South Africa as a business process outsourcing (BPO) destination include IBM, Fujitsu, Siemens, Lufthansa, Virgin, Sykes, Avis and the Car Phone Warehouse. The BPO industry focuses on sectors including financial services, insurance and telecommunications, with outsourced processes including after-sales services, data capture and conversion, accounting, benefits administration, human resource functions, and website design and development.
South Africa: The Value Proposition
South Africa's scenic beauty, magnificent outdoors, sunny climate, cultural diversity, breathtaking scenery, acres of golf courses, and reputation for delivering value for money have made it one of the world's fastest growing leisure—and business—travel destinations. Little wonder South Africa is increasingly becoming an ideal location for international congresses and conventions.
World-class venues and a supporting infrastructure, top international events, and South Africans' passion for sport combine to make the country a huge draw for sports fans as well. More than 10% of foreign tourists come to South Africa to watch or participate in sporting events, with spectators accounting for 60% to 80% of these arrivals.
---
---
According to the Department of Tourism, the 2010 World Cup showcased the country to an international audience of approximately 32 million viewers and introduced South Africa to non-traditional markets in Latin America, Eastern Europe, and Asia.
In addition, South Africa boasts a strategic location, a favorable regulatory environment, a sophisticated financial infrastructure, a well-developed transportation system, an established manufacturing base, and a sophisticated information technology structure. The country's favorable demographics and rising middle class make it an attractive market opportunity for consumer as well as business-to-business products and services.
Strategic Location
South Africa is a gateway to the rest of Africa. This country accounts for six percent of the population, 18% of the total gross domestic product, and 50% of the purchasing power on the continent, according to U.S. Commercial Service estimates. South Africa is the best entry point into the bigger African market, and most companies are using it to test the waters before a full-fledged dive into Africa.
Major shipping lanes pass along the South African coastline in the south Atlantic and Indian oceans. Approximately 96% of the country's exports are conveyed by sea, and seven commercial ports are conduits for trade between South Africa and its Southern African partners.
Favorable Regulatory Environment
Since the World Trade Organization's (WTO) Uruguay Round in 1994, Southern African Customs Union (SACU) countries, led by South Africa, have reformed and simplified their common tariff structure. Tariff rates have been reduced from a simple average of more than 20% to 5.8%. Notwithstanding these reforms, importers have complained that the SACU tariff schedule remains complex and can create uncertainty.
The government has developed a number of policies and has passed a number of laws that aim to alleviate the pressures of social imbalances on natural resources and to promote sustainable development. The government has also initiated several housing development, electrification, and water services programs, as well as identified focal areas for economic development and job creation.
South Africa's intellectual property laws and practices generally conform to those of developed countries, except in the area of geographical indications where there are notable deficiencies.
Sophisticated Financial Sector
South Africa's financial services sector, backed by a sound regulatory and legal framework, is superb. Dozens of domestic and foreign institutions provide a full range of services: commercial, retail and merchant banking; mortgage lending; insurance; and investment.
Foreign banks are well represented and electronic banking facilities have nationwide networks of automatic teller machines (ATMs) and internet banking facilities. The Banks Act is primarily based on similar legislation in the United Kingdom, Australia and Canada.
Transportation Infrastructure
South Africa has a modern and well-developed transportation infrastructure. The air and rail networks are the largest on the continent. And the country's ports provide a natural stopover for shipping to and from Europe, the Americas, Asia, Australia and both coasts of Africa. In 2009, the Chinese Ministry of Commerce reported that about 1,000 Chinese enterprises do business in Africa, spanning fields such as trade, transportation, agriculture and the processing of agricultural products.
Established Manufacturing Base
South Africa has developed an established, diversified manufacturing base that has shown its resilience and potential to compete in the global economy. The main sector of South African manufacturing includes automobiles and their associated parts, textiles and clothing, food processing and beverages, mineral-based industries, machinery and equipment, and pulp and paper. The manufacturing sector provides a locus for stimulating the growth of other activities and industries.
Information and Communications Technologies
The country's established and sophisticated indigenous information and communications technology (ICT) and electronics sector comprises more than 3,000 companies. It has ready access to cutting-edge technologies, equipment and skills and has the advantage of access to the rapid expansion of telecommunications and IT throughout the African continent. South African software developers are recognized as world leaders in innovation, production and cost efficiency backed by an excellent local infrastructure.
With the diversity of the local market, first world know-how, and a developing country environment, South Africa is an ideal test lab for new innovations. Gartner, the international research group, rates South Africa as one of its top 30 software development outsourcing destinations putting it on par with Israel in the Europe, Middle East and Africa region, and next to Australia and India globally.
Favorable Demographics
South Africa's black middle class has grown by 30% in just over a year, with their numbers increasing from two million to 2.6 million. The percentage of South African households with a middle class standard of living increased from 23% in the period 1998-2000 to 26% in 2004-2006.
The black middle class in South Africa are called Black Diamonds. They are a product of the South African government's Black Economic Empowerment (BEE) program that began in 1994 after the end of the apartheid era. They form approximately 10% of the 22 million over-18-year-old black South Africans and contribute up to 40% of the spending in this group. This segment is growing rapidly.
South Africa's well-off middle class has the spending power, and the country's millions of upwardly mobile poor hold tremendous buying potential. Most of these people are entering the middle class for the first time and materialistic possessions like houses, cars and electronics are being bought with gusto. Their spending remained resilient despite the recent recession.
Who's Doing Business in South Africa Now
Given South Africa's value proposition, there are numerous opportunities for marketing and selling consumer and business-to-business products in multiple sectors and in multiple industries. Let us review the global players that have taken advantage of opportunities offered by South Africa:
In November 2010, the Airbus A400M military transport aircraft began its manufacturing operations in South Africa, which is a testament to the fact that South African manufacturers can hold their own with the best in the world when it comes to high-end engineering.
Mercedes-Benz South Africa made a $281-million investment in its East London plant ahead of its manufacture of the next generation C-Class, which will hit global markets in 2014.
---
---
Toyota South Africa was established in 1961. For the past 30 years Toyota has sold more vehicles than any other car manufacturer in South Africa and currently holds a market share of about 23%. It has sold more than three million vehicles since its formation and has an annual production capacity of more than 200,000 vehicles.
Vehicle manufacturers such as BMW, Ford, Volkswagen, Daimler-Chrysler and Toyota have production plants in the country. Automotive component manufacturers including Arvin Exhaust, Bloxwitch, Corning and Senior Flexonics have all established production bases in the country.
ABB South Africa, a subsidiary of global power and automation technology group ABB, plans to add business to its process automation portfolio for customers in the mining sector.
Brazilian firm WEG has acquired a 51% stake in South Africa's Zest Electric Group as part of its African expansion strategy. During the 30 years that Zest has represented WEG in southern Africa, it has become the market leader in the supply of electric motors throughout Africa.
Leading telecommunication brands like Siemens, Alcatel-Lucent, SBC Communications, Telekom Malaysia, Cell C, and Vodacom have made significant investments in the country. In a bid to exploit South Africa's abundant sunshine and reduce reliance on electricity, Vodacom has launched a low-cost solar-powered mobile phone with the unique ability to charge on the go.
Global retailers entering South Africa include operators such as Pick n Pay, Edgars, Woolworths, ShopRite, PEP Stores, and Walmart.
Future Prospects in Select Groups of Industries
In the electronics industry, investment opportunities lie in developing access control systems and security equipment, automotive electronic subsystems, systems and software in the banking and financial services sectors, silicon processing for fiber optics, integrated circuits, and solar cells. There are also significant opportunities for the export of hardware and associated services as well as software and peripherals.
There is strong growth in private security industry technology, such as closed-circuit television and digital surveillance equipment, sophisticated access control systems (smart card technology), and IT systems. Many cities have introduced surveillance cameras, and businesses are increasingly updating systems with the latest technology. Home security is another key area.
The agricultural sector is a mainstay in South Africa's economy and holds many opportunities with both large commercial and emerging farmers in areas such as capital investment, training, equipment and services supply.
One of the main areas of growth is the demand from small and medium-sized companies for high-end computer systems. This is set to become a major target for IT companies in the near future. The South African government is also expected to be a major purchaser of software.
South Africa has always had a well-developed food and beverage industry, partly because of the country's major agricultural activity and partly because of its relatively sophisticated food requirements.
A number of multinational companies have formed partnerships with local food companies, and new opportunities have opened up. For example, Nestlé is building two new multimillion-rand factories in Babelegi, a small town in the North West Province, where it will manufacture some of the products it currently imports.
A September 2007 study by Euromonitor International found that as a growing number of women enter the work place, South Africans are finding it harder to find the time to prepare meals at home. Demand for fast-food restaurants to serve time-strapped families is increasing.
With an expanding consumer base and a growing disposable income, South African consumers are prepared to pay premium prices for well recognized international brands.
Operational and Marketing Challenges
Since the end of apartheid and its first democratic elections in 1994, South Africa has liberalized the economy, enacted economic reforms to attract foreign direct investment (FDI), and performed consistently well on various surveys of competitiveness and the business environment.
South Africa's value proposition listed above may motivate the international marketer to rush in to take advantage of the market opportunities. However, international businesses should recognize that doing business in South Africa is not without challenges.
In 2010, the World Economic Forum's annual Global Competitiveness Report polled executives on the issues facing international businesses doing business in South Africa. The top five responses were inefficient bureaucracy, poorly educated work force, crime and theft, restrictive labor regulations, and corruption.
Non-Tariff Barriers
While the Southern African Development Community (SADC) has moved towards liberalizing trade to make the flow of goods between countries easier and economically more rewarding, non-tariff barriers continue to be a concern.
Case in point: South Africa has a complex import process. The South African Revenue Service (SARS) defines approximately 90,000 product tariff codes that are strictly enforced on all imports. New-to-market U.S. exporters are actively encouraged to engage the services of a reputable freight forwarding/customs clearance agent well versed in the South African convention.
Other non-tariff barriers to trade often cited include port congestion, technical standards, customs valuation above invoice prices, theft of goods, import permits, antidumping measures, IPRP crimes, an inefficient bureaucracy, and excessive regulation.
I would recommend reading my article, Beware of Non-Tariff Barriers in Global Markets, to understand the business implications.
Competition in Retail Sector
Due to South Africa's history of apartheid and allied international sanctions, retailing is dominated by several large South African holding companies, which account for by far the majority of the leading retailing brands in South Africa.
The holding companies operate in various categories ranging from grocery to clothing and footwear and from furniture to furnishings. Not only do these companies offer a number of brands within a certain area of retail, but they also ensure that they capture a core target market, whether lower-, middle- or upper-income consumers.
Fragmented Retailing
In South Africa, informal Spaza shops originating primarily in black homes are an especially prevalent type of retail operation. These businesses typically operate in a section of an occupied home or in another structure on premises used for residential purposes. Many Spaza shops are operated as family endeavors selling food, beverages and various consumer goods.
In addition there are micro retailers operating from residences called Tuck shops. These Tuck shops are found around taxi stands and public transit stations. Both Spaza and Tuck shops play key roles in poor communities. They facilitate trade by breaking bulk, stocking inventory, and providing convenience of location.
---
---
Other words commonly used to describe the informal retail structure include sheeban. These are all located in black townships outside of Johannesburg. Hawkers—individuals without permanent structure—are also common features of retail trade.
To succeed in this market, international marketers must develop strategies to embrace the fragmented retailing structure by finding ways of selling products to these retail operations.
Logistical Challenges
South Africa has great roads and expressways, but public transport is either non-existent, unsafe or unreliable. South Africa has everything that the rich need, but the poor lack basic amenities from public transportation to schools. Since the majority of poor live in the rural area, about 50% of them live more than 30 minutes from the nearest clinic and post office.
In addition, there is insufficient space for trucks in the port and a shortage of equipment to load trucks. Truck queues can cause delays of between three and six hours, translating into a cost of $46 per hour per truck. Trucks often wait in queues of up to five kilometers long.
Intellectual Property Right Protection
South Africa's value proposition coupled with the high penetration of western media, technology and lifestyles also present a lucrative market for counterfeit goods. Gray marketing and parallel importation also pose challenges, since there is no direct legal protection for local distribution against parallel imports. The major gateway for inbound counterfeit goods is Johannesburg International Airport.
In recent years, the South African government has introduced measures to enhance enforcement of the 1997 Counterfeit Goods Act, but the enforcement has been very lax. Despite efforts to improve IPRP enforcement, monetary losses from counterfeiting and piracy remain high.
I would recommend reading my article, Counterfeit Products: Why Should You Care?, to understand the implications for marketers of branded products and services.
Bottom of the Pyramid (BOP)
Though South Africa is often classified as an emerging economy, it might be more correctly seen as having two economies—the normal economy of sophisticated consumers and firms that are investing all over the world, and the rural economy that still contains many subsistence farmers or peoples who are living off of meager agricultural incomes and assistance from the state or their more fortunate relatives.
One of the key challenges for post-apartheid South Africa is bringing the benefits of the country's formal, first-class economy to the low-income people who make a sizable majority of the population. Unemployment at the BOP could be as high as 70%.
A large percentage of the poorest households continue to live in informal and traditional dwellings. Approximately 66% of South Africa's poorest have electricity, while less than 50% of all poor households have running water. Since the majority of poor live in the rural area, about 50% of them live more than 30 minutes from the nearest clinic, post office or formal retail store. Reaching them can be a real marketing challenge.
Social Unrest
The crime rate in South Africa is high, one of the highest in the world since it affects the everyday lives of people. Rising social tensions among the South African poor have resulted in incidents of violence.
For the greater part of 2009, many townships in South Africa were literally burning up with mass protests against poor service delivery and the slow pace of development in their communities. The people were angry with their government for not fulfilling most of the promises made to them during election campaigns. Although the political situation is stable in South Africa, nationwide strikes and demonstrations can occur.
Skilled Labor Shortage
Although the education system has been reformed and all South Africans now have access to education, approximately 7.5 million people are functionally illiterate. Businesses in many different sectors in the South Africa economy experience severe difficulty in recruiting because of this skills shortage.
The prevalence of HIV infections in South Africa is, like other countries in southern Africa, among the highest in the world. These health-related issues impact workforce productivity and the life expectancy of workers.
Recommendations
In South Africa, many traditional, established companies have not adopted their products nor their distribution networks to the needs of low-income people. Instead, complex products and distribution methods designed for more affluent consumers have been pushed into the market. It is time to reevaluate the international business model and adapt products to meet the needs of specific market segments.
Segmenting markets is the key to reaching black South Africans of all economic levels. This suggests that the attitudes and outlooks of consumers are more important than their incomes in determining their shopping behavior. To tap the bottom-of-the-pyramid market, it is important to launch affordable products that can be distributed via multiple small and medium enterprises and mom-and-pop stores.
Many of the mom-and-pop stores will need to be educated and trained to support products and provide services after sales. New pricing models must also be developed to cater to the bottom of the pyramid market. Lower prices are not the answer to the challenges faced, since many segments of the market in South Africa tend to be brand conscious and are willing to pay a price premium if trust is developed.
Final Words
South Africa has a relatively stable economy, abundant natural and labor resources, and well-developed financial markets.
Growth in the coming years will be driven by increased investment as well as an expansion of trade and domestic consumer markets. However, international investors cannot ignore the fact that they will face daunting problems due to corruption, social problems, weak political systems in the sub-Saharan region, and social tensions.
Additionally global players must be mindful of the marketing, operational and logistical challenges in South Africa and develop proactive strategies to deal with these challenges.