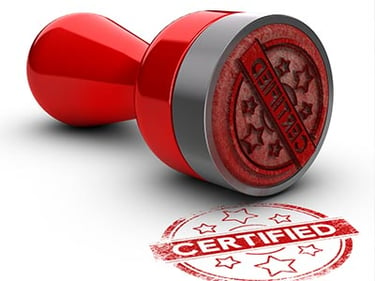 "When I was an exporter, we had to fill out our certificates of origin—by hand—and walk two miles, uphill, in the snow, to get them certified!"
I know, I know, that's probably not quite the story you heard about how easy you have it today. But as a modern exporter, life is easier! You no longer have to settle for the "old way of doing things," and that includes how you create and get your certificates of origin stamped by a chamber of commerce.
In this article, we'll take a look at how an electronic certificate makes this once-tedious task simple. You'll learn how the electronic certificate of origin works and its benefits. Then you can check out the electronic certificate of origin form online for yourself and start using it immediately.
What Is the Electronic Certificate of Origin?
Since 1923, chambers of commerce have been an official body required to sign and stamp certificates generated by exporters. The old way of doing this was tedious. It required exporting companies to:
Manually create the certificate of origin form.
Deliver or courier it to the chamber.
Wait for an appropriate staff member to review and certify the certificate.
Return it back to the exporter's office.
Forward the certificate of origin by international courier to the importer.
It was (and is!) an expensive and time-consuming process. Thankfully, there's a better way: The electronic certificate of origin (eCO).
How Does the Electronic Certificate of Origin Work?
Instead of printing out the certificate of origin form and taking it to a chamber to be certified, you can enter the required information online and have a certified certificate delivered to you by email or express mail, whatever you prefer.
You simply register, login once you receive your credentials, enter your export shipment details, submit the form, and you're done! A few hours later, you'll receive an email to let you know your eCO is approved, certified and ready to use.
Your application is reviewed and approved by a U.S.-based chamber of commerce that is accredited by the International Chamber of Commerce World Chambers Federation (ICO), which means you can be assured that your electronic certificate of origin will comply with the rules, regulations and best practices of international trade.
Benefits of the Electronic Certificate of Origin
1. It saves time.
Instead of driving around, hiring couriers, and waiting, you simply submit the form online. It goes directly to the chamber and has a turnaround time of hours rather than days. Once the chamber returns your electronic certificate of origin, you can print certified documents at your own desk.
2. It saves money.
With the traditional certificate of origin template, exporters had to pay a high price—up to a couple hundred dollars including transportation/courier fees and documentation fees. The electronic certificate of origin costs only $50 per document. If you are a subscriber to Shipping Solutions' Annual Maintenance Program, you'll save even more!
3. It is secure.
Our secure web portal and digital storage ensures your information stays safe and your electronic certificates of origin are maintained for five years. And because the staff we use is accredited by the ICO, you know you're getting certificates that comply with regulations and follow best practices.
Try It Now!
Ready to start using electronic certificates of origin? Head to our certificates of origin page and fill out this form to begin quickly generating certificates you can use for your export shipment.
If you aren't interested in or don't need an electronic version of the certificate of origin form, you can download and print a PDF version of the form.