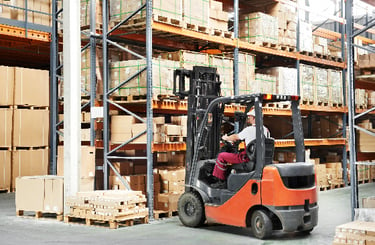 If 2020 and 2021 have taught us anything, it's the importance of constantly reviewing your company's processes and procedures. Take, for example, remote work: For decades, we thought people needed to work in offices—but in many situations, working remotely has been a value-add for all companies.
For those of us involved in international trade, one thing we need to reexamine is our handling of inventory and warehousing. In this article, I'll discuss the differences between using freight forwarders and third-party logistics (3PL) companies for these jobs and how to identify the right partner for your needs.
Freight Forwarders: A Definition
Freight forwarders are experts within the supply chain who concentrate on the logistics and physical transportation of cargo. They work with any carrier in the international transportation process who handles moving the goods via truck, boat, plane or a combination thereof. Think of them as a travel agent for your products who will not only arrange shipping from various points in the journey but will also help facilitate that transport. They are your conduit with domestic and international carriers.
3PL: A Definition
A third-party logistics company is a full-service shipping company that not only provides international logistics services but also inventory management, warehousing and fulfillment. Companies may decide to contract with a 3PL in order to avoid having to set up their own warehouses, inventory management systems and packaging capabilities. By outsourcing these services to a 3PL, companies can focus on the part of the business that they do best.
When researching 3PLs, you may come across the term 4PL. A 4PL typically handles end-to-end supply chain services including product procurement and/or manufacturing.
Freight Forwarder vs. 3PL: What's the Difference?
A freight forwarder works with an exporter (or seller) to arrange transportation of goods, including pickup of the goods from the exporter's location. They arrange transportation up to a specified point in the journey where the importer's (or buyer's) agent takes control of the movement of the goods based on the Incoterms 2020 rule agreed upon by the seller and the buyer.
For an additional fee, the freight forwarder will generate the documents and compliance screenings necessary to successfully and safely export goods.
A 3PL company serves as a warehouse partner by storing, managing, packing and shipping goods. Many 3PL companies have freight forwarding solutions (or access to those solutions), but not every third-party freight forwarder is a 3PL.
An exporter's freight forwarder should work together with a customs broker and 3PL to facilitate issues with an export transaction.
When to Choose 3PL Services
Every exporter likely needs a good freight forwarding partner. The question is, do you also need the added advantage of having someone else warehouse, pack and prepare for shipping? A 3PL gives you that added benefit.
The following questions can help determine if you need a 3PL:
1. Do you have the resources to do warehousing and order fulfillment, and to pack and prepare goods for shipment?
If the answer is yes, you may not need a 3PL; however, if you're not capable of doing some (or all) of these tasks yourself, you may want to consider it. Further, if you are doing these tasks but not doing them well—or if they're not a good use of your time—consider outsourcing.
2. Do you need to store your goods in a warehouse?
Many e-commerce services use a 3PL because they do not have a warehouse. Even if they are a good-sized company with access to a storage facility, their tools for inventory management may not be as sophisticated as those used by a 3PL, including software and other tools for scanning, barcoding, etc.
3. Are you located near a port?
If your company is located near a port, you may only need a freight forwarder. If not, hiring a 3PL partner who is near a port may be advantageous, so you don't have the extra expense of shipping goods there. There are multitudes of 3PL locations on both the east and west coasts.
4. Can you benefit from a foreign/free trade zone?
Free trade zones are areas in which commodities can be manufactured, modified or stored under specific customs regulations and generally not subject to customs duties. Foreign trade zones (FTZs) are the United States' version of free trade zones. FTZs are designated areas within the United States that are legally located outside U.S. customs territory; goods that reside within an established FTZ haven't yet cleared customs.
Foreign trade zones allow companies to legally avoid paying duties and merchandise processing fees, or delay or reduce these payments. Companies may also choose to pay import duties on either the raw materials or finished goods, depending on which duty rate is lower (called inverted duty savings). Overall, FTZs allow companies to operate their supply chain more effectively. By partnering with a 3PL in an FTZ, exporters can potentially take advantage of all these benefits.
The Bottom Line
The COVID-19 pandemic has shown us that outsourcing tasks you may have previously kept in-house can provide greater flexibility. If you're currently using a freight forwarder, make sure you have a good working relationship with them, which includes the ability to have conversations about your growth, goals and needs.
If a 3PL is something you should consider, ask your freight forwarder for a recommendation. In addition to your freight forwarder and 3PL, you should have regular conversations with and evaluate all of your supply chain partners as part of an annual process review.
---
Like what you read? Subscribe today to the International Trade Blog to get the latest news and tips for exporters and importers delivered to your inbox.