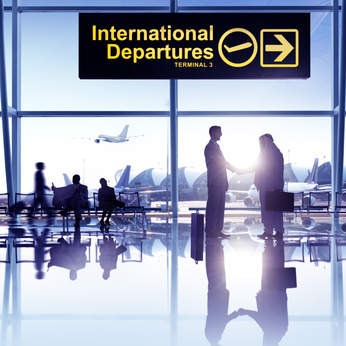 A successful export manager recently told me that many years ago he made an overseas business trip to a major country in Asia.
As an afterthought, he decided to stop by a small country that he had never visited before. Much to his surprise, he was able to develop a reasonable amount of business developed from his side trip that continues even today.
I asked the exporter why this trip developed into good business. He replied:
Selling is a contact sport. When I made the rounds on my initial trip, I was informed that I was the only foreign company that had shown up. People buy from people, and people prefer to deal with relationships whenever possible. Traveling overseas to call on our customers is crucial to the export business we have generated over the years.
International business travel not only helps establish new customers, it also reinforces existing relationships. Nothing serves as well as a face-to-face dialog with your customers and representatives because you make a statement of commitment to the business.
In addition to meeting current and potential customers, international travel allows you to gather first-hand information about pricing within your industry, find out what your competitors are doing, and monitor changing consumer preferences.

I have led several overseas trade missions where up to 15 U.S. companies travel to one or more countries to make business contacts and close deals. As part of my responsibilities, I provide each participating company with Pre-Trip Checklist and Company Profile forms that I have developed over many years.
Pre-Trip Checklist
The better you prepare before your trip, the more time you can spend in quality meetings. A checklist should not only be a schedule; it should help you be as prepared for your trip as possible. This will help prevent overloading your schedule as well as ensure that you have all the materials you need during crucial meetings.
Here are a few basic pointers to include in a checklist:
Confirm appointments well in advance and note key contacts' street address, phone numbers, and relevant information. Put this sheet in your briefcase for ready reference.
Allow adequate travel time between meetings by viewing geographic logistics as you set your schedule.
Maintain flexibility throughout your schedule to accommodate unanticipated events such as meetings that take longer than expected, travel delays, and unforeseen opportunities.
Secure visas as required. Make sure you allow several weeks for this process.
If an interpreter is needed, make arrangements in advance, preferably one who understands the nomenclature of your industry.
Make a list of all company contacts—reps, hotels, organizations, etc.—for quick reference.
Remember, if you need help arranging meetings with potential overseas agents, distributors, sales representatives, and business partners before your trip, you can utilize the Gold Key Service available through your local U.S. Commercial Service office.

Company Profile
A company profile explains who you are, what your product is, and why you are visiting. If possible, keep your company profile to a single page. Make it simple, and be brief. It is a good idea to send these ahead so that the people you meet will be able to prepare for the meeting. You should also take numerous copies of this profile with you in your briefcase to hand out to additional participants.
A profile could cover the following points:
Company name and address, your name and title, as well as your phone, fax, e-mail and website information.
Company description.
Product/service description.
Your objectives during this visit including individuals you wish to meet.
Additional Travel Considerations
A little advance planning and preparation will help ensure a worthwhile and comfortable trip.
---
This article was first published in October 2002, and has been updated to include current information and formatting.