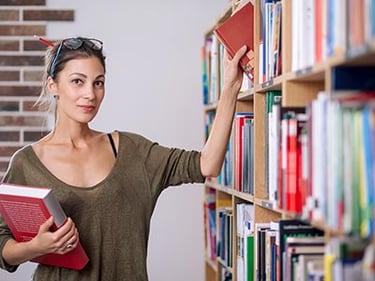 In How to Become an Exporter: 20+ Resources You Should Know, we discussed dozens of resources you can use to help succeed in the first part of international trade—things like identifying your product's appeal, assessing risk of exporting that product, determining how you're going to sell into the markets you've identified, and more.
Today, we're focusing on the important second part of exporting. We've identified resources that can help you prepare your goods for their export journey, make sure your company is complying with export regulations, arrange for transportation of the goods, and more.
You can jump to each section using the following links:
How to Become an Exporter
Exporting is a journey, but not one you'd ever want to take alone. That's why we've identified more than 15 different resources you can utilize as you guide your company through this journey.
1. Determine the Mode of Transportation, Packaging and Labeling Requirements
Depending on the destination, there are many options for shipping your goods internationally including ocean, air, rail or truck. The method you choose is based on how quickly you need your goods to arrive, the amount of shipping costs you are willing to pay, and the type of goods you need to ship among several other factors.
In addition, you need to be aware of the demands that international shipping puts on your goods. Based on the mode of transportation, your goods and their packaging can face extreme stress, be exposed to water, and be subject to pilfering.
Your international shipments may need special markings on your shipping cartons and containers to meet shipping regulations and ensuring proper handling. And many products require additional labeling including the country of origin.
Whether you purchase a hard copy of it or read it online, A Basic Guide to Exporting is useful when it comes time to determine everything shipping-related for your business. Sections of this book cover labeling, cargo insurance, major shippers, packing, shipping basics, and more.
Introduction to Shipping Dangerous Goods Webinar
If you ship or intend to ship dangerous goods and hazardous materials, this webinar featuring hazmat specialist Rob Smith is essential viewing. In it, he explains the basics of shipping dangerous goods, including how to classify, package and pack them; and how to correctly complete dangerous goods forms. You'll also come away with an understanding of the training you'll need to become certified to ship these goods.
2. Understand Export Documentation Requirements
As a new exporter you need to understand the various forms and documents you need to create for each export transaction. It is important to do this correctly because any mistakes you make could jeopardize the speed with which your goods move through customs and toward their final destination; this ultimately could delay your payday.
The Beginner's Guide to Export Forms
Our comprehensive guide to more than two dozen export forms you need to know is one of the very best places to start with understanding export documentation requirements. It is a thorough, completely free white paper you can download. It includes a description of each form, use cases, and a template you can use for each form. It is a must-read for anyone who deals with exporting.
If you're the person at your company who is charged with completing export paperwork, you know how time consuming and tedious it can be. You also know that it is necessary to do correctly each time.
Shipping Solutions export software helps exporters quickly create accurate export forms by eliminating redundant data entry. Enter your export information once on the EZ Start screen and the software automatically inserts the right information in the right spot on more than 20 standard export forms.
In addition, you can store your company, product and customer information in the various Shipping Solutions databases, so you don't have to retype that information on every new shipment. Simply select the appropriate contacts and products from a drop-down list. Not only does that reduce the time it takes to complete your export forms by up to 80%, it improves the accuracy of your paperwork.
3. Develop an Export Compliance Strategy
Quite a few different federal agencies regulate U.S. exports in order to protect the interests and people of the United States. If that is not enough reason to abide by these regulations, companies can face substantial fines, restrictions on exporting, and even jail time for violations.
Here are several resources to learn more about those compliance responsibilities.
Bureau of Industry and Security (BIS)
The U.S. Department of Commerce has jurisdiction over most goods exported from the United States. BIS is the agency within Commerce that is specifically charged with advancing U.S. national security, foreign policy, and economic interest through enforcement of the U.S. Export Administration Regulations (EAR).
If you are an exporter, you must be familiar with the BIS regulations. A good start is through BIS seminars and events you can attend. I highly recommend their two-day seminar on complying with U.S. export controls for anyone serious about exporting.
Some of the most useful tools BIS offers can be found for free, online. Here are six we recommend:
Directorate of Defense Trade Controls (DDTC)
The DDTC enforces the U.S. International Traffic in Arms Regulations (ITAR) that control the commercial exports of defense goods and services. If your exports fall under the jurisdiction of the DDTC, you must understand and comply with those regulations. Chapter five of our Export Procedures and Documentation: An In-Depth Guide explains how to determine who has jurisdiction over your goods.
Shipping Solutions' Trade Compliance Wizards
Before you export your goods to another country, you must determine whether or not you need an export license based on your product classification under ITAR's U.S. Munitions List (USML) or EAR's Commerce Control List (CCL), and the destination country. Our Export Controls Wizard does this for you. Try it for free and see how much easier it can make your job! (For importers, you can also check to see if there are restrictions for importing goods in our Trade Wizards, too!)
Your Company's Export Compliance Program
Knowing the export forms you need to complete and creating them correctly is just part of becoming a successful exporter. Documenting the process you and your colleagues take for each transaction is the other part, which is why you need to familiarize yourself with how to create and implement an Export Compliance Program (ECP). Successful companies of all sizes use a formal ECP to help ensure no regulation or detail is left unaddressed for each of their exports.
Shipping Solutions also has several free, must-read white papers that discuss issues in export compliance, including:
The BIS Office of Antiboycott Compliance
Understanding and adhering to antiboycott compliance is an important part of export compliance. Antiboycott compliance refers to the provisions found in Part 760, Restrictive Trade Practices or Boycotts, of the EAR, which prohibits U.S. persons from complying with boycotts that are not sanctioned by the United States and that contradict U.S. policy.
Deciphering these prohibitions from the exceptions and non-reportable requests can be a complicated task that requires a great deal of attention to detail to ensure compliance. The Office of Antiboycott Compliance can help exporters understand and work through the regulations; you can also find information on reportable antiboycott requests. (Learn more in our article, Exporting and Antiboycott Compliance: What You Need to Know.)
The Foreign Corrupt Practices Act (FCPA), which prohibits U.S. persons and certain foreign entities from paying bribes to foreign officials to assist in obtaining or retaining business, is jointly enforced by the U.S. Department of Justice and the Securities and Exchange Commission (SEC).
The FCPA can apply to prohibited conduct anywhere in the world and extends to publicly traded companies and their officers, directors, employees, stockholders and agents. Exporters who have questions about FCPA compliance relating to specific conduct should consider using the Department of Justice's FCPA Opinion Procedure in addition to seeking the advice of legal counsel.
Securities and Exchange Commission (SEC)
Along with the Department of Justice, the SEC is responsible for enforcing the FCPA. You can access educational resources and FCPA cases from the SEC website; you can also report tips from the SEC website.
4. Find a Good Freight Forwarder
With more than 40,000 freight forwarding and logistics firms in 150 countries around the globe, finding the best freight forwarders may seem to a beginning exporter to be much like finding a needle in a haystack. Here are our suggestions for resources that can help ensure you're finding a great partner.
National Customs Brokers & Forwarders Association of America (NCBFAA)
The NCBFAA represents more than 1,000 companies with 110,000 employees in international trade, including leading freight forwarders, customs brokers, ocean transportation intermediaries (OTIs), NVOCCs, and air cargo agents. They have a resources section available as well as a "Find A Broker" section that can give you a starting place in your search.
Ask other exporters in your community.
Ask colleagues and those you network with if they have any suggestions on reliable, reputable freight forwarding partners.
Check our archives for articles on finding reputable freight forwarders.
We've written extensively on finding and choosing the best freight forwarders. Here are a few articles we recommend starting with:
Additional Export Assistance
While this is just a high-level look at the back end of becoming an exporter, we know there are many more things successful exporters need to know and a plethora of additional resources exporters can find helpful. There is also training available for all levels of exporters—from those just getting started to successful, experienced professionals.
Government agencies like the U.S. Commercial Service, BIS, and DDTC offer free and paid training in the form of webinars, seminars and more that can help you in any area of interest. Their websites offer details to these resources.
Private organizations like International Business Training (IBT) offer a variety of import-export seminars, webinars and reference books that will help you conduct your international business smarter, faster and more profitably.
Consultants can be an excellent resource for beginning exporters who want help. (In fact, we're working on putting together a list of consultants. If that is what you do, we'd love to hear from you. Send me an email telling me about yourself and the services you provide for exporters.)