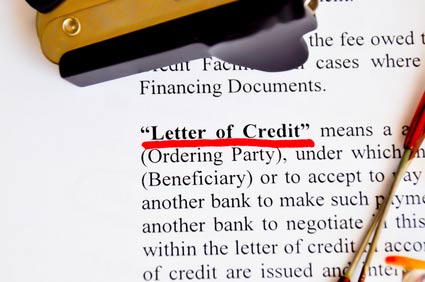 Too often exporters receive a letter of credit and then become frustrated with the terms the issuing bank has provided.
They ask, "Why would a bank issue a letter of credit with terms and conditions like this?" The issuing bank does not arbitrarily set the terms.
Setting the Terms of a Letter of Credit
Many exporters have learned that they can set the terms of the letter of credit. Several proactive techniques can accomplish this:
Provide a detailed proforma invoice that gives sufficient information to the buyer for opening a letter of credit.


Provide detailed instructions to the buyer for opening the letter of credit. At a minimum, a bullet-point list of criteria will go a long way.


Ask buyers to fax a copy of the completed application for a letter of credit before they take it to their bank. This allows for feedback, revisions and agreement before the bank issues the letter of credit and will save time and money.


If the buyer's bank is willing, they may provide a draft of the SWIFT letter of credit prior to issuance.
Most buyers appreciate getting the information needed to issue a letter of credit. Of course following these recommendations is not fail-proof, but doing so increases the odds of receiving an acceptable letter of credit.
Send me an email if you'd like a sample copy of a proforma invoice and/or Instructions to the Buyer for Opening a Letter of Credit. You'll also find a copy of the proforma invoice online.
---
This article was first published in November 2014 and has been updated to include current information, links and formatting.