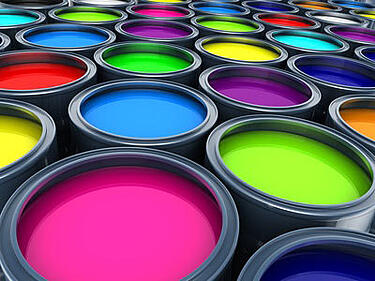 That paint was expensive!
Understanding the regulations for shipping hazardous materials such as paint can be confusing, but the cost of improperly preparing and classifying your hazardous materials can be incredibly expensive. And yet, once again, we see the fallout from several companies who shipped undeclared hazardous materials improperly packaged by untrained staff.
In a July 31, 2014, press release, the Federal Aviation Administration (FAA) alleges—and they wouldn't do this if they didn't have strong supporting evidence—that the following companies did not declare their goods correctly as hazardous materials. The shipments were not properly classed, described, packaged, marked, labeled and in proper condition for shipment. Additionally, the FAA alleges the companies did not ensure their employees had received the required training for shipping hazardous materials, and did not provide emergency response information with the packages.
Instead of a one-day training class that might have cost, at most, $2,000, the FAA has proposed the following fines:
$91,000 against Kuehne & Nagel, Inc.
The FAA alleges Kuehne & Nagel offered a cardboard box containing one 3.8 liter can of Carboline Part A paint and one can containing a liter of Carboline Urethane Converter paint to FedEx for shipment by air from Pharr, Texas, to Broussard, Louisiana.
Under Hazardous Materials Regulations, paint is considered a hazardous material. The contents of the shipment were discovered after one of the cans leaked in transit.
$78,000 against Pantropic Power, Inc.
The FAA alleges Pantropic Power shipped 11 12-ounce cans of aerosol paint on a FedEx aircraft from Miami to Puerto Rico. Workers at Luis Munoz Marin International Airport in San Juan discovered the package emitting an odor and found a can had burst and leaked through its packaging. Aerosols are considered to be hazardous flammable gas.
$63,000 against Superior International Industries
The FAA alleges Superior International, doing business as Litchfield Industries, offered an unmarked box containing two, 12-ounce cans of Cardinal Acrylic Aerosol Enamel spray paint to FedEx for shipment by air from Carrollton, Georgia, to Anacoco, Louisiana. Under Hazardous Materials Regulations, spray paint is considered a flammable aerosol. The contents of the shipment were discovered after one of the cans leaked yellow paint in transit.
$54,000 against Central Garden and Pet, Inc.
The FAA alleged Central Garden shipped four bottles of herbicides ranging in size from 16 to 32 ounces and two one-pound bags of pesticide on a UPS aircraft from Walnut Creek, California, to Coraopolis, Pennsylvania. The herbicides are hazardous flammable liquids and the pesticide is a poisonous material. Workers at the UPS sort facility in Louisville, Kentucky, discovered the shipment. Central Garden paid the full civil penalty and the case is closed.
Do you think these companies would have been better off to spend the time and a lot less money training their staff to correctly identify hazardous materials and prepare them correctly for transport according to the hazmat regulations? You do the math. And that's before the legal fees they will also almost certainly pay. In addition, they will also have a recorded infraction, and if they mess up again, the fines will be even worse.
Does your staff know how to identify hazardous materials? Perhaps CARGOpak can help.