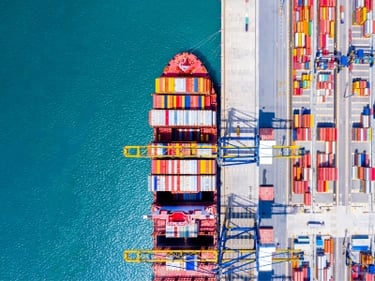 Since 2020, we've seen both the key role ocean freight plays in the global economy, as well as what happens when a breakdown in the global supply chain occurs. As end users of the billions of products shipped by sea, most of us have likely been affected by delays in ocean freight. And while the pandemic affected all modes of transportation, the ripples of its effects on ocean freight—port capacity, including container availability—continue today. With this in mind, what do exporters interested in transporting goods by ocean freight need to know?
Below, Ken Sherman, president of IntelliTrans, shares some information around the basic concepts of ocean freight for exporters: What can be shipped via ocean? How much does it cost? What are the best use cases for this type of transportation?
What is ocean freight shipping?
The definition of ocean freight is products and goods (cargo) that are shipped by ocean vessel, typically in large quantities. Ocean freight transportation begins at a named port terminal, where the ocean freight company you've selected receives the cargo. It is then prepared and loaded onto the vessel.
Ocean freight is shipped in increments of 20-foot containers, called twenty-foot equivalent units (TEUs). Twenty- or 40-foot containers are standard; additionally, ISOtainers (or International Organization for Standardization tank containers) are containers used to ship goods such as bulk commodities. In addition to containers, specialized cargo vessels transport crude items such as petroleum and coal.
How long does ocean freight take?
Ocean freight transportation time depends on your location and the destination of your goods. While it is often one of the slower forms of transportation, a rough expectation for end-to-end shipping from Southwest Asia to somewhere in the United States is approximately 45 days. This includes a 15-20 day ocean leg, as well as the non-value-added time where containers are at their origin point waiting to get loaded, at their destination point waiting to clear customs, and out of port waiting for their land journey.
Most of the current delays for ocean freight aren't happening on the ocean—the yard service at ports has been congested, and consequently, ocean lines have been sailing slower so they don't have to wait at port as long.
What can be shipped by ocean?
While nearly anything can be shipped by ocean, three factors—size, expense and speed—tend to determine what must be shipped by this method. Here are some common goods shipped by ocean:
Container cargo—anything from toys and clothing to furniture and electronics.
Liquid bulk items, including fuel and crude oil.
Break bulk—

goods shipped in crates, bags, boxes, drums or barrels without the use of a container

.
Dry bulk and raw materials.
Roll on/roll off goods, including machinery and vehicles.
What cannot be shipped by ocean?
Unlike air freight, there are fewer restrictions about what can fit on an ocean liner—instead, the question is, what is wise to ship via ocean freight? While less common than with air freight, there are some goods too big or too heavy to be shipped on an ocean vessel. Additionally, some flammable, hazardous and other dangerous goods are not allowed as ocean freight; ocean liners have different policies about what they will and will not accept.
In the U.S., the Federal Maritime Commission (FMC) is the independent federal agency responsible for regulating the U.S. international ocean transportation system for the benefit of U.S. exporters, importers and the U.S. consumer. The FMC regulates ocean freight and has its own licensing requirements and regulations. Exporters who wish to ship their goods domestically and internationally need to seek the counsel of their freight forwarder to make sure they understand and comply with all rules and regulations. A freight forwarding partner will also help shippers fill out documentation and can be employed to properly package goods if needed.
How are ocean freight rates calculated?
Ocean freight is one of the more affordable ways to ship your goods. Typically, ocean cargo rates are calculated by TEUs. Incoterms and land-sea-land transportation also factor into the cost of ocean freight rates. According to The World Bank, compared to sea transport, air transport is 12–16 times the cost.
In July 2022, industry professionals began seeing the price of ocean freight drop significantly, though they remain above pre-pandemic levels. As congestion and other problems in ports begin to lessen, ocean lines have less pricing power and are charging less.
Ocean Freight vs. Air Freight: What are the differences?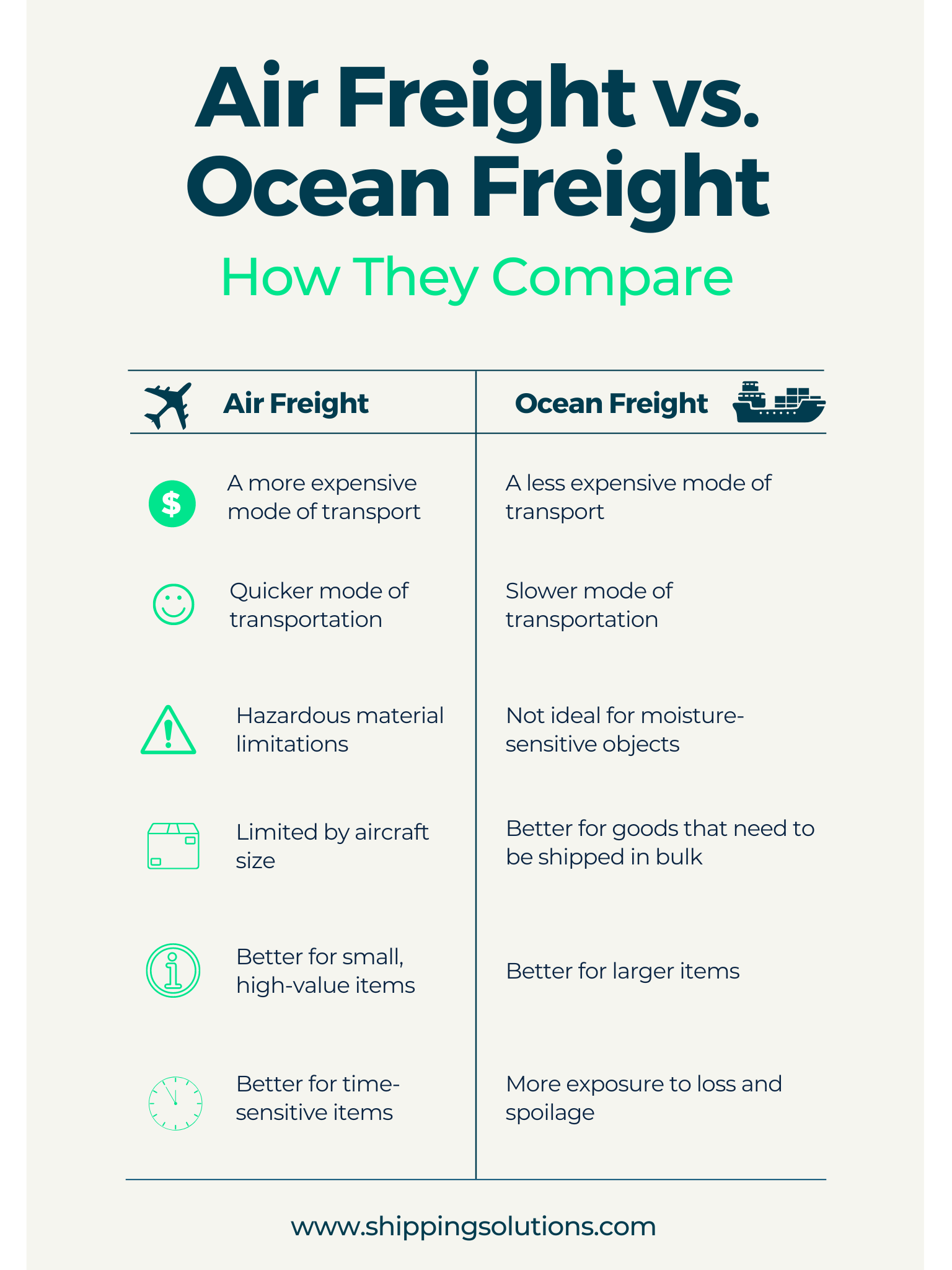 Use Case for Ocean Freight
While not all goods should be shipped by sea, there are many use cases when goods would be best suited to ship by ocean freight. They include:
The goods are not very valuable or expensive. Very valuable goods or those that require strict control and shorter transit time should be shipped by air to limit exposure to loss on the ocean. The more expensive the goods, the lower the percentage of the landed cost would be attributed to the shipping.
You're exporting large products or products with sheer volume. It is more cost effective to ship via ocean freight if the goods are larger or you need a significant amount of space to ship goods.
You have an expanded window of time to deliver a product. Because of the longer cycle time for shipping goods by ocean freight, this is not a recommended mode of transport if time is critical, or if you have a specific deadline for delivery. Ocean containers may be stuck at port for weeks, and transportation to and from the port can sometimes be delayed.
Our thanks to Ken Sherman, president of IntelliTrans, for his assistance with this article. IntelliTrans provides technology and service solutions to bulk and break bulk commodity producers—click here to learn more its services.
---
Like what you read? Subscribe today to the International Trade Blog to get the latest news and tips for exporters and importers delivered to your inbox.