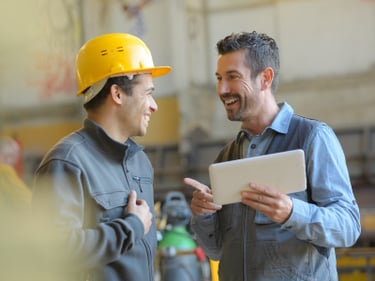 Exporting is something that should be taken seriously, no matter the size of your company. To do that, you may need to hire a professional to manage the process and ensure it's being done correctly. In many situations, hiring an export coordinator for that role can be an important part of that process.
We spoke with Niall Lynchehaun, managing director at Midland Stone, and Richard Clews, founder of pantsandsocks.com and a former export coordinator, to learn more about the role of an export coordinator and how to identify when you need to hire one for your business.
What is an export coordinator?
Also called an import-export coordinator or a logistics coordinator, an export coordinator is the point person for ensuring a company's international cargo, goods and products are shipped in the most timely, efficient and compliant manner.

Job Responsibilities
Your export coordinator's job responsibilities will vary based on your industry and the needs of your company. Typical job responsibilities include:
Maintain warehouse inventory levels as shipments arrive and depart.
Negotiate import and export letters of credit.
Send packing instructions to warehouses and suppliers.
Communicate information about rates, shipping options and timelines to employees and clients and keep them apprised of the progress of their shipments.
Prepare export documents, sales documents and vouchers.
Plan and route shipments according to company policies and monitor shipments throughout the entire export journey.
Keep shipping records up-to-date and accurate—this is where Shipping Solutions export software can help!
Guarantee all government and organizational rules and policies are followed.
While there is no standard list of requirements for an export coordinator, candidates for the export coordinator role should have the following qualifications:
Previous experience in the role of export coordinator.
Familiar with the administrative and logistical aspects of exporting, including things like understanding NVOCC and freight forwarding operations, and U.S. export compliance regulations.
Ability to manage OEM exports and strategic accounts.
Understand currency conversion rates.
Strong communication and interpersonal skills.
Detail-oriented and organized.
Finally, an employer needs to have high levels of trust in the individual in this position since they are working in an area that has likely created problems for your operations in the past.
Why do you need an export coordinator?
According to Clews, having a dedicated export coordinator guarantees someone has the power and responsibility to make exports run smoothly. It means things get done, and that at least one person knows it's on them to get shipments out of the country and to customers.
Conversely, piecemealing responsibilities related to export coordination—where no one person is specifically responsible for the job and no single employee feels empowered to take on challenges as they arise—means no one champions the export coordination process as their priority. This leads to mistakes, which, in exporting, are expensive and embarrassing.
When should you consider hiring an export coordinator?
You can outsource export coordination or have several people tasked with the administration associated with exporting, such as paperwork and compliance, especially if you're a small startup selling only a few products overseas. In fact, very small exporters and startups are probably the only two use cases where not having a dedicated export coordinator is OK. But even still, you need to make absolutely sure you are following compliance regulations to the letter of the law, because even small companies are not exempt from the rules!
However, if and when you don't have the internal staff to support an export coordinator, and when your outsourcing spend starts to approach the cost of an internal full-time employee, Clews recommends you switch to an in-house export coordinator. You may pay a little extra at first, but it's worth it. He adds: An internal export coordinator will be more focused, more motivated and more available, which makes a difference to the business and the product you give the consumer.
"We have stock in the U.S., EU and UK. Three months into running the business, I saw that I had difficulty filling all our orders—and was paying an arm and a leg for logistics. Having someone who bundles orders together for international shipments to save money and takes care of paperwork was a great investment."
-Richard Clews
Additionally, consider hiring when your company's international sales are growing steadily and it's becoming difficult to manage everything by yourself—tasks such as tracking orders, preparing invoices and handling customer service inquiries from overseas buyers.
Lynchechaun adds that if your customers are complaining about inaccurate ETAs and you have a hard time keeping track of open orders and fulfilling orders, it's time to hire an export coordinator.
Benefits of Having an On-Staff Export Coordinator
Based on their experiences, Lynchechaun and Clews offer the following benefits to having an export coordinator in your business:
You can ship items out faster, with fewer mess-ups, and for less money. Clews' coordinator bundles shipments meant for abroad, cutting down costs, and does a lot to optimize exports in other ways, which is a big difference-maker for the operation.
The rest of the team no longer has to think about exported goods. They just prepare packages after receiving orders, and the coordinator takes care of the rest. This means less stress and distraction for the entire team.
If there are problems with shipping, everyone in the company knows whom to turn to. If and when your company runs into logistics problems you haven't seen before, you won't fall behind because your export coordinator knows what to do in every possible scenario.
A Final Word
While not every company should hire an export coordinator, it is recommended for most companies—even if it seems like a stretch to hire someone for the role at first. Over time (and probably sooner than you think), you will likely see the problems your business was facing with exporting start to disappear, and your efficiency and potentially even sales volume increase.
---
Like what you read? Subscribe today to the International Trade Blog to get the latest news and tips for exporters and importers delivered to your inbox.