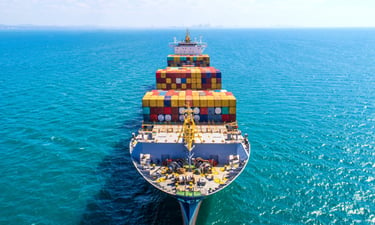 I've been reading article after article about the future of freight forwarding in the face of A.P. Moeller-Maersk's and CGA CGM Group's approach to integrated services along with the widely available technology we employ in standard business transactions.
Maersk and CGA CGM have acquired large freight forwarder and customs broker organizations to create an end-to-end, port-to-port service profile for their core business, container shipping. Maersk acquired customs broker Vandegrift, Inc. to complement its acquisition of Damco Sea & Air; CGA CGM acquired CEVA Logistics.
Consolidating International Shipping Services
Maersk is offering forwarding, container shipping, inland logistics and customs brokerage under one umbrella utilizing blockchain technology for markets other than the U.S. (at this moment). They're beginning their efforts in the EU (where they live and breathe) and other locations.
CGA CGM is one of many carriers who have joined TradeLens, a blockchain-enabled digital shipping platform developed by Maersk and IBM. This is a single portal where data will be uploaded by forwarders when they are booking cargo with any of the carriers supporting this platform. Visit the TradeLens website for an updated list of participants.
Today, I read about forwarders who are virtual. These digital platforms allow shippers to get quotes and book their shipments.
Technology is important to freight forwarders and customs brokers for their bottom line as they strive to eliminate headcount as well as eliminate data-entry errors. As a result, forwarders will likely have fewer people to coach the person who is tasked with preparing a shipper's letter of instruction (SLI) and other export documentation.
Customs brokers no longer need a licensed customs broker in each office; they may conduct filing from a single location in the U.S. with the advent of remote location filing and the Automated Commercial Environment (ACE). U.S. Customs and Border Protection (CBP) has complemented ACE with 10 Centers for Excellence and Expertise (CEEs) for trade compliance.
Although CBP's ACE has been much maligned and is often difficult to use (certainly not intuitive), ACE plus other countries' customs agency electronic efforts allowed Maersk's TradeLense to develop.
The Future of International Shipping
What does this mean to you and other firms shipping globally? I'm not sure. However, there's every likelihood that exporters and importers will need to examine how they plan their shipments and the technology they use to communicate with their service providers. In addition, there's a need to discuss technology as well as fees and freight rates when reviewing and updating agreements with forwarders and customs brokers in the U.S. as well as abroad.
I'm sure what I've written is just one aspect of the changes in international transportation and logistics, but it is worth noting and exploring with service providers.