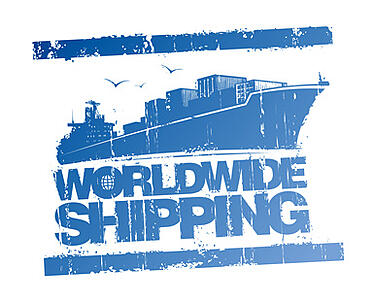 There are currently 6.87 billion people in the world, according to the U.S. Census Bureau, while the United States population is 310 million.
China's current population is 1.33 billion and India is 1.17 billion, according to Internet World Stats. Tokyo, Seoul and Mexico City each have more than 20 million people, whereas New York City has a population of 19.7 million. According to Worldatlas, there are 25 cities with populations of more than nine million people, while Virginia, my home state, has a total population of 7.9 million.
The U.S. economy is expanding at about three percent a year, according to the U.S. Export-Import Bank, the U.S. institution that provides financing and insurance to exporters. Yet many overseas markets are growing at many times that rate. Turkey's economy, for instance, is growing at about 11% a year.
What does all this mean? It means that the world headcount outside the U.S. is 22-times larger than the U.S. domestic population. In other words, 95% of the world's customers and more than 70% of the world's purchasing power is outside the U.S. borders. This reality presents tremendous opportunities for U.S. businesses of all sizes that are savvy enough to utilize assistance from U.S. government export trade programs to reach these companies.
But, you ask, how does a company comprehend such staggering numbers? There are 247 sovereign countries in the world. You certainly cannot attempt to export to so many places. So how do you decide which country or countries to focus on? How do you know where to allocate your scarce funds, manpower and expertise?
If you have been exporting for a long time, how can you get a boost of fresh sales and growth opportunities? Who can you turn to for real world practical and productive assistance?
U.S. Government Helps Companies Grow Exports
The best answer to all these questions is the U.S. government. Yep, you heard it right. If you take advantage of the many U.S. government programs, some customized just for you, then significant export opportunities can be available to you.
The U.S. government has teams of technically multi-talented, motivated professionals located on the ground to help you achieve your export growth goals. They can do a lot of the time-consuming but necessary work for you saving you lots of travel time, so that when you do travel abroad, you can hit the ground running and concentrate on productive activities leading to more sales. And you get all this for a surprisingly inexpensive investment of your money.
---
---
The extensive worldwide network of U.S. Foreign Commercial staff extends to 109 offices across the U.S. and 127 offices in 79 countries. These people are all dedicated to help you compete and win in the global marketplace.
The U.S. government has numerous agencies that provide export assistance and support from marketing to finance to regulations to risk management. You can contact these organizations through the International Trade Administration (ITA), which manages the Export.gov website.
Export.gov is the U.S. government's export promotion and finance portal. This portal is designed to deliver critical export information and services from across the U.S. government to small and medium-sized U.S. companies to begin or expand their exporting business. The U.S. government has also strategically partnered with major corporations to help small and medium-sized U.S. companies begin and/or expand their export sales.
Being your partner is the common thread and theme of the export sections of these agencies. By utilizing their resources, services and programs, you can minimize your risks while simultaneously maximizing your resources, efforts and performance in achieving your worldwide targets and goals.
The U.S. government realizes that 97% of all U.S. exporters are made up of small and medium-sized companies. Further, more than 60% of these exporters have fewer than 20 employees.
The U.S. government knows that assisting these exporters greatly contributes to the economic well-being of the nation. This covers both tangible as well as service industries. The U.S. actually has a trade surplus in the professional service sector, and exports in this area are expected to continue excellent worldwide growth.
While there is tremendous export assistance available from the U.S. government, it is up to you to contact them in order to start the process of getting this help. You need to make yourself aware of and understand the distinct offerings in various government agencies and details of their programs and services.
Sales and Marketing Assistance
I have said it before, and I say it again: The U.S. Department of Commerce (DOC) is one of the best bargains around and one of the best kept secrets in the business of exporting.
Foreign governments exert time, effort and financial resources to help their companies sustain and increase their exports. Some of them are doing a pretty good job including Canada, Mexico, China, Germany, Japan, the United Kingdom, and South Korea.
Other countries are increasing their efforts to also assist their companies in expanding their exports. They all realize that exports are necessary and desirable for their economic well-being and prosperity.
All this equates to a tougher business climate for U.S. companies both in their domestic and international sales. The world is changing and because competition is getting stronger while the complexity and speed of doing business is changing, there are greater needs for government assistance that will help companies grow in current markets while simultaneously penetrating new countries and business sectors.
We are currently seeing some good signs for export growth. The world population will pass the seven billion mark this year for the first time. The U.S. dollar exchange rate makes U.S. produced goods and services relatively less expensive in many countries than it was just a year-and-a-half ago.
Fortunately, the DOC is there to support and assist in so many traditional and new ways that may surprise even the so-called old hands or export experts. They have done a great job based on their results and track record and documented by an abundance of positive testimonials from the very smallest exporter to the billion dollar multi-national giants. On the plus side, these days the DOC policy makers as well as the field hands and the staff in the trenches are focused on small and mid-sized exporters.
Not all services or programs may have benefit or relate to you and your business, but with a portfolio of numerous assistance services available, you may be able to choose and utilize the DOC to your advantage and uncover new export opportunities. But it is up to you to ascertain and understand what programs are available, and it is up to you to initiate the process of engaging the DOC to help you continue to profitably grow your exports accordingly.
For the record, I did not solicit nor receive any help from the DOC in writing this article, and of course, I did not get any compensation and do not belong to any committee of the DOC. I can, however, verify information and the beneficial utility of each of the services and programs I write about because I have personally utilized them in private industry to enhance my companies' sales and profit growth in the capacity of export manager and international vice president during my 43 years being daily engaged in the export process. I do review the DOC websites and routinely keep up with their literature to keep current on what they are doing.
Perhaps one of the greatest potential benefits of engaging the DOC is because they have the ability to discuss and council you about what works and what does not work. The Commercial Service Offices and staff located overseas as well as the Trade Specialists located in all 50 states are routinely exposed to so many companies and situations engaged in exporting activities that they constantly are in the forefront of best practices and opportunities.
---
---
They work with small, medium and large exporters with equal enthusiasm. They work with well-established exporters and first time new-to-export companies. They work in established traditional markets as well as emerging developing markets. It is not possible for any company to have as many people engaged in as many countries in so many business activities as the DOC.
A positive adjunct to this well-exposed attribute is that the DOC staff personnel, both domestic and field staff, are very well connected to marketplace subject matter experts, many of whom are your customers or potential customers. It simply behooves you to take advantage of these connections. You could even look upon the DOC staff as an extension of your own staff and use them as the need arises.
The following are descriptions of the two flag-ship agencies with a list of DOC programs that are designed and operated to help you, so get familiar with them and call on them accordingly.
U.S. Commercial Service Export Assistance Centers
This is a good place to start if you have not fully utilized the U.S. government to help you export. The Export Assistance Centers employ international trade specialists in more than 100 cities in the United States. They are particularly involved in helping small and medium-sized companies.
These locations are often referred to as one-stop shops because they combine trade and marketing expertise and resources along with the financial expertise and resources of the Small Business Administration and the Export-Import Bank.
Here is where you can maximize resources because these locations and trade specialists work closely with other federal, state, local and private partners to offer you a full range of expertise in international trade, marketing and finance.
Trade specialists willingly and enthusiastically provide counsel to you and your company on the steps involved in exporting, help you assess the export potential of your products, identify markets, and locate overseas buyers, reps, distributors and partners. They work closely with their counterparts in over 80 countries.
Many trade specialists were at one time posted in foreign countries as overseas staff, so they know well what to expect and how to provide you with an abundance of practical advice. And if your trade specialist does not have a ready answer to your questions and needs, consider that they are well connected to a world-wide network of specialists and subject matter experts, so they are in a position to generate the answers and information you are looking for to help you export.
Each Export Assistance Center offers information and expertise on these 10 topics:
Locate and evaluate overseas buyers and representatives, distributor, re-sellers, and partners.
Uncover international trade opportunities.
Find foreign markets for U.S. products and services.
Provide foreign economic statistics.
Advise on export documentation requirements.
Tell you the U.S. export licensing requirements.
Tell you the import requirements of foreign nations.
Explain export trade finance options.
Provide international trade exhibit participation and certification.
Conduct export seminars and conferences.
Visit their website to find the Export Assistance Trade Center nearest you. Take the opportunity to get to know the trade specialist in charge of your area and also the trade specialist in charge of your business sector.
U.S. Commercial Service Overseas Posts
Commercial Service officers work in over 150 offices in over 80 countries. They can provide accurate and timely information on trends, actual trade leads and potential overseas customers. Here is a list of six things that they can do for you:
Gather background information on foreign companies.
Undertake agent-distributor locator services.
Conduct market research.
Provide business counseling.
Assist in making appointments with key buyers and government officials.
Provide representations on behalf of companies adversely affected by trade barriers.
The above two lists are not all inclusive but represent the majority of export assistance offered for your benefit by the DOC.
U.S. Commercial Service Programs
Whether you intend to export for the first time or have exported over a thousand times, the successful and popular go-to-market programs provided by the U.S. Commercial Service will benefit your sales growth and expansion plans, help you become more efficient and effective in your performance, and help you reach your ultimate goal to generate more revenue and profits for your company.
Specifically, I will describe the Gold Key Service, International Partner Search, International Company Profile, Featured U.S. Exporter, and Customized Market Research.
Every day the Commercial Service helps many companies export their goods and services through these assistance programs. For more than 40 years as both a recipient of this assistance in private industry as well as seeing first-hand hundreds of companies benefit from these services, I am a strong proponent of utilizing successful techniques to connect to lucrative opportunities and increase the bottom line.
Successful export managers and international marketing managers view these programs as investments rather than costs. For what you get for your money, the investment in any of these services is a bargain by any standard. The following is a brief description of each service. The prices mentioned are current, however, be sure to verify this with your Commercial Service Trade Specialist because they are subject to change.
Gold Key Service
Fee: Large companies $2,300; small/medium (less than 500 employees) companies $700.
If you are interested in pre-screened appointments arranged before you go overseas, this service is designed to reduce the time and money you invest in locating and screening prospective trade partners.
The Commercial Service can help you find potential overseas agents, distributors, sales representatives, and business partners. This enables you to spend your time doing what you do best—managing your company. Let the U.S. Commercial Service arrange business meetings with pre-screened contacts representatives, distributors, professional associations, government contacts, and/or licensing or joint venture partners.
---
---
The Gold Key matching services offer:
Customized market and industry briefings with trade specialists.
Timely and relevant market research.
Appointments with prospective trade partners in key industry sectors.
Post-meeting debriefing with trade specialists and assistance in developing appropriate follow-up strategies.
Help with travel, accommodations, interpreter service, and clerical support.
International Partner Search
Fee: Large companies $1,400; small/medium companies $550.
You can find a pre-qualified overseas business partner quickly and easily using the Commercial Service's International Partner Search, which will put trade specialists in over 80 countries to work finding you the most suitable strategic partners.
You provide your marketing materials and background on your company. The Commercial Service will use their strong network of international contacts to interview potential partners and provide you with a list of up to five pre-qualified partners.
You save valuable time and money by:
Obtaining high-quality market information on the marketability and sales potential for your products and services.
Receiving complete contact information on key officers at each potential partner that is interested in your company along with information on their size, sales, years in business, number of employees, and a statement from each potential partner on the marketability of your product or service.
Getting all this information in approximately 30 business days or as negotiated with your overseas office.
International Company Profile
Fee: Large company $900; small/medium company $600.
Do you ever need to obtain a reliable credit check on international partners? The Commercial Service's International Company Profile service provides you with financial reports on companies in over 80 countries.
Their worldwide network of specialists can investigate the financial strength of a company and provide useful information gleaned from the local press, industry contacts, and other sources. These reports are required by many export financing organizations.
This service provides:
A detailed credit report on a prospective overseas sales representative or partner in approximately 15 days or by the date negotiated with the overseas office.
A listing of the company's key officers and senior management.
Banking and other financial information about the company.
Market information, including sales and profit figures, and potential liabilities.
The Commercial Service will also provide you with an opinion as to the viability and reliability of the overseas company or individual you have selected as well as an opinion on the relative strength of that company's industry sector in your target market.
To find out more about these services contact an Export Assistance Center near you. In the event you are a first-time exporter, you are in luck because the Commercial Service will provide the first service you use—any one of the three above—for a fee of $350.
In addition to services I've mentioned above, there are two additional popular programs that you may seriously want to consider: the Featured U.S. Exporter and the Customized Market Research programs.
Featured U.S. Exporter (FUSE)
With this program, you can promote your products and services to millions of international buyers, distributors and representatives by listing your company profile on the local websites of the Commercial Service. Your company profile will be posted online in the local language and will remain on the site for one year.
The Commercial Service can help you translate your product description into the local language. This online listing is an effective and inexpensive way to gain international exposure and test international markets.
This service is available in over 60 countries in 15 different languages. Visit the FUSE website for more information.
FUSE is an annual subscription and listings are published online for one year. Commercial Service pricing is tiered to reflect their primary mission of supporting small and medium-sized enterprises (SMEs). The base participation fee for SMEs is $150 for each set of five markets.
FUSE listings are sold in sets of five markets (e.g., 5, 10, 15 and 20) with a minimum purchase of $150 required for SMEs. Listings are in English unless otherwise noted. A translation fee of $50 per language applies to listings that require translation into the local language. The Commercial Service does not provide a discount for translations provided by clients as these translations still have to be reviewed and verified by their overseas translation team.
Customized Market Research
Do you know the potential market for your product or service in an overseas country? Is your product subject to safety standards? Who are your competitors? Do you need fast, customized market research that answers your international business questions?
The Commercial Service can provide answers to these and other specific questions you may have regarding a foreign market for your products or services. They can help you identify and evaluate key dynamics of the market, and to understand the opportunities and challenges it offers. You have the flexibility to design your own set of questions.
The Customized Market Research program makes use of the Commercial Service's vast network of industry associations, government agencies, importers, distributors, end-users, and manufacturers to provide you with information critical to your international success.
Here is what you can expect from these Customized Research Reports:
Gauge sales potential in an overseas market.
Choose the best new markets for your product or service.
Establish effective selling and distribution strategies in specific markets.
Find the best channels for getting your product to market.
Discover what factors influence potential customers.
Identify your competitors.
Overcome potential market impediments, including quotas, duties and regulations.
Obtain the pricing of comparable products.
Price is dependent on the level of detail involved, the availability of information, and the time required to conduct the research. Report content and turn-around time are discussed and agreed upon ahead of time. To order a customized market research report, contact your local Commercial Service Office and ask to speak with a trade specialist.
In today's tough global business environment, exporters large and small, old and new need as much assistance as possible. Utilizing the services and the friendly, knowledgeable and well-connected staff of the Commercial Service may be just the help you are looking for.