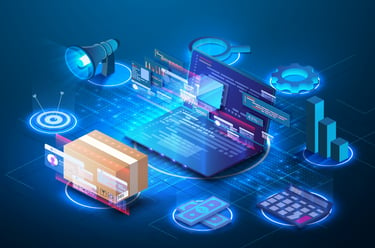 For most human resources professionals, international trade and export compliance are not topics they expected to encounter during their day-to-day jobs. However, at many companies, the partnership between export compliance and HR is crucial. The following summarizes key intersections and how HR may serve a valuable and necessary role in ensuring export compliance company-wide.
Deemed Exports
Most people (but hopefully not experienced export compliance professionals!) think of exports only as the shipment of tangible items across borders. However, exports may also include the transfer of technology via emails, phone calls, faxes (are people still faxing?), in-person meetings and almost any other channel of communication. The release of U.S.-controlled technology to a foreign national is deemed by the U.S. government to be an export of technology.
Deemed exports make the partnership between export compliance and HR important. Everything discussed below relates to the deemed export challenge: ensuring companies with controlled technology are aware of who has access to its technology and appropriately safeguard against unauthorized access. While the concept of a deemed export is unique to the U.S., the extraterritorial scope of U.S. export regulations means deemed export rules apply broadly—potentially to any company that exports from the U.S., has U.S.-origin products and/or incorporates U.S.-origin technology in its products.
Tracking Nationality
Once you understand deemed export rules and how they may apply to controlled technologies at your company, it's necessary to account for the nationality and/or residency status of employees, contractors, interns and others within your company who need access to such technologies. Remember, U.S. permanent residents are treated the same as U.S. citizens for purposes of export compliance.
It should be HR's responsibility to collect and retain information on employees' nationality, residency and location and track and update this information. For example, did an employee's green card expire? Did a Chinese national employee recently become a U.S. citizen? Did an employee living in the U.S. recently move to Iran? HR needs to keep export compliance aware of changes that may impact an employee's access to controlled technology. In turn, it should be the responsibility of export compliance to train HR on the rules and regulations.
Training HR
HR needs to understand the rules and regulations that affect hiring decisions and the internal mobility of employees. U.S. export regulations can be complicated in this regard, so HR should be trained by export compliance on some of the more nuanced concepts. As an example: under Export Administration Regulation (EAR), a non-U.S. person's most recent citizenship status is determinative, whereas the International Traffic in Arms Regulations (ITAR) considers all citizenships of a non-U.S. person.
Ideally, export compliance should be working with HR to develop desktop policies, decision trees and cheat sheets to determine when candidates could be hired for technical roles that require access to export-controlled technology. While HR doesn't need to be the subject-matter expert in export compliance, it should have enough information to understand the why behind policies and procedures that they have been asked to implement and follow.
These are a few areas of confusion that I have seen pop up many times for HR professionals who haven't been adequately trained on export compliance:
The significance of a U.S. green card and/or dual nationality.
The difference between export-compliant status and immigration status.
Which employees are required to sign a TSR letter to access controlled technology.
The significance of the EAR's country lists in making hiring/access determinations.
Job titles and employment status (export regulations don't distinguish between VPs and junior analysts, nor between full-time employees and part-time contractors).
Providing adequate training to HR professionals serves two functions:
If HR understands the policies and context behind them, it is more likely to correctly and consistently follow such policies.
The earlier and better HR is trained, the less likely export compliance will need to answer the same question, over and over, down the road.
Discrimination Concerns
In general, U.S. export regulations (EAR, ITAR) and U.S. anti-discrimination laws (Title VII of the Civil Rights Act of 1964, The Immigration and Nationality Act) have been able to co-exist, even though the latter specifically prohibits employers from discriminating based on criteria such as national origin and citizenship. But HR should be aware of the limited circumstances in which export-compliance related recruitment or hiring policies/decisions could present discrimination concerns.
U.S. companies have been targeted by the Department of Justice (DOJ) when hiring restrictions they enacted for export-compliance reasons were determined to be overly broad—for example, using language in job postings or hiring criteria that prohibits all foreign nationals from applying, even though the applicable export regulations only restrict a small group of nationalities.
It's important for HR to work with export compliance and legal teams to ensure job postings, recruiting processes and employee screening procedures take into account federal anti-discrimination regulations as well as guidance from the DOJ on the subject. The following best-practices for HR may help mitigate violations:
Determine whether a position will require access to export-controlled technology before a job description is posted and state any such requirement in the posting.
Don't discourage foreign nationals from applying.
Don't state that U.S. nationality is a condition of the job.
Don't use the "citizenship" terminology (green card holders are U.S. persons too).
Offers can be made contingent upon the ability of the company to receive an export license for the candidate.
The export compliance screening process should be separate from the HR initial hiring intake and employment verification process (e.g., the I-9 and related employment eligibility documents should not be used to conduct export compliance screening).
Only request nationality information for positions that require access to export-controlled technology.
Correctly apply dual-nationality rules (don't discriminate in the hiring process against U.S. citizens simply because they also hold citizenship in another country).
Periodic Assessments
People move, their jobs change and sometimes their citizenship/residency statuses change. HR should be prepared to conduct assessments/audits to evaluate and update such changes, as they could have an impact on export compliance and employees' continued ability to access controlled products, information and technology. Periodic assessments should be conducted by HR to evaluate:
The changing scope of duties for existing employees, staff, contractors and interns.
The need for certain employees to retain access to IT platforms where export-controlled technology may be stored.
The integrity and completeness of data related to employees' nationality, residency and/or geographic location.
The need for continued employee training or updates on export compliance awareness.
---
Related International Trade Blog articles you may be interested in: