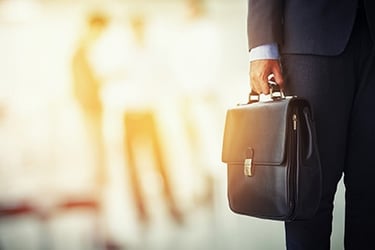 When exporters think about their company's export compliance—if they think of it at all—they think about it on the back end of the export process. They probably check out the restricted parties lists and, hopefully, find out if a license is needed for shipping their goods.
But this isn't good enough. To really be efficient and strategic, company staff need to be involved with compliance from the very beginning of the process.
That means that the international sales team should be involved from the start: They should understand requirements so they can make sales decisions based on ensuring compliance.
With that in mind, I've created a list of six things your international sales team needs to know about export compliance.
Be Aware of What You Can Sell and Market in Certain Countries
You and your international sales team need to be aware of the export compliance regulations for all of the markets you're selling to. This way, you're aware of the additional hurdles to exporting and what is required if you do decide to export to these "complicated" countries before you spend the time and money to ship goods there.
Anticipate Licensing Hurdles in Advance
Why waste your time trying to sell a product into a country where it turns out you'll need a license on every shipment? After all, agreeing to this type of export makes the process more difficult to do and takes longer. Now, this doesn't necessarily mean you shouldn't do it, but your sales team needs to think strategically about whether or not it's worth pursuing.
If a license is required, your sales team needs to allow for extra lead time (and provide buffer time throughout the process) to make sure you can clear the export compliance requirements and still deliver your goods to the buyer on time.
Keep an Eye on Duty and Taxes
In addition to regulatory requirements, your sales team needs to be aware of the duty rates and taxes for any potential export shipments. High duty rates may make the export much more expensive; your sales team should determine if the exports will be competitively priced (so it'd be worth it to try to export the goods) or whether you're better off exporting to countries that offer preferential tax rates.
Make Sure Potential Customers Aren't on Denied Party Lists
As you and your sales team talk with potential customers—and before you spend a lot of time wining, dining, negotiating and coming to a sales agreement—you want to make sure they're not on a denied party list (also called a restricted party list).
Denied party lists are lists of organizations, companies or individuals that various U.S. agencies have identified as parties with whom you can't do business. They may be a terrorist organization or affiliated with such an organization, they may have a history of corrupt business practices, or they may otherwise pose a threat to national security.
To identify these entities, you and your sales team should do restricted party screenings (or denied party screenings) wherein you check potential customers or business partners against one or more of the restricted party lists to ensure they are not doing business with a restricted party.
Restricted party screening software makes checking these hundreds of lists easy—you can see how the process looks in the article, What's the Big Deal about Export Compliance Software?
Be Aware of the Foreign Corrupt Practices Act (FCPA)
Just as you and your sales team need to know if your potential customers are on a restricted party list, you also need to make sure your sales team isn't jeopardizing your company by engaging in practices that could be considered illegal under the FCPA.
The FCPA prohibits paying bribes to foreign government officials, specifically to buy products or clear customs faster. It was passed in 1977 in response to several U.S. bribery scandals involving the Mexican oil company PEMEX and the Tanaka government in Japan. In the last few years, there has been increased enforcement of the FCPA, and big-name companies have faced substantial penalties.
But just because the big names and large fines get attention, that doesn't mean smaller, less-well-known companies won't get in trouble as well and face penalties. This is why your international sales team needs to pay attention.
Additionally, your international distributors and partners need to be aware of the FCPA.
Be proactive in terms of educating your team (including your international distributors and partners) about what the U.S. regulations and requirements are. FCPA violations show companies have gotten in trouble because of a distributor's activities.
Make sure you have good representatives whom you can rely on to follow your export compliance program.
For more information about the FCPA, check out these two articles (and then make sure you pass them to your sales team to read as well!):
Put Your Sales Team in the Export Compliance Mindset
Every member of your team should be intimately familiar with export compliance, and that includes your sales team. In fact, as the face of your company, they should be at the forefront of the process, making sure to involve your company's business partners who are leading the charge into foreign markets.
One excellent way to make sure they're involved with compliance and aware of their responsibilities is to make sure their roles and responsibilities are spelled out in your team's export compliance manual or export compliance program. This is formally called an Export Compliance Program (ECP).
As the written manual is the basis of your compliance training program, your export compliance manual and audit plan should include pertinent policies and step-by-step procedures. By making sure your sales team knows about this, you'll prepare them for the unknown and feel confident in your process should you ever be subject to an export compliance audit.
Additional Resources
For more information about what your sales team needs to know about export compliance, check out these resources:
If you've got some extra time and an interest in export compliance, check out all 100+ export compliance articles in our archive.
---
This post was originally published in June 2017 and has been updated to include current information, links and formatting.