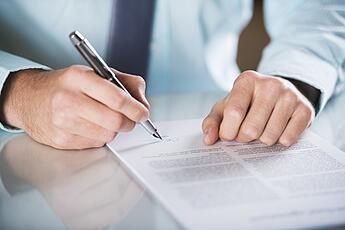 Doing business internationally means responding to requests for certain documents, certain statements on documents, or additional terms and conditions.
When exporting, firms create certain standard documents: a commercial invoice, a packing list, and a certificate of origin. International customers may request additional documents to satisfy their country's import requirements, letters of credit, sales contracts, or purchase agreements. One of those additional documents is a Manufacturer's Affidavit.
Manufacturer's Affidavit for Export
A Manufacturer's Affidavit, which is also sometimes described and labeled as a Manufacturer's Certificate, is typically used in one of four ways:
1. A Manufacturer's Certificate might be used in lieu of a Certificate of Origin.
For example, Charles' Dryer Company realized that they wanted to sell to their existing customers, but they were limited in their ability to do so since their professional dryers were lasting longer than anticipated. They were eager to sell their customers state-of-the-art units with new electronic controls.
To facilitate new sales, Charles' Dryer Company agreed to remove units that were less than 10-years old and certified by an engineer as being in operating condition. They would sell these older units to its international customers in certain emerging markets.
Their customers were eager to purchase these used dryers and bought as many as the firm could supply. However, the Mexican customers were anxious for a Certificate of Origin. Since Charles' Dryer Company had neither possession nor control of the dryers in the interim, they could not provide a certificate. Instead, they offered their customers a Manufacturer's Affidavit.
"This document certifies that Dryer Model No. 52345 was manufactured by Charles' Dryer Company, 1234 Charles Street, Charlestown, NC 12345 USA, in December 2012."
2. A Manufacturer's Affidavit or Certificate may be used when required under a letter of credit. The letter of credit will specify the wording of the Affidavit or Certificate.
3. A Manufacturer's Affidavit may be requested by the buyer if payment occurs prior to shipment but not prior to production.
Once production is complete, the seller confirms the order is ready to ship by preparing a Manufacturer's Affidavit. It will describe the goods and the state the goods have been produced in accordance with the contract. Upon receipt of the certificate, the buyer forwards payment and shipping instructions to the seller.
This usage requires a trusting and long-term relationship between the buyer and seller.
4. A Manufacturer's Affidavit may be required by the buyer's country to verify the origin of the goods and the name and address of the producer.
Exporters have a number of reliable resources for finding more information about documentary requirements including freight forwarders, Bloomberg BNA, the U.S. Commercial Service, or the foreign government's U.S. consulate. In addition, you can download A Beginner's Guide to Export Forms from the Shipping Solutions website.
In Part 2 of this series, I examine a Manufacturer's Affidavit for Import, also known as a Declaration for Free Entry of Returned American Products.
---
This article, which was first published in January 2003, has been updated to include current information and web links.