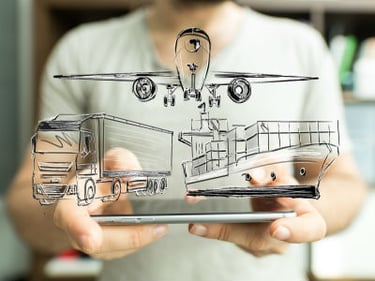 If you're the person at your company who is charged with completing export paperwork, you know how time consuming and tedious it can be. Spending all your time completing export forms makes it hard to do other things that could help you grow your company and improve your exporting.
And while you know these things, it can be difficult to make that justification to the appropriate people at your company, persuading them to invest in export documentation software that can make you more efficient.
5 Reasons to Invest in Export Documentation and Compliance Software
With that in mind, we wanted to create a simple document you can use with five major advantages of investing in export documentation and compliance software. You can share it with your managers and colleagues to build consensus and illustrate the tangible benefits of choosing software.
1. It improves the deliverability of your export shipments.
The export documents you create for your international shipments are used throughout the export journey. Providing incorrect or incomplete information to your freight forwarder and carrier can delay the shipment and delivery of your goods.
It can also mean that your goods could get stopped by U.S. Customs and Border Protection because they have questions about your shipment, or it could be stopped by the customs authority in the country of import for the very same reason. Any of these delays in transit postpone delivery and ultimately slow down when you get paid.
Making sure you understand and know how to correctly complete all of the required export forms is the first step. Shipping Solutions export documentation software helps you do just that, improving the accuracy of your export paperwork by reducing typos and inconsistent documents. Enter your information once, and the software automatically formats and places it on the right spot on the right forms.
2. It improves the speed with which you get paid for your exports.
Depending on the method of payment for your export sales, you may be required to present certain export documents to your bank in order to get paid. If the documents you present don't include the required information, or if the information on each document is not consistent with each other (which happens more often than one would think), then the bank may request clarification or require an amendment to a letter of credit, which takes time and costs money.
3. It reduces the time it takes to complete your export paperwork.
An average export shipment requires five export forms. If you are entering the same information over and over again on the different documents, it can be a time-consuming and tedious task. An export documentation software like Shipping Solutions allows you to enter the information once, on one data-entry screen, and then copies the appropriate, correctly formatted information in the appropriate spots on each export document.
In addition, because you can store your company, product and customer information in the Shipping Solutions databases, you don't have to retype that information on every new shipment. Simply select the appropriate contacts and products from a drop-down list. Not only does that reduce the time it takes to complete your export forms by up to 80%, it improves the accuracy of your paperwork (see advantages #1 and #2).
Shipping Solutions Professional and Shipping Solutions Enterprise versions also include the Data Exchange Manager that allows you to import orders from your accounting, order-entry, or ERP system, saving you even more time.
4. It ensures compliance with U.S. export regulations.
Export compliance regulations don't just apply to the big guys. Even the smallest U.S. businesses that send their products to customers outside the country are subject to a variety of export regulations and could face substantial penalties for violating these rules.
To help exporters understand their responsibilities regarding compliance, Shipping Solutions Professional includes an Export Compliance Module that allows you to quickly check all the contacts in your export shipment against more than 140 different government denied party lists to ensure you aren't doing business with someone you shouldn't be.
In addition, you can check to see if your product requires an export license before you ship it to a particular country. And it will tell you which documents are typically required for an export to a particular destination, so your shipment isn't delayed while they wait for the correct paperwork.
Violating export regulations can result in significant fines, loss of export privileges, and in the most egregious cases, jail. (For more information on real-life cases involving export violations, check out the Bureau of Industry and Security document, Don't Let This Happen to You!)
5. It allows you to monitor your exports.
We think every company that exports should have two things:
Export documentation software that standardizes the export paperwork throughout your company.
Instead of different locations or even different departments within a single location generating their own homemade documents for their shipments, these two things ensure you have one standardized set of documents that meet current export requirements and the best practices of the U.S. export community.
In addition, you have a single place where all your export paperwork resides and where you have proof of your export compliance efforts in case you ever get audited by the Office of Export Enforcement, the FBI, or some other agency that has jurisdiction over exports.
Try America's #1 Export Documentation Software
Shipping Solutions is used by thousands of exporters across the country who are saving time, improving accuracy, and getting paid faster. Here's what they've shared with us!
But don't just take their word for it; come see how you can benefit from Shipping Solutions. Sign up for a free demo of the software today!