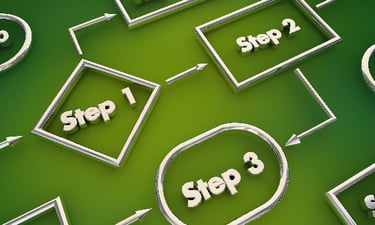 U.S. exporters quickly develop an awareness of two acronyms: ITAR, the U.S. Department of State's International Traffic in Arms Regulations, and EAR, the U.S. Department of Commerce's Export Administration Regulations. I often get calls from exporters asking similar questions: "How do I know if my items are controlled by ITAR or EAR?" or "I've determined that my items are covered by the EAR. Now what?"
The Bureau of Industry and Security (BIS), which is charged with enforcing the EAR, explains that there is a specific Order of Review process for determining export controls jurisdiction (which agency controls the export) and classification (the correct commodity classification code to use for the product being exported). This article breaks it down.
Throughout this article, I refer to the United States Code of Federal Regulations (CFR).
Step 1: Determine if your item is described on the United States Munitions List (USML).
Reference: 22 CFR 121 - U.S. Munitions List
Reference: 22 CFR 121.1(b) - U.S. Munitions List Order of Review
An item is subject to the U.S. Munitions List if either:
It is specifically enumerated in a USML category, or
the item is described in a "catch-all" paragraph that incorporates "specially designed" (see 22 CFR 120.41) as a control parameter.
Begin by evaluating the general characteristics of the item to find the appropriate USML category.
Next, attempt to match the particular characteristics of the item to a specific entry in that category. If the entry includes the term "specially designed," refer to 22 CFR 120.41 to determine if the item qualifies for one or more of the exclusions described in CFR 120.41(b).
If an item is described in multiple entries, it should be categorized according to an enumerated entry rather than a specially designed catch-all paragraph.
All items covered by the USML require an export license from the U.S. Department of State according to the ITAR. For a more detailed explanation of the USML, read USML vs. ECCN: What's the Difference?
If your item is not covered anywhere on the USML, export controls jurisdiction transfers to the U.S. Department of Commerce per the EAR.
Step 2: If not on the USML, check the Commerce Control List (CCL).
Reference: 15 CFR 774 - Commerce Control List
Reference: Supplement No. 4 to 15 CFR 774 - Commerce Control List Order of Review
If you determine that an item is not subject to the USML, you can move on to checking the CCL, the list of Export Control Classification Numbers (ECCNs) administered by the U.S. Department of Commerce. ECCNs are for dual-use items, meaning items that were designed for commercial use but have the potential to be adapted for weapons- or military-related use. Many seemingly inconspicuous items may be considered dual-use, from valves and communications hardware to electrical devices and vehicle parts.
ECCNs are five-character codes, always starting with a number, that represent one of 10 CCL categories:
| | |
| --- | --- |
| 0 | Nuclear & Miscellaneous |
| 1 | Materials, Chemicals, Microorganisms and Toxins |
| 2 | Materials Processing |
| 3 | Electronics |
| 4 | Computers |
| 5 (Part 1) | Telecommunications |
| 5 (Part 2) | Information Security |
| 6 | Sensors and Lasers |
| 7 | Navigation and Avionics |
| 8 | Marine |
| 9 | Aerospace and Propulsion |
The second character of an ECCN is always a letter, which represents one of five product groups:
| | |
| --- | --- |
| A | Systems, Equipment and Components |
| B | Test, Inspection and Production Equipment |
| C | Material |
| D | Software |
| E | Technology |
It is important to know if any of your products have ECCN classifications, because items with ECCNs may require an export license, depending on the destination country. U.S. exporters can use BIS's free CCL Order of Review Decision Tool to help make this determination.
CCL Order of Review
First, review general characteristics of the item being exported to determine in which category it belongs according to the chart above. For example, if the product is a laser device, go to Category 6 (Sensors and Lasers).
Second, determine the product group, which is identified by one of the letters in the chart above.
Third, determine if the item is described in a 9x515 or 600 Series ECCN other than a catch-all paragraph such as .x. Make sure to read the notes. Some ECCNs direct you to other ECCNs during review. I explain this process in more detail in my article Export Compliance: Understanding 600 Series ECCNs.
Fourth, if your item is not described in a 9x515 or 600 Series subparagraph .a through .w or .y, then check the catch-all paragraph .x. (I explain the catch-all paragraph in more detail below.)
Read the definition of "specially designed" in 15 CFR 772.1 to see if your item is covered by either paragraphs (a)(1) or (a)(2). If it is, then determine if the provisions of paragraphs (b)(1)-(6) of the definition apply to your item. If the conditions of these paragraphs don't identify your product as specially designed, then it will not be covered by an ECCN that contains "specially designed" in the definition.
Fifth, if you determine that your item is not a 9x515 or 600 series ECCN, then review each ECCN of the product group to determine if the item is described in an ECCN that does not have "specially designed" as a control parameter.
Sixth, if your item is not described under any ECCN on the CCL, then it's designated as EAR99. EAR99 items may still require a license when exported to a prohibited or restricted end user, end use or destination (see General Prohibitions 15 CFR 732.3 and 736).
Understanding U.S. Catch-All Controls
According to the U.S. Department of State, "catch-all controls" are a way for the U.S. to restrict exports of certain dual-use items that are not explicitly listed on the Commerce Control List but are used in the production of weapons of mass destruction (WMDs) or missiles. Rather than relating to the specific technical characteristics of the product as in the case of listed ECCNs, catch-all controls are related to the end use and end user of the items.
An example of a catch-all paragraph is ECCN 7A611.x:
Notice the "specially designed" language used in this example. Exporters can use BIS's "Specially Designed" Decision Tool to determine if their product falls into a specially designed category.
Under these catch-all controls, U.S. exporters need an export license if they:
Know or have reason to believe that an export will be used in certain nuclear explosives activities, unsafeguarded nuclear activities, and certain safeguarded nuclear activities.
Know or have reason to believe that the export will be used in a missile project of concern in a listed country or the design, development, production, stockpiling or use of chemical or biological weapons.
Is informed by the Department of Commerce that an export would present an unacceptable risk of use in or diversion to WMD activities or a missile project of concern anywhere in the world.
Step 3: If necessary, consider a Commodity Classification Automated Tracking System (CCATS) submission.
If you do a thorough search of the CCL and are unable to find the appropriate classification of an item, you can submit a CCATS request through BIS's SNAP-R portal and BIS will determine it for you. I will explain CCATS in more detail in my next article.
Product Classification and License Determination Software
Many companies rely on software to help classify their products with the correct USML or ECCN codes. Shipping Solutions' Product Classification Wizard, for example, includes a search tool that makes it quicker and easier to scan through the various USML and ECCN listings based on a description of the product.
Once you've identified the proper export control code, you can refer to the Commerce Country Chart to determine if you need an export license to ship it to a particular country. Alternatively, if you want to save time, Shipping Solutions' Export Controls Wizard quickly checks the Commerce Country Chart to determine if an export license is required while also determining whether a license exception may be available.
However you do it, it's important that you determine the proper export control classifications for your products and use that information to identify if any restrictions apply. Failing to do so can lead to hefty fines, loss of export privileges and in the most flagrant cases, jail time.
---
Like what you read? Subscribe today to the International Trade Blog to get the latest news and tips for exporters and importers delivered to your inbox.