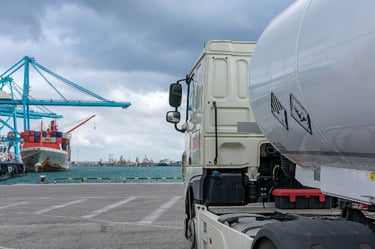 Depending on your industry, you may have heard mention of 600 series Export Control Classification Numbers (ECCNs). The 600 series includes items that were previously listed in the United States Munitions List (USML) and controlled by the U.S. State Department per the International Traffic in Arms Regulations (ITAR), or were covered by the Wassenaar Arrangement Munitions List (WAML). Instead, these items now have been moved to the Commerce Control List (CCL), administered by the U.S. Commerce Department under the Export Administration Regulations (EAR).
The first 600 series ECCNs went into effect in 2013. Though the 600 series has existed for almost a decade, many are still scratching their heads wondering what it's all about.
Identifying a 600 Series ECCN
The term 600 series refers to ECCNs that include 6 as the third-from-last digit in the code. The codes take the format of "xY6zz," where x represents the CCL category (0-9), Y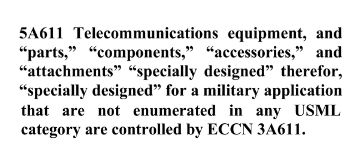 represents the CCL product group (A-E), and in most cases, the zz represents the WAML category.
For example, 5A611 is a 600 series ECCN.
Purpose of 600 Series ECCNs
Generally speaking, controls related to items on the USML are stricter than controls placed on items on the CCL. This makes sense because the USML is for items that have an explicitly military- or defense-related use (higher risk), whereas the CCL is for dual-use items, meaning items that have a commercial use but have the potential to be incorporated into a military- or defense-related use (relatively lower risk).
State and Commerce Department officials made the determination that some items that previously appeared on the USML were better controlled under EAR than ITAR, and they labeled these with the new 600 series ECCNs. Officials transferred these items to the EAR, in part, to loosen restrictions to make it easier to export these items to NATO countries and other allies. That's not to say that 600 series ECCNs get a free pass—far from it. In fact, 600 series ECCNs tend to have stricter requirements than non-600 series ECCNs.
600 Series Export Compliance Requirements
Generally speaking, 600 series ECCNs are subject to the following Commerce Country Chart reasons for control:
National Security Column 1 (NS1)
Regional Stability Column 1 (RS1)
Anti-Terrorism Column 1 (AT1)
United Nations embargo (UN)
All items controlled for NS1 reasons, and most items controlled for RS1 reasons, require that an exporter obtain a license before exporting a 600 series item to any country other than Canada. (For an overview of reasons for control, see my previous article Export Administration Regulations: Understanding Reasons for Control.)
All exports of 600 series items require an Electronic Export Information (EEI) filing through the Automated Export System (AES), regardless of value or destination.
600 series items may not be exported to countries subject to U.S. arms embargoes.
Deemed Exports of 600 Series ECCNs
A deemed export occurs when a U.S. company releases knowledge of controlled technology to a foreign national. Unlike exports of physical goods, a deemed export represents the transmission of information itself.
"Use" technology refers to specific information necessary for the use of a product subject to a technology-related ECCN.
Regarding deemed exports of 600 series items, a license is required for deemed exports of "Use" technology when the following conditions are met:
Technology pertaining to one or more of the elements of "Use" listed in a 600 series ECCN will be released;
The technology is not publicly available;
The individual to whom it is released is a foreign national; AND
A license is required to export the "Use" technology to the individual's home country.
9x515 ECCNs
A separate but related group is 9x515 ECCNs. Examples of 9x515 ECCNs include: 9A515, 9B515, 9D515, 9E515. The 9x515 ECCNs describe "spacecraft," related items and some radiation-hardened microelectronic circuits that were once subject to the ITAR under USML Category XV.
All technology-related ECCNs use "and" language with the exception of 600 series ECCNs and 9x515 ECCNs, which use "or."
For example, 9E915 (a 9x515 ECCN) reads as follows:
"Technology" "required" for the "development," "production," operation, installation, repair, overhaul, or refurbishing of "spacecraft" and related commodities, as follows (see List of Items Controlled).
Aside from these two groups, technology ECCNs use "and" instead of "or." Thus 600 series and 9x515 technology ECCNs are broader in scope than other technology ECCNs, encompassing a much wider range of technologies. And just like 600 series ECCNs, exporters must maintain oversight on deemed exports of 9x515 technology.
The key to making sure your products are classified properly and your compliance program is kept up to date is to reference the relevant regulations. It is important to read the text of the regulations for each 600 series ECCN that's on your roster of products for export. Tools like the Shipping Solutions Product Classification Wizard can help streamline the process.
In my next article, I'll discuss the procedure for Order of Review of ITAR and EAR to check if your item is classifiable under a 600 series ECCN.
---
Like what you read? Subscribe today to the International Trade Blog to get the latest news and tips for exporters and importers delivered to your inbox.