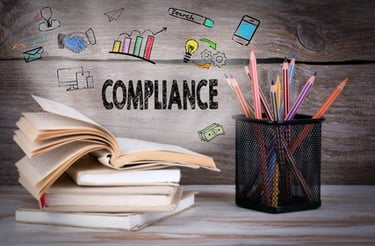 Companies that engage in international trade often hear about the necessity of compliance. For U.S.-based exporters, complying means that you are following the rules and regulations of the U.S. government, including the Foreign Trade Regulations (FTR), Export Administration Regulations (EAR), and the International Traffic in Arms Regulations (ITAR). However, it is not enough to simply follow the regulations.
All exporters ought to document their compliance efforts in a logical, organized fashion. That way, if your company ever gets audited by the Office of Export Enforcement (OEE) or another agency with jurisdiction over exports, you can show that you are doing your due diligence to maintain compliance.
As a general rule (outlined in Part 762 of the EAR), export regulations require you to maintain export documentation for at least five years after an export transaction is complete. But that requirement doesn't extend to documenting your compliance efforts. However, documenting compliance allows you to demonstrate due diligence. And in cases where an export violation may have occurred, due diligence is a strong mitigating factor that could protect you from excessive fines or penalties such as loss of exporting privileges or jailtime.
Export Management and Compliance Program
One crucial tool that exporters can utilize is a written Export Management and Compliance Program (EMCP). An EMCP helps exporting companies to establish a framework for ensuring compliance with U.S. trade regulations.
When developing an EMCP, it's important to consider:
How are you doing restricted or denied party screening? That is, how are you making sure that you are not doing business with individuals or companies on any of the dozens of restricted or denied parties lists?
How are you determining if you need an export license, and what are the steps involved in obtaining a license if one is needed?
How are you determining which documents you'll need to provide for each shipment? Not only must you comply with U.S. trade regulations, but you may also need to comply with the regulations imposed by the customs authority of the country of import.
How are you filing through the Automated Export System (AES)? Are you doing it yourself or are you authorizing an outside agent such as a freight forwarder to file on your behalf? If you are authorizing an outside agent, how are you making sure that they complete the filing correctly?
How is your company providing compliance training for employees and ensuring ongoing management commitment to the EMCP?
What actions should be taken if a compliance violation is detected?
Using Software to Ensure Export Compliance
Export software such as Shipping Solutions export documentation and compliance software can be integrated into your EMCP. Shipping Solutions has an Export Compliance Module built-in which has three tools: a Restricted Party Screening tool, a Document Determination tool, and an Export License Determination tool.
Furthermore, the software allows you to create a Shipment Log, a document that lists the specific steps that are part of your company's compliance procedure. You can sign and date next to each step as it is completed, and the Shipment Log can be stored in the master record and printed or emailed from the software. Having this document as part of your records gives concrete proof that your company is following a compliance procedure for each shipment.
It is important to consistently update your EMCP. Periodic internal audits will help determine if the EMCP is performing as it should and will help you decide what, if any, changes ought to be made.
The U.S. Department of Commerce Bureau of Industry and Security (BIS) strongly recommends that companies engaged in international trade develop their own EMCP, and recently published a manual titled Export Compliance Guidelines, which gives a great overview of what to keep in mind when developing your compliance program.
For a more in-depth description of EMCPs and how to create your own, download our free white paper, How to Create and Implement an Export Management and Compliance Program.