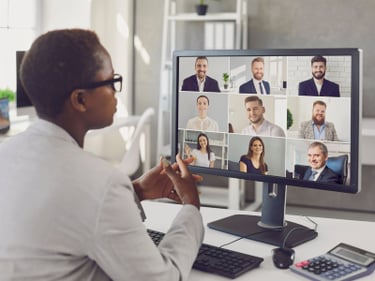 Unless you handle all parts of the export process by yourself, being an exporter means coordinating the efforts of a team of people within and outside your company to ensure your goods reach their final destination on time, on budget, undamaged and without surprise.
That's hard enough when everyone is working in the same office. But when you are working with a remote team, you face new challenges.
Like a lot of companies, Shipping Solutions went from everyone working in the office in March 2020 to having everyone working from home just a week later. We didn't return to our offices until the end of 2021—18 months later. It was strange at first, but thanks to a great group of employees and their willingness to adapt and embrace some new technologies, we not only survived, we thrived. And we continue to rely on a hybrid work model.
We are not alone. Remote and flexible work arrangements are expected to last. Most companies plan to continue to allow their teams to work remotely at least part time, and a whopping 97% of job-seeking employees are looking for only fully-remote or hybrid work arrangements. For that reason, skillful management of remote export teams will be crucial to growing global businesses.
In this article, we'll discuss four tips for managing remote export teams successfully. Some of these tips apply broadly to any industry, while some are specific to international trade. All are worth considering.
4 Best Practices for Managing a Remote Export Team
1. Decide if a synchronous or asynchronous work schedule works best for your team.
Will you allow your employees to work according to their own schedules, or do you want to synchronize them for at least part of the day, so everyone works core business hours? There are pros and cons to both, but for exporters, synchronous work may be the best choice.
Consider your daily operations:
Do you require quick back-and-forth conversations between employees throughout the day?
How quickly do employees need to react to keep an export moving?
How many moving parts would be interrupted by asynchronous schedules?
It's likely that having your team online during consistent "working hours" is preferable to having them work whenever is convenient for them. This decision will inform all of the other decisions you'll make, as well as how you manage your team.
2. Establish strong internal and external communication processes.
Companies need to make sure that the members of their export team can communicate with each other while working remotely as well or better than they did when everyone was in the office. But they also need to make sure their teams are communicating well with people outside their company, including their customers (the importers), their supply chain partners like freight forwarders and carriers, and other outside partners like their bankers and attorneys.
According to Brandon Walsh, founder of Golf Clubs Guru, exporting teams need the right tools and solutions to get their work done efficiently. Aside from standard communication tools, Walsh finds cloud-based collaboration software helps his team send and receive invoices, sales and shipping documents across the globe.
Internal communications best practices and tools include:
Scheduling consistent check-ins with your remote staff. Set a recurring meeting on a weekly or biweekly basis, and stick to it.
Using video conferencing tools when possible.
Standardizing the communication methods for your team. Will you use a messaging platform such as Slack, email or some other tool?
Creating or clarifying communication expectations and policies and including them in an employee handbook.
When handling external communication, managers should create and then monitor processes that standardize how information is transmitted. Your various departments need to be consistent in how they handle and speak with clients, vendors and any other external parties they will come across during an export transaction.
Important Note:
Whether your exporting team is located in a central office, works remotely, or a hybrid of the two, all of your internal and external communication practices should follow what you have written in your Export Compliance Program (ECP).
An ECP analyzes pieces of information and individual decisions and builds them into an organized, integrated system. It is a program that can be established to manage export-related decisions and transactions to ensure compliance with the appropriate government export regulations such as the Export Administration Regulations (EAR), the International Traffic in Arms Regulations (ITAR), the Foreign Trade Regulations (FTR) and others.
Creating an ECP for your company does require some work, but it is absolutely worth it for the health of your company, especially if you're reevaluating how your team works. Learn how to create or update yours in in our free white paper, How to Create and Implement an Export Compliance Program.
3. Find and use the best tools.
Not only will you want to utilize tools for efficient internal communication, you'll want to find and ensure your entire team has access to the same kinds of tools they would have in an office environment.
According to David Morgan, owner of Snorkel-Mart, one way to optimize exporting processes across a remote team is to implement project management software and collaboration tools. (Some options include Trello, Asana, Teamwork, Zoho or proprietary software specific to your industry.) Morgan has found these tools lower the chance of any mistakes as the remote team can connect with one another and double-check the dashboard to see the daily agenda. As a result, efficiency increases, which positively impacts productivity.
For exporters specifically, it is important to have access to tools that streamline sales processes and make it easier to finalize deals. This may include the following:
Online quoting, proforma invoices and sales contracts.
Other forms needed in the exporting process. (Check out our comprehensive library of free downloadable export forms).
Digital counter-signature tools.
Online invoicing.
Digital stamps and signature technologies.
4. Automate where you can.
According to Morgan, managing a remote export team can be difficult because everyone needs to be in constant communication to eliminate shipment delays. For that reason, he and others suggest automating processes to reduce the workload of employees and improve communication.
One of the most crucial things exporters can automate? Their documentation.
At Shipping Solutions, that's something we've been doing since before Zoom existed. With our software, you can create accurate export paperwork faster and easier. In fact, you can create more than two dozen export forms five-times faster than doing it manually. Simply enter your information once, and the software automatically formats and places it in the right spot on the right forms, every time. With Shipping Solutions, you'll be able to:
Improve the accuracy of your documents. By eliminating redundant data entry, Shipping Solutions not only makes document creation faster, it helps eliminate typographical errors and inconsistencies across documents that might slow shipments and delay payments.
Make filing through AES easier. If you're filing through AES, you're probably using the ACE portal and retyping all your electronic export information (EEI) that you've already entered on your export forms. It's a waste of time. With Shipping Solutions, you can simply click a button to submit your export information to AESDirect on the ACE portal without any redundant data entry. You can then capture the AES International Transaction Number (ITN) and have it automatically appear on the required export documents.
If you are relying on a third party to submit your EEI through AESDirect, you can quickly generate a Shipper's Letter of Instruction with all the information you're required to provide to the filer.
Stay compliant across a remote team. From a compliance perspective, Shipping Solutions is indispensable. Shipping Solutions Professional's Export Compliance Module ensures your team stays compliant in every aspect of exporting, helping your company avoid costly fines and other penalties. Our tools include restricted party screenings, export license determinations and document determination.
If this sounds like something your remote team needs, you can request a free demo of Shipping Solutions software today. We'd love to show you how it can work for your organization!
---
Like what you read? Subscribe today to the International Trade Blog to get the latest news and tips for exporters and importers delivered to your inbox.