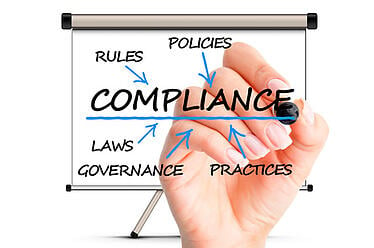 Export compliance isn't one big thing—it's a million little things. That's why it's important to make sure you have a solid understanding of the the components; if you miss one, you could set off a chain reaction.
While this list is by no means exhaustive, by making sure you thoroughly understand these 10 terms, you can save yourself a lot of trouble (and potentially, a lot of money).
1. Export Control Classification Number (ECCN)
The ECCN is an alpha-numeric classification found in the Commerce Control List of the Export Administration Regulations to identify dual-use items for export control purposes. An ECCN is different from HS, HTS or Schedule B numbers. You can find out more about ECCNs and how they are classified here.
2. Bureau of Industry and Security (BIS)
The BIS is a branch of the Department of Commerce seeking to "advance U.S. national security, foreign policy, and economic objectives by ensuring an effective export control and treaty compliance system and promoting continued U.S. strategic technology leadership." The BIS implements and enforces the Export Administration Regulations (EAR).
3. U.S. Export Administration Regulations (EAR)
The EAR are rules that govern the export of dual-use items, or items that have a commercial function and also could be used in applications or destinations the U.S. would prefer it not be used. This includes (but isn't limited to) technology and technical data, machinery, plans and manuals. Most commercial shipments are subject to the EAR. The Commerce Control List (CCL) categorizes and explains these product controls in great detail.
4. EAR99
EAR99 goods are commercial goods that aren't on the Commerce Control List and do not have an ECCN. According to the BIS, they generally consist of low-level technology, consumer goods, etc., and do not require a license in most situations. However, if your proposed export of an EAR99 item is to an embargoed country, to an end-user of concern, or in support of a prohibited end-use, you may be required to obtain an export license. You can learn more about EAR99 items in the white paper: How to Determine If You Need an Export License.
5. Restricted Parties
Various government agencies maintain more than 100 "bad guy" lists of people, organizations and countries to which it is illegal to export for one or more reasons, called restricted parties. Be aware that these Restricted Party Screening Lists change frequently.
6. Red Flag
The EAR defines red flags as "abnormal circumstances in a transaction that indicate the export may be destined for an inappropriate end-use or end-user." The BIS provides this list of red flags to look for when exporting as well as a guide to taking next steps if red flags are raised.
7. Deemed Export
The EAR define deemed exports as the transfer or disclosure (visually, electronically or in any other medium) of technologies or technical data, as well as consulting, instruction, training or lectures, concerning export-controlled equipment, materials or items to a foreign entity or individual in the U.S. Deemed exports are complicated, and they can make you an exporter whether you know it or not!
8. Directorate of Defense Trade Controls (DDTC)
The DDTC is the organization within the U.S. Department of State responsible for enforcing the International Traffic in Arms Regulations (ITAR). The DDTC regulates the export of defense articles under the Arms Export Control Act, which are found in the ITARs.
9. International Traffic in Arms Regulations (ITAR)
Goods regulated by ITAR are detailed within the munitions list and are subject to an export licensing requirement by the State Department. This list includes weaponry and military equipment. The ITAR include an expanded list of embargoed destinations that goes beyond the embargoes listed within the EAR. The ITAR also allows for a process of statutory debarment. This is administered by the DDTC through the debarred parties list, one of the primary export restricted parties lists.
Companies engaged at any level within the defense industry are cautioned about outsourcing production to other countries or exporting any of their goods before reviewing the ITAR. The Understanding ITAR article provides a detailed explanation of ITAR. For more information about what ITAR govern and which regulations might apply to your goods, make sure to read The Three R's of Export Compliance.
10. Office of Foreign Assets Control (OFAC)
The OFAC is a branch of the U.S. Department of the Treasury that "administers and enforces economic and trade sanctions based on United States' foreign policy and national security goals against targeted foreign countries and regimes, terrorists, international narcotics traffickers, those engaged in activities related to the proliferation of weapons of mass destruction, and other threats to the national security, foreign policy or economy of the United States." OFAC publishes one of the many "bad guy" lists you need to check as part of your restricted party screening process.
For More Help With Export Compliance: