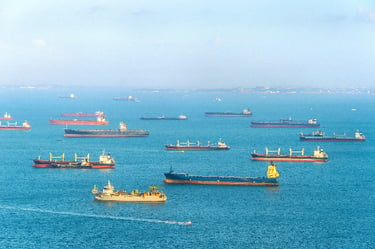 2021 could have been known as the year of continued uncertainty. The combination of an ongoing pandemic, erratic economic conditions and lingering global tensions worked in concert to create a roller-coaster environment for international trade. In the United States, inflation climbed, the supply chain was stretched thin and scores of workers quit their jobs.
In spite of this, U.S. imports and exports were higher than ever. Now, policy makers in the United States must figure out how to manage an influx of commerce while keeping the domestic economy from overheating and navigating international relations.
What exactly happened in 2021?
An International Trade Bonanza
Outsized consumer spending led to record levels of international trade—and a booming trade deficit. The United States trade deficit rose by 27% from 2020 to 2021, hitting an all-time high of $859.1 billion, according to the Commerce Department. Exports of goods and services rose 18.5% to $2.53 trillion, while imports jumped 20.5% annually to $3.39 trillion.
The impetus behind the swell of imports was a shift in consumer habits away from restaurants and vacations, toward home improvement and online shopping, explains Dr. Jonas Gamso, assistant professor of international trade and global studies at Arizona State University Thunderbird School of Global Management. "During the pandemic, Americans shifted away from services consumption and towards goods, which accelerated the recovery of trade in goods in 2021."
On top of budget reallocation, goods spending was also accelerated because many consumers had more disposable income than usual. In 2020, the personal savings rate averaged 16.3%, up from 7.6% in 2019. Consequently, spending soared. According to the Bureau of Economic Analysis, personal consumption expenditures totaled $62.99 trillion in 2021, up from $56.2 trillion in 2020. Of that, e-commerce receipts swelled from $763 billion in 2020 to $871 billion in 2021.
"The rapid import growth we experienced last year reflects the fact that people have money in their pockets," said Gamso. "They're able to use that money to buy all these goods."
Exports had a similarly robust year in 2021. The United States logged record exports to 57 countries in categories including gasoline, aircraft and parts, petroleum, and medical products. Notably, two of the biggest increases in exports were to Mexico and China, two of the United States' largest trading partners.
Trade Policy in Action
2021 was a relatively quiet year for U.S. trade relations, especially following the tumult of the previous one. Policy in 2020 was characterized by upended U.S.-China trade relations, a precarious future for trade in North America and general uncertainty wrought by a global pandemic. In contrast, the focus in 2021 was mostly on following policies that were already in place.
The United States-Mexico-Canada Agreement (USMCA) had its first full year in effect after being ratified midway through 2020. As we noted at the time it passed, the USMCA is largely similar to its predecessor, NAFTA, with just a few notable changes.
One of those is the Rapid Response Labor Mechanism, a protocol that enables USMCA countries to investigate (and respond to) alleged labor law violations. In 2021, it was used to bolster workers' rights at two separate facilities.
Dispute settlements under the USMCA took place with our northern neighbors as well. In 2021, a panel found that Canada misallocated its tariff rate quotas on dairy products. (Recall that the USMCA expanded tariff rate quotas.)
Two auto plant settlements and a decision on dairy tariff rate quotas are happily mundane developments compared with 2020, when governments were negotiating whether the North American bloc would have a free trade agreement at all.
Trade policy was similarly conciliar between the United States and Europe. At the end of last year, the United States Trade Representative announced that the United States would lift its Section 232 tariffs on European steel and aluminum and replace them with tariff rate quotas.
In addition, the United States concluded a long-running dispute with the European Union over tax subsidies for Boeing and Airbus. As a result, both sides will remove a cumulative $11.5 billion in retaliatory tariffs on each other's exports.
One country where trade policy may still get heated is China. In 2020, the Trump administration negotiated the beginnings of a trade deal after two years of escalating tariffs on each other's exports. According to the agreement at the time, the United States would lower tariffs on certain Chinese goods, in exchange for China purchasing $200 billion in additional U.S. exports, above 2017 levels. Two years into the deal, China is nowhere close to meeting its quota.
Meanwhile, the United States has continued to take a "tough on China" stance, keeping most of the prior administration's policies toward the country in place. In October 2021, U.S. Trade Representative Katherine Tai announced that her office was prepared to "keep all options open" to level the economic playing field. "Above all else, we must defend—to the hilt—our economic interests. That means taking all steps necessary to protect ourselves against the waves of damage inflicted over the years through unfair competition," Tai said at an event at a Washington think tank.
Supply Chain Chaos
The sheer amount of goods traded in 2021 stretched international supply chains to the limit. Shippers simultaneously had to deal with order backlogs and skyrocketing consumer demand. Meanwhile, transportation shortages made it difficult to get products to their final destination.
"Suppliers didn't have a great way of managing the order downturn in 2020 and the subsequent order recovery in 2021," said Dr. Ananth Iyer, chair in operations management at the Purdue University Krannert School of Management.
As Iyer explains, most shippers who were getting products from overseas had to deal with numerous delays. When COVID-19 first hit, suppliers were presented with a combination of problems—canceled orders, distorted forecasts, factory shutdowns due to illness or lack of business. As manufacturers struggled to get products out the door, consumer demand took off.
"If you're a supplier and the person buying from you canceled their orders in 2020, then you likely couldn't afford to operate at full capacity," said Iyer. "Then comes 2021, and your customers say 'I know we canceled all our orders last year, but now we need this much volume.' It takes a while to get back up and running."
And that's without accounting for transportation issues. In 2021, ports around the country processed record levels of imports. To give a few examples, Port of Houston saw 15% more traffic in 2021 than in 2020. The Port of New York and New Jersey moved 9 million containers, crushing its 2020 record by 18%. The two largest ports in the country—Los Angeles and Long Beach—both walloped their previous records, processing 10.6 million and 9.4 million containers, respectively.
Container ship traffic became so backlogged that in November 2021, 11.5% of container capacity was tied up on ships waiting to dock, compared to a typical 2%, according to the maritime data firm Sea-Intelligence.
"The classic visual for logistics challenges in 2021 was container ships waiting outside a harbor," said Iyer.
Of course, once cargo did make it to the shore, it still had to be hauled to its final destination. And that came with its own set of problems.
One was finding enough labor to move freight inland. Maintaining an adequate supply of truck drivers is a perennial problem, but it was exacerbated in 2021. Not only did trucking companies need to manage rising demand, but they had to do so in the wake of commercial driver's license school closures, increased competition for drivers from sectors including warehousing and last-mile delivery, and a slew of early retirements.
In addition to keeping enough labor on company payrolls, trucking businesses also struggled to maintain enough equipment to keep up with rising demand. Companies ordered 27,300 new trucks in September 2021, but only 17,600 were actually built. By the end of 2021, ACT Research data showed the North American truck order backlog sitting at 281,000.
These bottlenecks sent the cost of shipping sky-high. By the middle of the summer, reports showed that shipping costs in certain lanes were up to eight times higher than they had been one year earlier.
Inflation Woes
This brings us to one final source of uncertainty—inflation. The consumer price index, a measure of price growth, accelerated for much of 2021. In April of last year, annual price growth exceeded 4%. By December of last year, it ticked above 7%. (Historically, the Federal Reserve has aimed to keep inflation between 2-3%.) Prices ascended so quickly that, according to the Bureau of Labor Statistics, workers received the equivalent of a 2.4% pay cut in 2021.
In December, a Federal Reserve survey of national business conditions found that, although prospects for the future of the economy were positive, supply chain problems had contributed to rapidly rising prices.
"There were wide-ranging input cost increases stemming from strong demand for raw materials, logistical challenges and labor market tightness," the report read.
Looking Forward
Inflation, trade agreements and supply chain snarls could all impact U.S. international trade in 2022 and beyond. But the way that our trade partners interact with each other could also factor into future sources and levels of trade.
A few major trade agreements took shape in 2021, without participation from the United States. One is the Comprehensive and Progressive Agreement for Trans-Pacific Partnership (CPTPP). Formerly the Trans-Pacific Partnership, the CPTPP is an agreement that was signed by 11 Pacific Rim countries after withdrawal by the United States. Four more countries have applied to join the CPTPP as of January 2022, including China.
A second agreement, the Regional Comprehensive Economic Partnership (RCEP) entered into force in January 2022. This agreement includes 15 Asia-Pacific countries, comprising 31% of global GDP. The goal of RCEP is to gradually phase out tariffs and integrate supply chains in that part of the world. Once again, the United States has not indicated that it would join the agreement.
Europe is a source of uncertainty, due to the Russia-Ukraine war. The situation is changing seemingly by the minute. What is clear is that the conflict has trade ramifications for both countries. Internal chaos has brought trade with Ukraine nearly to a halt. The United States and Europe have levied historic sanctions against Russia, and several countries have revoked Russia's most-favored-nation status and are calling on the World Trade Organization to do the same.
When it comes to international trade, there's still a lot to resolve and many questions that can't be answered just yet. In today's environment, it's impossible to predict what consumer demand will look like, when supply chains will smooth out or even what our trade relationships will look like months down the road. The one thing that is certain right now is that nothing is certain.
Would you like to learn more about the state of global trade? Sign up for my free, one-hour webinar, An International Trade Status Report. It kicks off World Trade Month, a month packed with online webinars and events to help importers and exporters grow their business. Most events are free! Check this events calendar to sign up for other webinars.
---
Like what you read? Subscribe today to the International Trade Blog to get the latest news and tips for exporters and importers delivered to your inbox.