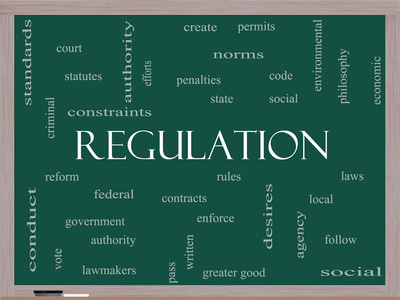 In a previous article, I explored and discussed what the International Traffic In Arms Regulations (ITAR) are, why they exist, and what items (by category) they control.
In summary, the Arms Export Control Act (AECA), 22 U.S. 2778, authorizes the President to designate items that could be considered defense articles and services. These items constitute the United States Munitions List (USML).
The ITAR implements the AECA and is managed by the Directorate of Defense Trade Controls (DDTC), under the Department of State. The ITAR covers all military articles, services and technologies. The ITAR can be found under 22 C.F.R. Chapter I, Subchapter M, Part 120-130. (Check out my article, A Top-Level Look at the International Traffic in Arms Regulations.)
In simplest terms, the USML is a list of defense articles and services that are specifically designed, developed, configured, adapted or modified for a military application and do not have a predominant civil application or civil performance equivalent, have significant military or intelligence applicability, and could be classified as a defense article or defense service. The USML list can be found in 22 C.F.R. Chapter I, Subchapter M, Part 121.
Understanding ITAR and USML Regulations
Most people without a background in the ITAR could probably identify obvious military items and services. Once they get past the obvious, it's generally a guessing game.
Ironically, even seasoned ITAR professionals get tripped up on classifying ITAR items and services for a variety of reasons, such as using old or previous specification data, changing technology and components, functionality, and even failing to perform adequate due diligence and research. Interpreting the USML under the ITAR should never be taken lightly or considered a one-time activity when classifying your items and services.
If you aren't familiar with how the Code of Federal Regulations (CFR) and the Federal Register (FR) work, review the structure, naming convention, and organization of both the CFR and FR. It will make your life easier in finding ITAR and USML regulations, and you'll save a lot of time when you research the CFR.
So why is the USML so critical for exporters? For starters, remember that the United States' goal of regulating these items is to protect U.S. national security so that the most sensitive information and technology does not fall into the wrong hands. This includes prohibiting U.S. individuals and companies from engaging in business with prohibited/sanctioned countries and persons for various economic, financial, anti-terrorism and human rights issues.
Anatomy of the USML
The USML is divided into 16 sections with seven sections reserved for future use; one section addressing the general USML list, and the remaining sections further describing and adding to the USML.
Here's an outline:
Part 121.1 – General United States Munitions List
Part 121.2 – Interpretations of the U.S. Munitions List and the Missile Technology Control Regime Annex
Part 121.3 – Aircraft and related articles
Part 121.4 – Reserved
Part 121.5 – Apparatus and devices under Category IV(c)
Part 121.6 – Reserved
Part 121.7 – Reserved
Part 121.8 – End-items, components, accessories, attachments, parts, firmware, software and systems
Part 121.9 – Reserved
Part 121.10 – Forgings, castings and machined bodies
Part 121.11 – Military demolition blocks and blasting caps
Part 121.12 – Reserved
Part 121.13 – Reserved
Part 121.14 – Reserved
Part 121.15 – Vessels of war and special naval equipment
Part 121.16 – Missile Technology Control Regime Annex
Within each of the USML parts, there are subcategories further defining the items and services controlled. For example, Part 121.1, General USML, covers a variety of items from guns, explosives, launch vehicles, military training equipment, spacecraft, nuclear, directed energy submersible vessels and miscellaneous articles. These are just the items covered under Part 121.1. Part 121.16 also has a large subcategory list.
Also, most parts and categories have a catch all paragraph that covers items not specifically named, yet meet USML criteria. Call this the government-loophole clause, which is really for the government's benefit, not yours. In other words, that's their ace in the hole if they want to make something stick against you if the classification is subjective, complex or doesn't fit nicely into another area within the USML.
If you manufacture, sell, distribute or export ITAR controlled articles and services, more than likely you will come up against this issue and will have to make a decision to either self classify and assume the risks or submit for a commodity jurisdiction (CJ) from the DDTC at the Department of State (DOS). Many companies do not like the latter choice. However, if you are unwilling to accept the risk and all the glorious fines, penalties and potential imprisonment that DOS/DDTC could impose upon you, then you should have DDTC evaluate your CJ.
If you're feeling uneasy about the USML, there's no need if you are taking precautions and performing due diligence, checking the CFR and FR for updates, documenting your logic and rationale, and making sure you've covered all the bases when classifying your ITAR articles and services.
If you don't know if you're covering all the bases, then get a compliance health check fast. One violation could cause your company to lose its export and import privileges, generate hefty fines and penalties, and potentially risk imprisonment for CEOs, EOs and employees. This is not a scare tactic, just the potential price for playing in DDTC's ITAR sandbox.
It's nearly impossible to become an expert on the ITAR and USML from only reading an article. Instead, I hope this article encourages you to obtain several copies of the ITAR and share them with your engineers, technicians and, most importantly, your compliance officials and staff. Review your products and services against the USML and determine classification or submit for a Commodity Jurisdiction. Stay abreast of changes and regularly check the CFR and FR. Document your process and findings. Share information with your team members. Make ITAR/USML compliance a team function by enlisting employees to be part of the solution. Make sound decisions based on facts, not hope or circumvention. If you need assistance navigating the ITAR, find qualified experts to help you.
Copies of the ITAR can be obtained from a variety of sources. However, I like to use the Society for International Affairs' (SIA) version and then cross check against any changes online. While a copy of the ITAR/USML can be viewed online for free, it's easy to lose your place or miss something, and therefore, it never hurts to have a physical copy handy.
---
This post was originally published in March 2009 and has been updated to include current information, links and formatting.