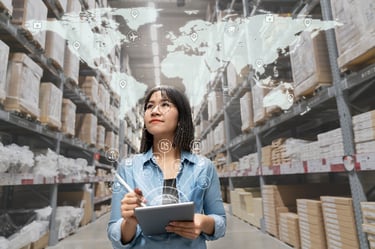 Sourcing is an upstream part of the supply chain: It's the process of strategically choosing the right services and goods that a company needs to run their business. Sourcing is also the act of buying goods, including seller selection, contract negotiation and measuring the long-term performance of your suppliers.
Sourcing greatly impacts an organization's operations, so establishing long-term relationships will help companies gain a competitive advantage. Because after all, suppliers impact a company's operations on many levels: finances, inventory levels, quality of goods and timely arrival. A stable sourcing process ensures your inventory levels will meet market supply and demand.
Sourcing Functions Include (But Are Not Limited To):
Acquiring raw materials
Decisions on outsourcing or in-house performance
Supplier selection
Contract negotiation—request for quote (RFQ), request for proposal (RFP) and request for bid (RFB)
Product design
Manufacturer collaboration
Procurement
Understanding cost of goods sold (COGS)
Inventory controls/turnover
Product quality
Financial impacts
Reshoring or offshoring
Effective sourcing ensures quality and cost-effective manufacturing and also maintains control of inventory levels and overhead costs. Sourcing is an important aspect of your supply chain management (SCM) strategic planning—done right it improves efficiencies and lowers risk in your supply chain. As previously mentioned, sourcing is an upstream process that is critical to effective downstream processes.
Flexibility is important due to the complexities of SCM, along with transparency, allowing for oversight concerning forecasting, inventory, shipping, transportation and warehouse management, all areas that add costs to the shipping process.
Having a complete picture of all costs at every level will help determine profitability. Without proper sourcing and an understanding of how it impacts the bottom line, a company cannot be successful and effectively compete in a global market.
---
Like what you read? Subscribe today to the International Trade Blog to get the latest news and tips for exporters and importers delivered to your inbox.