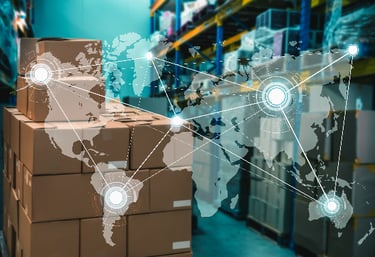 When you think of supply chain management (SCM), you also likely think of logistics and maybe even use the terms interchangeably. But the truth is, both concepts are different. Supply chain management involves the coordination of an entire network of activities, including: partner management, sourcing, manufacturing, production and assembly, storage, distribution and the final delivery of goods. Logistics supports supply chain management—it pertains to one part of the supply chain, where SCM involves the whole supply chain. Logistics, also known as distribution, involves managing the flow of inventory from supplier to final delivery to the customer.
From an operational point of view, it is important that managers understand where job responsibilities lie—with logistics or supply chain management—for effective planning, oversight and job assignment.
Use the breakdown of specific responsibilities below to help develop proper job titles, descriptions and assignments, to ensure the success in today's complex supply chain.
Supply Chain Management Involves:
Collaboration and development of a supply chain network (partners)
Strategic planning for market competitiveness
Financial planning
Selection of technology for information flow (sales, promotional, inventory)
Selection of transportation methods and contracted costs
Coordination of materials and information
Cross enterprise coordination (marketing, operations, sourcing, logistics)
Logistics Involves:
Task oriented for operational processes
Supports SCM activities
Planning and managing effective flow of goods for inventory and delivery to end users
Coordinates flow from source to users
Delivery of right product, to the right place, on time
Transportation of goods inward/outward (origin and consumption)
Taking the confusion out of what each role entails ensures more effective and successful flow of information and use of technology, and ensures speed and reduction in costs. Competitive supply chains provide relationship (partner) management, agility and visibility. Current trends in SCM require the use of technological networks, big data analytics, 3D printing and robotics, while incorporating security, sustainability and innovation. SCM looks at the much bigger picture, which is incomplete without logistics. So it's critical that both work closely together to ensure organizational success.
---
Like what you read? Subscribe today to the International Trade Blog to get the latest news and tips for exporters and importers delivered to your inbox.