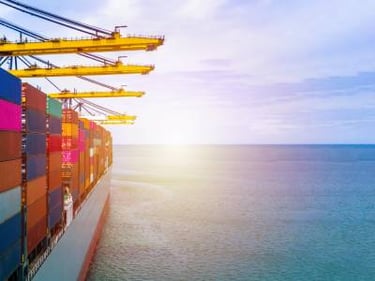 To be a successful exporter, you need a solid understanding of each phase of the export journey—what it requires in terms of infrastructure, compliance and documentation (just to name a few), as well as the key players who are involved.
In this article, I'll share four important considerations related to international shipping and logistics that new exporters must consider as they begin their journey in international trade.
1. Understand the Exporting Process from Start to Finish
No matter what you are exporting, your success depends on creating export procedures that promote best practices, maximize your profits and keep you out of trouble. Here are the main procedures you should focus on according to the steps of the exporting process:
Developing your export strategy.
Reviewing and understanding export and import regulations.
Preparing your goods for shipping.
Completing your export paperwork.
Making sure you get paid.
Learn more about all exporting steps in our guide, Export Procedures and Documentation: An In-Depth Guide.
2. Understand Export Compliance Requirements
Arguably the most important aspect to consider, export compliance is the foundation of becoming a successful exporter. Exporters should first ask themselves the following question when shipping internationally: Do I need an export license?
The answer is usually "no, I don't need a license"—95% of all items exported from the United States to a foreign buyer don't require one, even though the items are subject to U.S. government export control laws and regulations. However, just because your product is among the majority that don't require a license doesn't mean that you can sell it anywhere and to anyone.
Determining which of your products are subject to export regulations is one of the first, most important steps you'll need to take in the export compliance process. Once you've done your background research, use our Export Controls Wizard to find out more about your specific product's requirements.

Additionally, you need to be aware of the following compliance-related concepts:
Embargoed Countries
These are countries you are not allowed to do business with; you need to know which ones are included. Learn more about embargoed countries and export regulations in our articles Six Basic Steps for Export Compliance and The Three R's of Export Compliance.
Restricted Parties
These are individuals, businesses and other organizations that have been identified as engaging in activities related to the proliferation of weapons of mass destruction; are known to be involved in terrorism or drug trafficking; or have had their export privileges suspended. Exporters should check all parties in every export transaction against the various denied party screening lists to prevent incurring penalties.
You can manually screen companies and people against the government's Consolidated Screening List. Yes, it is time consuming, but you could face significant penalties if you are found to be in violation of these regulations. Save your screening results even if you get no matches. It is your proof that your company is doing its due diligence to meet U.S. export regulations.
Be aware that the Consolidated Screening List only includes the nine most popular lists from the departments of commerce, state and treasury. There are actually more than 100 different lists of people and organizations with which you can't do business. Software programs such as Shipping Solutions export documentation and compliance software make it easy to screen the parties in your export transactions against all the lists and automatically saves your results in an audit trail. (Request a free demo of the Shipping Solutions software.)
Export Compliance Program
To help ensure your company is complying with export control regulations while also managing your other export-related decisions and transactions, we recommend that your company establish an Export Compliance Program (ECP). An ECP lets you analyze pieces of information and individual decisions and then build them into an organized, integrated system. Learn more about the components of an ECP, as well as how to create and implement your own, here.
3. Find Reputable Logistics Partners
Hiring reliable logistics partners like freight forwarders and customs brokers is an important aspect of your success. Whether you're looking for a new partner or reviewing your relationship with your current freight forwarder, here are seven questions you should think about before taking action:
Do I have a specialized product line or type of export?
How many ports will I be using for exports?
Is automation easy with this partner?
What is the broker or freight forwarder's general reputation?
Do I need a dedicated account representative?
Do we have a written working agreement?
Are there warning signs about the freight forwarder you might choose?
The answers to your questions about freight forwarders will help you identify if your relationship is as functional and profitable as it could be.
A good forwarder can help with the following:
Properly packaging and shipping your goods.
Finding the best way to get your goods to their destination.
Understanding and procuring the best insurance options.
Identifying where risk transfers and using the correct Incoterm for your shipment.

4. Create Accurate Export Documents
Successful exporters know that the most important way to ensure that their goods arrive on time is to prepare the proper paperwork. Your export documentation is used by your freight forwarder, your inland and international carriers, U.S. and foreign customs authorities, your customer, and your bank in order to do their respective jobs. Incorrect or inconsistent documents may slow down that process and may generate costly fees to fix your mistakes.
While you can rely on third parties to generate some or all of your export forms, they are not as familiar with your products and your customer as you are, so you need to establish strong back-and-forth communication with them to ensure the documents are done right.
Many exporters keep the export documentation process in house to ensure they are done right. This includes submitting their electronic export information (EEI) through the Automated Export System (AES), a requirement for most exports valued at more than $2,500 per line item.
Creating your own export documents also makes it easier to meet the regulatory requirement of maintaining copies of your export paperwork for the five years that are typically required. For more information about the standard export documents and how they are used, download the free white paper: The Beginner's Guide to Export Documents.
The Right Tools and the Right Partners Pay for Themselves
While the front end of the export process may be what most people think about when they think about international sales, it's the back end of the process that can be the difference between making and losing money.
It's important to work with the right partners—freight forwarders, customs brokers, bankers and others—to ensure that things get done right. It's equally important to use the right tools to ensure that things go smoothly, especially when it comes to export documents and export compliance.
That's where Shipping Solutions export documentation and compliance software comes into play. Thousands of successful exporters use Shipping Solutions to complete their export forms up to five-times faster than preparing them by hand or by using Excel or Word templates.
Instead of manually entering the same information on every export form, Shipping Solutions automates the export documentation process. You simply enter your information once, and the software automatically formats and inputs the data in the right places on all your exporting documents. It saves you time and improves the accuracy of your paperwork.
In addition, Shipping Solutions makes it easy to:
File your export information through AESDirect without having to reenter all your export information.
Run export compliance screenings and check to see if your shipment requires an export license without manually checking against the appropriate lists.
Save copies of your export paperwork and document that you are meeting the steps in your ECP.
The software also stores your company, customer and product details, so you don't have to retype them for every shipment. You can also import orders from your accounting or ERP software, so the data comes through exactly how it is stored in your ERP system, which eliminates redundant systems and databases at your company.
There's a lot to worry about for every export shipment, but by creating a written Export Compliance Program to ensure compliance, working with good partners who know what they're doing and using the right tools to automate and improve your processes, you will minimize the uncertainties.
See how Shipping Solutions software can help your company eliminate export uncertainties: sign up for a free online demo today.