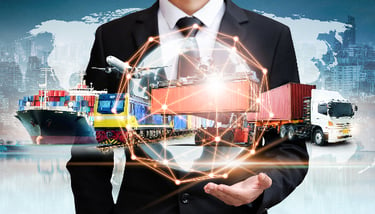 After years of disruptions, it's clear that the health of a company's supply chain impacts overall success. There are four pillars of supply chain operational risk—supply, demand, process and environmental ecosystems. Knowing how to identify and manage these risks is key to building a supply chain that is resilient and able to adapt to today's fast-moving, ever-changing landscape.
Each of these pillars has additional subcategories that contribute to the risk category, including hazards, political climate and trade disruptions. These are the factors that complicate the decision-making process for supply chain managers.
Operational risks also include quality issues, late supply deliveries, weak forecasting and inventory mismanagement, which can all negatively impact operations. Supply chain managers need to be aware of the various risks and provide consistent overview to help avoid disruptions and ensure swift responses when disruptions occur. Strategic planning that builds reliable supplier partnerships should focus on the following four areas of supply chain risk:
Supply Risks
These disruptions occur as product, materials or parts flow from point-to-point in the supply chain. Internal and external risks apply to this part of the operational process. Transportation, lead times, pricing and inventory disruptions are areas of concern.
Demand Risk
This area of risk is related directly to unpredictability around customers. Promotions, pricing, bankruptcy and other related losses are all very difficult to predict.
Process Risks
These consist of known and unknown risks. Known risks involve manufacturing yield, receivables, payables and capacity. Unknown risks involve technology and unforeseen disruptions. These are minimized through proper risk assessment and evaluation.
Environmental/Ecosystems Risks
This risk involves political conflicts, exchange rates, weather and environmental regulations. Many of these risks center around "Acts of God"—hurricanes, earthquakes, tsunamis and other natural disasters, none of which are always predictable.
All four pillars of risk need to be considered when creating contingency and risk management plans. Risk mitigation is critical, along with having a backup plan that allows for quick response.
Managing risk factors with global tracking systems like enterprise resource planning (ERP) platforms are a way to have total oversight over the supply chain process. By staying at the forefront of supply chain logistics, companies will make better decisions and build stronger partnerships and communications, which are all key to success.
---
Like what you read? Subscribe today to the International Trade Blog to get the latest news and tips for exporters and importers delivered to your inbox.