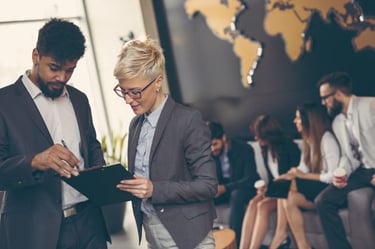 Before you calculate your final selling price and negotiate a sales contract, you and your buyer must agree upon who is responsible for the expense of transporting and insuring the merchandise from the time it leaves your plant or warehouse to the time it arrives at your customer's premises.
To assist in this process, the International Chamber of Commerce (ICC) has created a generally accepted, readily understandable nomenclature called Incoterms 2020 that defines the responsibilities of both the buyer and seller in the various transportation options.
Incoterms 2020 is not a body of law. It is an internationally agreed upon protocol for understanding who pays for what, who will produce which documents, when risk transfers, and who selects the carrier and forwarder.
The trade terms do not identify where the transfer of title or ownership occur. You should include a separate statement regarding transfer of title in the body of the contract, the quote, proforma invoice, and commercial invoice.
These international trade terms should not be confused with domestic trade terms, which are governed by a separate set of rules. The domestic terms are under the Uniform Commercial Code adopted by each state.
You can get a better understanding of the differences between domestic and international terms in the following chart:
| | |
| --- | --- |
| Domestic | International |
| Transfer of title to the goods presumed by use of term but can be negotiated by seller and buyer. | Transfer of title not specified by use of the Incoterms; should be stated separately. |
| Risk and title transfer are presumed to transfer simultaneously but can be negotiated by seller and buyer. | Risk transfer based on Incoterm selected; title transfers based on agreement between seller and buyer. |
| Five different terms; F.O.B. is the most commonly used term with specified locations stated, and modifications. | Eleven different terms are possible with specified locations stated, i.e. ex-works seller's warehouse. |
| Based on Uniform Commercial Code adopted by each state, becoming a state law. | An agreement adopted by the International Chamber of Commerce then incorporated into seller and buyer agreements. |
One of the best ways to understand Incoterms 2020 rules is to look at a sample quotation that is completed as if it is ready to be presented to your management team prior to releasing it to your international customer or vendor. Remember, Incoterms have the ability to work for both importers and exporters.
Since Incoterms 2020 is unlike the Uniform Commercial Code, which is a body of law in all of the U.S. except Louisiana, exporters must reference Incoterms 2020 rules in their commercial documents. One way to do this is to state in the commercial invoice: "Subject to Incoterms 2020, Trade Term: CIP London, UK."
Learn More about Incoterms 2020 Rules
There are a variety of resources you can access to learn more about the 11 Incoterms 2020 rules and when to use. The free eBook, An Introductions to Incoterms® 2020 Rules, is a great place to start.
For more details information, check out the half-day Incoterms 2020 Rules webinar offered by International Business Training, or, if you don't want to commit to a webinar, the Incoterms® 2020 for Importers and Exporters reference book.
---
This post was originally published in December 2002 and has been updated to include the latest set of Incoterms, as well as updated information, links and formatting.