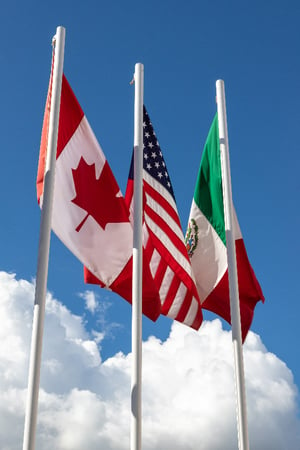 The United States-Mexico-Canada Agreement (USMCA) went into effect just over one year ago, replacing the North American Free Trade Agreement (NAFTA) and promising to increase North American trade. NAFTA created a solid foundation for trade liberalization. It reduced most tariffs to zero, subsequently bringing trade levels up by $1 trillion. Now its successor updates and tweaks several of its provisions.
In honor of the USMCA's first birthday, we thought we'd look at how implementation has gone. What, if anything, has changed over the past year?
First Trilateral Meeting
A good place to start is the USMCA Free Trade Commission. The USMCA requires trade ministers from the United States, Mexico and Canada to meet within a year and assess the state of trade in North America. That meeting took place in mid-May.
The Free Trade Commission covered a lot of ground over two days of meetings. Together, U.S. Trade Representative Katherine Tai, Mexican Secretary of the Economy Tatiana Clouthier and Canadian Minister of Small Business, Export Promotion and International Trade Mary Ng discussed small business, environmental protections, dispute resolution and rules of origin, to name a few.
A few topics in particular stand out. One that's likely to show up in shipping news more frequently is implementation. The three trade ministers announced that, after a six month grace period, the USMCA is now in full force. Now that officials are ramping up all of the agreement's new mechanisms, we'll likely hear about trade compliance more often. In fact, that's already starting to happen!
As enforcement grows, the number of disputes likely will also. "The USMCA does not promise dispute-free trade, but only that there would be a framework for resolving disputes," explains Ralph Biedermann, executive director of the U.S.- Mexico Chamber of Commerce. There have already been a few notable ones.
A Dispute over Labor Rights
For starters, the Rapid Response Labor Mechanism has already been activated. Even before the inaugural Free Trade Commission meeting, a United States labor union had already kicked it into gear. In May 2021, the American Federation of Labor and Congress of Industrial Organizations filed a complaint against Tridonex, an auto parts factory in Mexico. According to the grievance, hundreds of workers at the plant were inappropriately fired for seeking out new union representation. We won't know the end result for a while, but if Tridonex is found to have violated its workers rights, the facility could be hit with tariffs, or even blocked from exporting into the United States and Canada.
Conflicts haven't been limited to labor relations, either. This spring, the Biden administration requested a dispute settlement panel (the first one since the USMCA went into effect) to review Canada's dairy import quotas. In this case, the United States claims that Canada partially misallocated quotas on 14 different dairy products, redirecting them back to the Canadian dairy industry. The panel's findings will be released in November, at which point the United States could impose new tariffs if Canada is found to have violated the agreement.
Dispute settlement mechanisms are an integral feature of the USMCA, but they aren't the only part of it that could have a big impact on North American trade.
Changes to Rules of Origin
When the USMCA was first passed, it made waves with its changes to rules of origin. By now, you've probably heard that the USMCA raises content regional requirements for vehicles made in North America from 62.5% to 75%. Now analysts are predicting that this could have a significant impact on sourcing and create more jobs in North America.
"The most notable change is that companies are re-evaluating their global supply chains and considering nearshoring," says Doniele Carlson, AVP of Corporate Communications at Kansas City Southern in an email. Automakers who previously did final assembly in Mexico are finding that that strategy no longer provides easy access to the North American market. Under the new rules, manufacturers could decide that it simply makes more sense to move production to the United States or Canada.
Beidermann agrees: "The rules of origin changes will be very helpful to the United States and to Canada."
Help for Small Businesses
There are still more changes coming down the pipeline. Unlike NAFTA, the USMCA includes a chapter on small- and medium-sized businesses. The agreement establishes a committee to study how small businesses engage in trade, and it requires periodic dialogue sessions, the first of which will take place at the end of 2021. Ideally, these new structures will provide information to and gain input from small businesses. The goal is to ensure that small- and medium-sized enterprises benefit from the trade pact.
The USMCA's focus on erasing non-tariff barriers to trade means that there could be a lot more activity down the road. In spite of a (somewhat) quiet first year, it's likely that we'll see many more panels and reports in the near future.
---
Like what you read? Subscribe today to the International Trade Blog to get the latest news and tips for exporters and importers delivered to your inbox.