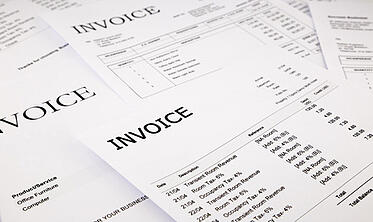 The commercial export invoice is one of the most important documents in international trade and is reviewed by customs, freight forwarders, international bankers, and transport and insurance companies.
The invoice reflects the complete details evidencing fulfillment of the sales contract and provides necessary information for third parties, listed above, of the transaction.
The information you need to include on the invoice may vary a bit by country (check out the article, How Exporters Can Identify Import Country Requirements), but there are 12 standard data elements you usually need to include.
Standard Export Invoice Data Elements
Invoices commonly include the following information:
1. Invoice Number and Date
The exporter provides the invoice number for ease of reference.
2. Name and Address of Buyer
This is required for customs purposes.
3. Buyer's Reference Number
Provided for ease of reference.
4. Method of Payment
Provides the buyer when payment is to due.
5. International Term of Sale
Incoterms specify which party has responsibility for the cargo and at what point that responsibility transfers from the buyer to the seller. Incoterms provide 11 terms of sale established to create a common set of rules to govern the basic buy/sell transaction.
6. Product Number, Description of Merchandise, Unit Price, and Total Price
When shipping products to Mexico, the customs process should be expedited by providing your product description in both English and Spanish. Always include the product number and correct calculation of the per unit price and total price.
7. Harmonized Tariff Schedule (HTS) Classification Number
You should include the first six digits of the HTS number on the invoice.
8. Country of Origin of Products
Custom duties are assessed based on the product's country of origin.
9. Mode of Transportation
Provides the buyer with shipping information.
10. Currency of Invoice
When invoicing in United States dollars, USD should clearly be stated on the invoice next to the amount. When using a currency other than USD, use the ISO code for that currency.
11. Type of Insurance Coverage and Party Insuring
In case of damage or loss, this information provides the buyer with which party is responsible.
12. Signature
Most companies sign the commercial invoice. The signatory should be someone with responsibility and knowledge of the shipment.
The commercial invoice is a bill or record of transaction between the seller and buyer. It is the basis for foreign customs' identification, classification, duty/tax assessment, and final approval of entry of the goods. Accurate descriptions help expedite the clearance process for the border brokers to make customs entry and help customs quickly identify your commodity.
---
This article was first published in November 2006 and has been updated to include current information, links and formatting.