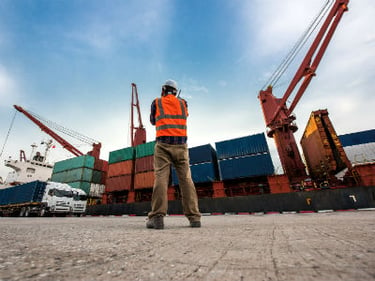 One of the more common questions we hear from new exporters is, "What are these fees on my freight forwarder's invoice?"
We spoke to Tom Hullinger, regional vice president at Global Distribution and Logistics, a freight forwarder based out of Chicago, to find out what charges—common and non-standard—you can expect to see when you get your freight forwarder pricing list.
5 Common Charges on Your Freight Forwarder's Invoice
1. Air Freight or Ocean Freight Forwarder Pricing
The most obvious of freight forwarder fees, the air freight or ocean freight forwarder price depends on several factors, including the physical size of your export (the dimensions), the origin of the shipment, and the destination. A lot of forwarders lump sub-fees into this line item to create a flat fee based on TSA regulations; those sub-fees may include:
Airline security charge
Fuel surcharge
Cargo screening/X-ray fee
2. Pickup Charge
This is the cost associated with collecting a shipment from a shipper's warehouse.
3. Freight Forwarder Handling Fee
This fee on the freight forwarder price list is associated with processing paperwork, copying documents, and preparing the air waybill/ocean bill of lading (or other bill of lading). It helps freight forwarders cover the cost of processing and handling shipments, and usually ranges anywhere from $35 to $75.
4. AES Fee
As an importer you are required by law to use reasonable care when classifying and declaring your imports coming into the United States. As an exporter, you are required by law to perform your due diligence when exporting your products, which includes ensuring that the Electronic Export Information (EEI) is correctly filed through the Automated Export System (AES).
The U.S. Foreign Trade Regulations require exporters or their agents (usually their freight forwarder) to submit the EEI through AESDirect on the Automated Commercial Environment (ACE) for many export shipments. Freight forwarders charge a fee for this filing, which is generally $30 to $35.
You can—and should—do the filing yourself! Not only do you save money, you can be sure that the information being filed is correct.
5. TSA Security Charge
Freight forwarders implemented the Transportation Security Administration (TSA) security charge shortly after the terrorist attacks of September 11, 2001, when the TSA set forth new regulation requirements. Freight forwarders who handle air freight must adhere to many regulations from the TSA—including employee training, records, maintenance, etc.—as a way to offset those costs, they began charging a fee.
The TSA security charge is separate from the cargo screening fee listed above. The airline must X-ray or physically screen all cargo that goes on the aircraft, and they apply a fee associated with the physical screening.
Non-standard Charges You May See on Shipments
In addition to the five common charges above, these lesser-known charges also contribute to the freight forwarder cost structure:
1. Fees for Export Licenses
The U.S. government requires a license for all types of controlled exports, which could be items for military use, "dual use" products designed for commercial applications but could be modified for terrorism or military applications, and goods controlled for other purposes. In these cases, freight forwarders must present a license to customs, and charge you an export customs clearance fee.
Typically, these exports are also insured. Manufacturers tend to assume cargo is insured if it's lost or damaged, but this is often not the case. Insure your exports to make sure you are protected against loss.
Often, courier fees are charged to the exporter when couriering the license or documentation back to the exporter/shipper.
2. Certificates of Origin
Depending on the destination country of your goods, you may need a certificate of origin to verify the manufacturer of the goods.
There are two types of certificates of origin:
A free trade agreement (FTA) certificate that proves your goods qualify for reduced tariffs under the terms of the FTA. The United States - Mexico - Canada Agreement (USMCA) is one example of this type of certificate of origin.
A generic certificate of origin required by the customs authority in the country of import that allows them to determine duty rates on the goods based on where the goods originated.
The first type of certificate of origin, the FTA certificate, should be filled out by the exporter or the producer of the goods because they must meet very specific requirements in order to qualify, which the freight forwarder probably won't know. Check out this article: FAQ: Creating a Certificate of Origin for Your Exports.
It's more common for a freight forwarder to prepare the second type of certificate, the generic certificate of origin, for you and have it stamped by a chamber of commerce to attest to the origin of the goods. However, the freight forwarder will charge for their services on top of what a chamber of commerce charges to stamp the document.
More and more exporters are eliminating this additional expense and shortening the time it takes to get the generic certificate of origin by applying for the certificate themselves through an online electronic certificate of origin portal. With this service, you can enter and submit the information online and have it approved and returned to you in either an electronic or paper format in less than one business day.
3. Hazardous Material
The freight forwarder cost structure includes a fee for shipping and handling hazardous materials and explosives. Military goods often have detonators, magazines with explosives, etc. It's imperative these goods are handled correctly.
Forwarders may also add a Dangerous Goods surcharge and a Dangerous Goods declaration. This document informs the carrier of a hazardous commodity that requires special handling when loading or stowing in aircraft or an ocean container. There are different procedures for receiving and handling hazardous materials.
Companies that ship dangerous goods and hazardous materials are required by law to ensure that everyone that handles, packs and transports those goods receive appropriate training. Watch the free one-hour webinar—An Introduction to Shipping Dangerous Goods—for more information.
4. Legalization
Primarily in Middle Eastern countries, legalization is the process forwarders will go through in order to send documents to a consulate or embassy. The fees associated with this process are then itemized on a freight forwarders pricing list, including processing, presentation to the embassy, and courier fees.
This is another service you can arrange for yourself through the electronic certificate of origin portal described above. It is not only cheaper, because you avoid the freight forwarder fees, but it can often be done faster when working directly with a chamber of commerce.
Resources
To learn more about freight forwarder cost structure, check out these articles:
---
This article was first published in December 2017 and has been updated to include current information, links and formatting.