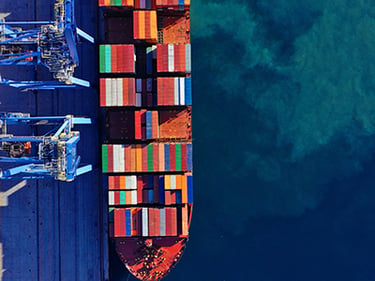 There are so many acronyms exporters and importers use every day that it can be overwhelming for those new to our industry to understand what terms mean and how they differ from other terms that sound similar. This is particularly true with LCL shipping.
In this article, I'll define what the LCL shipping term means and what documents are required with an LCL export.
What Is LCL Shipping?
The term LCL shipping stands for less than a container load. LCL shipping describes sea shipping for cargo loads that are not large enough to fill a full 20-foot or 40-foot shipping container. On land, this type of shipment may be called an LTL shipment, or a less-than-truckload/less-than-load shipment.
Exporters who do not have enough goods to fill a container can have their freight forwarder or carrier book their cargo with other shipments to save money.
Other information about LCL exports:
LCL shipments are charged by cubic meter (CBM).
Because they are grouped with other cargo, LCL shipments are sometimes called groupage shipments.
With LCL shipments, the freight forwarder sorts goods—at destination or at transshipment points—meant for different consignees at different ports.
With LCL shipments, like with all your export shipments, it's important that you communicate with your partners—specifically the forwarder and carrier—during every step of your export process. Talk with your forwarder not just about the cost of moving your goods, but also about all other services required to make sure everything is included in the quote. This ensures you have a true understanding of the cost.
Forms Needed for an LCL Export
As the exporter, you are responsible for ensuring proper, accurate documentation for every shipment—even when you're working with a partner like a freight forwarder or carrier. Your freight forwarder is your representative, but you know your business best.
Your freight forwarder's primary role is arranging and managing the transportation of goods—not serving as your company's export documentation and compliance personnel. Your shipping line and freight forwarder are not responsible for the accuracy of the information you provide about what is being exported from the U.S.
Documents Required for Your Export Shipment
Here are some of the documents you typically need to prepare for an export shipment, whether it is an LCL shipment or a full container load:
Electronic Export Information Filing through AESDirect
You or the freight forwarder are required to submit electronic export information (EEI) to AESDirect if:
The value of your export shipment is more than $2,500 per HTS or Schedule B code.
One or more of the products require an export license.
The shipment is going to certain designated countries.
For other reasons specified in the U.S. Foreign Trade Regulations.
If you as the exporter aren't doing the filing yourself, the Shipper's Letter of Instruction, described above, is usually provided to the freight forwarder with the information they need to do the filing.
You can download the free white paper, Filing Your Export Shipment through the Automated Export System (AES), for more information and details about the filing. Or watch the free one-hour webinar, Filing Your Electronic Export Information through AESDirect.
---
To learn more about common (and not-so-common) terms used by exporters, check out our article, A Glossary of International Shipping Terms.