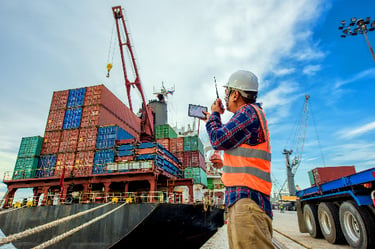 Freight forwarders are a one-stop shop for arranging transportation for your exports. They book container space and and execute inland logistics up until the point when your goods are successfully delivered. Most exporters use freight forwarders when arranging delivery of goods, because they depend on their expertise in areas that are overwhelming for exporters (especially those who are new to international trade) to understand on their own.
But, it's not impossible to ship overseas without involving a freight forwarder. If you've ever wondered if booking container space directly with a shipping line would be a good fit for your company, maybe even save you money, read on. This article addresses four points you need to consider before you start booking freight in-house.
Freight Forwarder: A Definition
First, it's important to understand what services you can expect when working with a freight forwarder. A freight forwarder serves as a travel agent for your goods, arranging for their safe transportation by truck, rail, ocean and/or air. Forwarders are supply chain and logistics experts. They book transport and facilitate delivery, putting out any fires that may arise along the way. Forwarders coordinate the pickup of goods from the exporter's location and transportation up to the point where the buyer's agent takes control of the goods. (Learn more about when that happens in the article An Introduction to Incoterms.)
Forwarders also help international shippers prepare the proper export documents, they understand export regulations and import requirements, and they provide advice to make sure goods are properly packed and insured. They know what needs to be done to ensure your goods clear customs.
What to Consider Before Managing Freight Bookings In-House
If you're currently outsourcing the transportation and logistics side of your business but wondering if you should bring those duties in-house, consider these questions first:
1. What volume of goods do you typically ship?
Freight forwarders are able to negotiate deals with carriers because they work with a high volume of goods. These savings are passed on to the exporter but for a fee, of course. Shipping companies usually only book in full container loads (FCL). A forwarder can handle smaller shipments by consolidating the shipments it's managing into shared containers.
What this means: Unless your company is shipping in large volumes, likely at least 250 FEUs (one FEU is the size of a 40-foot standard shipping container), some shipping companies won't even consider negotiating with you. If you do ship in large volumes, several times a year, it is possible to directly negotiate a long-term contract with a shipping company and maybe even for a reduced rate. But remember, that's just one piece of the logistics puzzle. You'll also need to coordinate and negotiate inland transportation once your goods arrive overseas and possibly find and hire a customs broker. Negotiating each piece of the logistics puzzle separately can add up.
2. How much risk can you handle?
Freight forwarders know what problems to anticipate and are equipped to deal with them. What if a truck breaks down? If port workers in Los Angeles decide to strike? If you need to find a new route due to global conflict? Today, more so than a few years ago, the likelihood of your goods moving from Point A to Point B without a hiccup is low. Forwarders often use software to track shipments, so if there's a delay you won't be left wondering where your goods are held up.
What this means: Forwarders are ready and expect these kinds of problems. They've dealt with them before, so they know how to solve them and have networks around the globe to do just that. Your company could handle them, too, but only if you have the right people in place. There's a learning curve when you first bring shipping management in-house and begin to learn how to handle these types of problems. If one lost shipment is going to break your company, it might not be a risk worth taking.
3. To what countries do you ship? Do you hope to expand
Freight forwarding companies have connections all over the world who speak the local language and understand local customs and traditions, which is necessary if you want to successfully do business globally. Freight forwarders work with all kinds of freight and cargo providers, so they can quickly find the quickest or most cost-efficient way to transport goods to a new location.
What this means: Shipping to a small number of destinations will be easier to manage on your own than attempting to establish connections in dozens of other countries. If you'd like to grow your exports, using a freight forwarder is going to be much easier because they likely already know who to work with in the new destination you're hoping to expand to.
4. Is your staff prepared?
Working with a partner whose job is to stay on top of changing rules and regulations is another reason many exporters choose to work with freight forwarders. Beyond booking transportation, forwarders are often customs brokers themselves or have custom brokers they partner with, and they know how to keep your goods safe during transport. (See Freight Fowarder vs. Customs Broker: What's the Difference?)
What this means: You probably need a full-time, in-house transportation team (or at the very least a full-time employee) to manage your shipments if you don't use a freight forwarder, which is why larger companies are usually the only ones working without. Depending on the size of your company and shipments, letting your employees focus on your core business may be a better investment than trying to learn transportation logistics. Just remember, if your staff isn't prepared for these challenges, it can cost you. If your goods are seized, and you don't know how to resolve the situation, you could be on the hook for storage fees and fines.
Sharing Responsibilities With Your Freight Forwarder
While most companies will decide to work with a freight forwarder to help manage their export shipments, that doesn't mean that you can sign a contract with one and then rely on them to do everything for you. There are some things you can and should be doing that may save you some money but, more importantly, help make your international shipments go smoother.
1. Export Document Creation
There are a number of standard export documents that you'll need to create that provide important instructions for your freight forwarder, including a commercial invoice, packing list, shipper's letter of instruction and a certificate of origin. Learn more and download free templates in our article 11 Documents Required for Exporting.
2. Filing through AES
For most U.S. exports, companies are required to file their export data through AESDirect. This filing is usually done by the U.S. Principal Party in Interest (USPPI), typically the U.S. exporter, but it can also be done by your freight forwarder by providing written power of attorney or other written authorization, often through the Shipper's Letter of Instruction (SLI).
While the responsibility of filing with AES can be outsourced, the liability cannot. So if a freight forwarder files on your behalf, be sure to request proof of filing. Better yet, learn to file on your own.
3. Classifying Your Products with the Correct Schedule B Code
When it comes time to classify your products, it's fine to consult with your freight forwarder, but remember: You know your products best. Don't rely on your freight forwarder to get the classification right. Using the wrong Schedule B code can result in your goods being held up by customs. If product classification has you stumped, check out Classifying Your Products for International Trade.
4. Compliance
When it comes to compliance, you're ultimately responsible should something go wrong, whether you use a freight forwarder or arrange shipping on your own. Understand your compliance responsibilities. Freight forwarders can help with compliance, and if you use one you should choose one who you trust to be compliance-focused, but you can't outsource responsibility. (See, If You're Relying on Your Freight Forwarder for Export Compliance, You've Probably Already Violated the Law.)
These free guides explain what's required of you:
In Conclusion
In some cases, getting rid of the middleman is a money-saving strategy, but when it comes to international shipping, that may not be the case. If you're new to international trade you'll benefit from the buying power of working with a freight forwarder, along with having a partner who will problem solve for you if your goods take an unexpected detour. Shipping companies offer little flexibility and support for exporters who are just learning about logistics, but if you're a large enough company with resources to spare, you might want to give in-house shipping management a try.
With skyrocketing shipping costs, you likely read this article hoping to find ways to save money. Even though going without a freight forwarder may not be the answer, we've written other articles that could help: Strategies for Understanding and Controlling Export Shipping Costs and Freight Forwarder Pricing.
---
Like what you read? Subscribe today to the International Trade Blog to get the latest news and tips for exporters and importers delivered to your inbox.