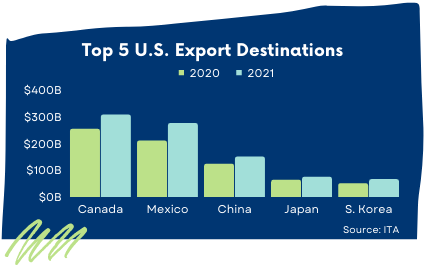 Companies interested in growth, profitability and staying competitive can't turn their backs on exporting. With 95% of the world's consumers living outside of the United States, that's millions of potential new customers, and technology has made them easier-than-ever to reach.
Don't let the headlines convince you otherwise. Sure, exporters have faced huge challenges the last few years between the pandemic, supply chain issues and global conflict. But that doesn't mean exporting is bad business. In fact, exports hit record levels in 2021. With the right resources and partners, exporting is a business opportunity companies of all sizes should consider.
Following are some important U.S. export statistics every company should know as we move forward through 2022. They demonstrate how exports impact the economy and U.S. businesses of all sizes.
General Export Facts
1. Global trade reached $28 trillion in 2021, an increase of 23% over 2020. Outsized consumer spending fueled much of the growth. Though growth rates will likely be smaller once things stabilize post-pandemic, this upward trajectory will most likely continue.
2. Exports hit record levels in 2021, growing 18.5% to $2.53 trillion. There's clearly demand for U.S. goods and services around the globe, a trend that intensified as commerce rebounded from the pandemic.
3. Exports of goods increased $333.2 billion in 2021, according to the United States Census Bureau. Almost half of these U.S. exports were to countries with free trade agreements (FTA).
4. Exports of consumer goods ($222.1 billion) in 2021 were the highest on record. The pandemic caused many consumers to move away from services spending, toward spending on goods.
5. The increase in exports of goods reflected increases in industrial supplies and materials ($169.6 billion); in capital goods ($59.3 billion); in consumer goods ($47.3 billion); in foods, feeds and beverages ($25.9 billion); and in automotive vehicles, parts and engines ($15.7 billion).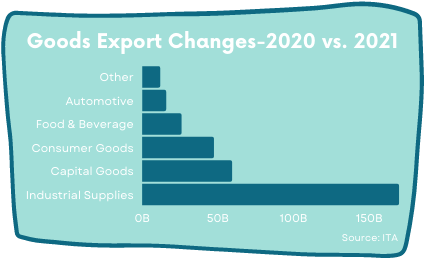 6. The largest U.S. export commodities by value in 2021 were gasoline, civilian aircraft and parts, oil, petroleum, and plasma, vaccines and blood products. Commodities exported were diverse and touched most sectors.
7. Exports of services increased $60.9 billion in 2021, according to the United States Census Bureau. Trade in services has finally returned to pre-pandemic levels. This growth demonstrates the strength of the U.S. services sector.
8. The increase in exports of services reflected increases in other business services ($26.8 billion) and in financial services ($17.7 billion). Trade in services also includes tourism, use of intellectual property, telecommunications and professional services, including everything from accounting to legal.
9. The price of United States exports rose 18.2% from November 2020 to November 2021, the largest increase on record. Agricultural export prices in particular jumped 21.4% during that time period, according to the U.S. Bureau of Labor Statistics. Price increases pushed inflation to its highest level in decades.
10. Goods and services exports made up 10.8% of GDP on average in 2021.
Small Business Opportunities and Job Growth
11. Nine million jobs in the United States were directly supported by exports in 2020, according to International Trade Administration estimates. Companies that export grow their sales faster and create more jobs than those that don't. Manufacturing accounts for the bulk of these jobs, however, as evidenced by our next fact, all sectors and companies of all sizes add jobs through exporting.
12. U.S. small and medium-sized companies—firms with fewer than 500 employees —account for 98 percent of the nearly 280,000 exporting businesses. Exporting is for businesses of all sizes. You'll be less affected by swings in the U.S. market, both economically and seasonally, by expanding throughout the world. And there are a number of organizations dedicated to helping small exporters get started, including the Small Business Administration (SBA).
13. Companies that export are 17% more profitable than those that don't. Employees of companies that export also tend to earn more money.
14. According to the Institute for International Economics, U.S. companies that export grow faster and are 8.5% less likely to go out of business than non-exporting companies.
15. A study of U.S. exporters found that 60% of small companies in the survey derived 20% of annual earnings from exports, while 44% of medium-sized companies did, according to the International Trade Administration. The majority of companies said they expected export sales to grow in coming years.
Trading Partners
16. The United States logged record exports to
57 countries last year
, led by Mexico, where they increased to $276.5 billion. Shipments to China rose 21.4% to $151.1 billion.
One key to your success as an exporter is choosing the right markets. We have written a number of resources to help with this aspect of exporting:
17. Canada, Mexico and China were the top importers and exporters with the United States in 2021. Imports and exports between the United States and those countries made up 43% of U.S. trade. Trade with Canada and Mexico is bolstered by the United States-Mexico-Canada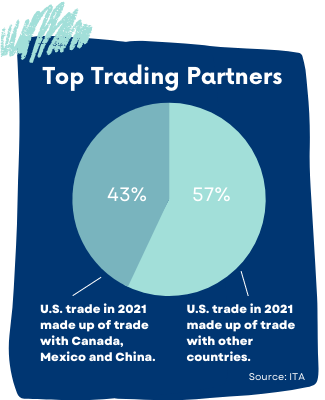 Agreement (USMCA), which went into effect in 2020, replacing the North American Free Trade Agreement (NAFTA), promising to increase North American trade and eliminate trade barriers.
18. The United States' top five trade partners in 2021, from largest to smallest, were Canada, Mexico, China, Japan and Germany. China fell from the United States' largest trade partner in 2020 to the third largest in 2021. Many importers and exporters are eager to see what the Biden administration will do about Section 301 tariffs imposed on Chinese goods.
19. Canada was the United States' top export destination for goods in 2021, receiving $308 billion in exports, followed by Mexico and China. The U.S. has a solid economic relationship with Canada. That, along with shared language and culture, makes doing business there appealing to new and established exporters. Learn more in our article, Exporting to Canada: What You Need to Know.
20. In 2020, an estimated 2 billion people in Asia were members of the middle class; by 2030, that number is forecast to grow to 3.5 billion. Asia's huge, growing middle class is a big opportunity for exporters. That's 3.5 billion people with disposable income, ready and willing to purchase goods.
21. The United States has 14 free trade agreements with 20 countries, creating better exporting opportunities for U.S. businesses. Countries included are: Australia, Bahrain, Canada, Chile, Costa Rica, Dominican Republic, El Salvador, Guatemala, Honduras, Israel, Jordan, Mexico, Morocco, Nicaragua, Omen, Peru and Singapore.
22. The top 10 exporting states by value in 2021 were:
Texas: $375.3 billion
California: $175.1 billion
New York: $84.9 billion
Louisiana: $76.8 billion
Illinois: $65.9 billion
Michigan: $55.5 billion
Florida: $55.5 billion
Washington $53.6 billion
Ohio $50.4 billion
New Jersey: $49.5 billion
23. The top 10 U.S. exporters in 2021, based on twenty-foot containers (TEU), for ocean shipments were:
Koch Industries
International Paper
CellMark Group
DeLong
America Chung Nam
Louis Dreyfus Company
International Forest Products
WinFibre
Scoular
BMW of North America
---
Special thanks to Helen Mann. Some of these facts were compiled through her World Trade Month reporting.
Like what you read? Subscribe today to the International Trade Blog to get the latest news and tips for exporters and importers delivered to your inbox.