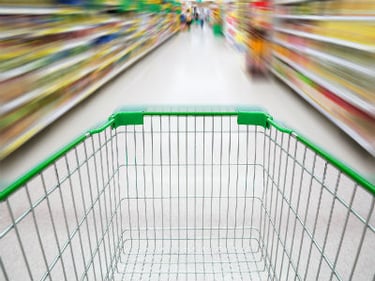 You don't often go to the grocery store just to buy one thing.
You don't make a single trip to buy bread, then go back for toothpaste, then eggs, then pasta, then milk, etc. Most of us try to combine those tasks into a single trip to save time.
You're probably thinking, "Of course! It'd be ridiculous to make several trips when you can cross everything off in a single trip." It seems like an obvious strategy for tasks like grocery shopping, but we rarely think about using that same strategy for our export documentation.
The Best Way to Create Your Documents (Including the Commercial Invoice Form)
The likelihood that you'll only need to complete a commercial invoice form is pretty small (just like the likelihood that you'd just need milk and nothing else). Often, there are up to five different documents required per export transaction. It's one thing to fill out a template in Word or Excel once, but to do it four to five times per export shipment is a waste of time.
Shipping Solutions software eliminates that redundant data entry. Just enter your information once, and the software automatically formats and places it on the right spot on the right forms.
Request a Free Demo
So while you're entering information on the commercial invoice form, it's also being shared and properly formatted for your packing list, certificate of origin, bill of lading, shipper's letter of instruction, and any other documents you'll need. Click here to see a sample of a completed commercial invoice.
Add the requirements for filing your electronic export information (EEI) through AESDirect, plus the need to screen your contacts against restricted party lists—and that's a lot of work to do if you're not being efficient.
Shipping Solutions software saves you lots of time creating commercial invoice forms (and all other forms, too) and spares you costly errors. Don't just take our word for it, though—try it for yourself for free!
If you're not quite ready to try software, or you want to continue learning more about the commercial invoice, keep reading. We've outlined 10 things you need to know about the commercial invoice.
10 Things You Need to Include on Your Commercial Invoices
As you glance at the commercial invoice template, you'll see it requires a lot of information. The commercial invoice for shipping is the single document that describes the entire export transaction from start to finish. It is the basis for all other export documents because it is a bill for the goods from the seller to the buyer. It is also the primary shipping document used by customs worldwide for commodity control and valuation. It's critical to include a commercial invoice in your export documents.
---
---
At a minimum, your commercial invoice needs to include (but is not limited to) the following items:
1. The time when and the place where the merchandise is sold.
2. The seller's name, address, contact information, and possibly tax identification number.
3. The buyer's full name, address, contact information, and possibly tax identification number.
4. The ship to party's full name, address, contact information, and possibly tax identification number (if different from the buyer's).
5. A detailed description of the merchandise, including but not limited to:
HS Number (first six digits of the Schedule B or HTSUS number);
Name by which each item is known;
Grade or quality;
Marks, numbers, and symbols under which the merchandise is sold;
Currency;
Country of origin;
Quantity; and
Price per unit.
6. The country of shipment.
7. The relevant trade term and the location associated with the term, such as Incoterms 2010, Free Carrier At Your Forwarder's Facility, Chicago, IL USA.
8. All goods and services provided by the buyer for the production of the merchandise (e.g., assists such as tools, dies, molds, and engineering work).
9. A signature, signor's title, and date of signing.
10. Additional information provided in the terms and conditions or on the document:
Import license requirements, if known;
Additional certifications and statements required by the buyer's country;
U.S. government issued certifications to be provided;
U.S. export controls (i.e. EAR99, ECCN or USML);
Where title will transfer from the seller to the buyer;
Method of Payment;
Relevant law; and
Other.
The commercial invoice form may seem complicated, but there's an easy way to do it. Get a free trial of our Shipping Solutions software and try it for yourself!