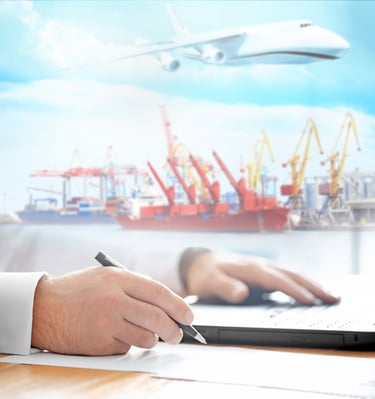 Before your goods are transferred, flown, shipped or driven out of the country, a proforma invoice will set the stage, serving as a negotiating tool between you and your international customer and a blueprint for the entire process.
As one of the first documents prepared in an export transaction, a proforma invoice acts like a quote and looks like a commercial invoice. This document, when correctly completed, contains several key pieces of information that will be used on many of the export forms you'll need to create later on.
Here are six components you must consider when completing the proforma invoice:
1. Price
The most important item on the proforma invoice will be the price. For obvious reasons, you'll want to make sure the price is accurate. When calculating the price, keep in mind that you are often quoting more than just the cost of your product. Depending on the terms of the sale, you may need to consider transportation costs including insurance, duties and taxes. And unless your prices never change, make sure to include an expiration date for the invoice.
2. Description of Goods
Include a clear, detailed description of the goods with related information such as the product classification, the country of origin, and the weight and dimensions for your items. The correct six-digit harmonized system code will allow buyers to determine any duties and taxes they may have to pay while the weights and measures allow them to calculate delivery costs if they are responsible for that portion of the sale.
3. Terms of Sale
Companies who are new to exporting are often confused by the set of 11 delivery terms universally used in international trade. Called Incoterms 2010, these delivery terms are different than the traditional shipping terms used in domestic transactions and clearly outline the responsibilities of buyers and sellers throughout the export process. Incoterms 2010 identify with precision key moments of the transaction like when liability is transferred from the seller to the buyer.
4. Payment Terms
Want to get paid? Then complete the proforma invoice with pertinent information about the payment terms you'll be using and your remittance information. Proforma invoices are extremely handy for buyers who need to open a letter of credit with their bank, arrange for financing, and/or apply for an import license.
5. Delivery Details
Presuming the buyer accepts the terms of your proforma invoice, when will the goods be ready to ship, where will they be delivered, and when will they arrive at the location promised in the term of sale? Left unstated, all three of these items can cause conflict between the parties in your export transaction and could have a dramatic impact on the actual cost of the order. That could be the difference between making money and losing money on your shipment.
6. Export Controls
Of course, the entire necessity of creating a proforma invoice is dependent on whether or not you can actually do business with this potential customer. U.S. export regulations identify certain organizations and individuals with whom you can't do business, places embargoes on entire countries, and controls what type of information and products can be transported or transmitted to people from a specific country without first getting an export license. Make sure you check these requirements before proceeding with a potential customer.
The proforma invoice sets the tone for the entire export process, so there's no room for error. Make sure you are including all the appropriate information by downloading a free PDF version of our proforma invoice.
---
This article was first published in May 2014 and has been updated to include current information and formatting.