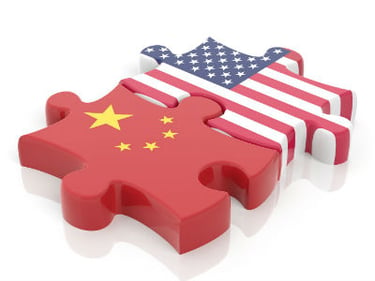 By some measures, China is the largest economy in the world. That makes it an undeniable force in international trade.
For many small to midsize exporters in the U.S., however, the formidable giant may seem like too big a beast to conquer with a relatively small budget. But that doesn't have to be the case.
In this article, I'll look at the history of U.S. trade with China; the process of exporting to China, including documentation and compliance requirements; and the benefits and considerations for U.S. companies looking to break into the Chinese market.
Trade and Exporting to China: A Brief Background
In 2016, China stood as the largest economy in the world as measured by a Purchasing Power Parity (PPP) basis that adjusts for price differences. The country became the world's largest exporter in 2010, and the largest trading nation in 2013. (CIA World Factbook) So what does the Chinese trade relationship with the U.S. look like today?
As of this year, data from the U.S. Commercial Service's China City & Industry Report: A Guide for U.S. Exporters shows that U.S. exports to China in 2015 were $116.2 billion, which is down 6.1% from the previous year. U.S. exports of services to China were an estimated $42.5 billion in 2014 (the latest data available). U.S. foreign direct investment in China was $65.8 billion in 2014, a 9.8% increase from 2013—despite significant market access barriers that exist for those firms.
Top U.S. Exports to China
According to the Office of the U.S. Trade Representative, the top U.S. export categories to China in 2016 according to two-digit HS numbers were:
Miscellaneous grain, seeds, fruit (soybeans): $15 billion
Aircraft: $15 billion
Electrical machinery: $12 billion
Machinery: $11 billion
Vehicles: $11 billion
Notably, U.S. exports of agricultural products to China totaled $21 billion in 2016. China is the United States' second-largest agricultural export market. Leading export categories include: soybeans ($14 billion), coarse grains such as corn ($1.0 billion), hides and skins ($949 million), pork and pork products ($715 million), and cotton ($553 million).
Exporting to China: The Challenges
Exporting to China is difficult for many reasons, including the following:
China's sluggish economic growth: As of 2015, China's economic growth rate of was at its lowest rate in more than a quarter century; real GDP growth decelerated to 6.9%.
The Chinese government's efforts to shift the economy from one based on manufacturing to one based on services.
An unclear timeframe for these announced reforms.
New laws, regulations and other measures that called into question the openness of China's investment regime.
U.S. exporters cite "inconsistent regulatory interpretation and unclear laws" as the biggest challenge to doing business in China. They also cite labor costs; obtaining required licenses; hiring and retaining qualified employees; industrial overcapacity; increasing protectionism; corruption; taxes; and lax enforcement and protection of intellectual property rights.
---
---
Intellectual Property Issues
In spite of progress towards improving its intellectual property legal and regulatory regime, China continues to be a challenging environment for Intellectual Property Rights protection and enforcement; China's intellectual property (IP) issues are rampant and well-documented.
IP holders exporting to China must understand how to protect their IP under Chinese law before entering the market, and they should conduct thorough due diligence on potential partners or buyers before entering into any transaction. To learn more about how your company can protect its intellectual property in China, visit Stopfakes.gov. You can also refer to the summary of the programs available through the U.S. Department of Commerce to help U.S. firms develop an intellectual property strategy plan.
Rules and Regulations in China
As previously mentioned, deciphering the many (often conflicting) Chinese rules and regulations can be frustrating in the least and, at worst, cause issues that force an exporter to stop trade to the country completely.
There are ways to combat these issues:
Work closely with your local U.S. Commercial Service office.

They will link you to offices in China

that will help you establish your presence in China and assist you through difficulties you may face.
Additionally, the U.S. Department of Commerce's

Advocacy Center

can help you with early stages of your project.
Find partners who have experience working with China. Your

freight forwarder

and banker should have documented experience working with the country;
Exporting to China: The Opportunities
While the risks may loom large, the potential rewards to exporting to China do too. Exporters should identify and cultivate opportunities while building a strategy to minimize the risks.
According to the China Country Commercial Guide, in 2016, the Chinese leadership pledged to gradually improve the investment climate through:
Intensification of U.S. - China Bilateral Investment Treaty (BIT) negotiations covering "pre-establishment" market access and using a "negative list" approach, with the aim of a high-standard agreement reflecting non-discrimination, transparency, and open and liberalized investment regimes on both sides.
Implementation of staggered "negative lists" to govern investment throughout the country, including: a pilot market access negative list applicable to both domestic and foreign investors; an updated draft Catalogue for the Guidance of Foreign Investment in Industries, which proposes new liberalization in 20 investment sectors; and the announced expansion of the Free Trade Zone (FTZ) pilot foreign investment negative list to include seven new FTZs (for a total of eleven) that will go into effect in 2017.
Chinese officials continue to promise economic reforms to provide greater market access and protection to foreign investors, but these announcements are met with skepticism due to lack of details and timelines. Investors also cite inconsistent regulations, growing labor costs, licensing and registration problems, shortages of qualified employees, insufficient intellectual property protections, and other forms of Chinese protectionism as contributing to China's deteriorating business climate.
Areas of Growth in China
According to export.gov, eCommerce is the fastest growing portion of the retail sector in China. The number of people shopping online and using mobile in China overwhelms any other county in the world. The total value of eCommerce sales in China has increased by 25% year-on-year in terms of total market value, reaching USD $2.1 trillion in 2014 according to the Chinese Ministry of Commerce.
Additionally, in 2017, China is expected to be the most important market for U.S. exports of agricultural, forest and fishery products followed by Canada and Mexico. The 2017 annual export forecast for China is $22.3 billion, $2.9 billion lower than total 2016 exports.
According to the China Country Commercial Guide, the promising areas for future growth include the following:
Export Assistance
The best thing about exploring the opportunities to export to China is knowing you don't need to go it alone. You can rely on assistance from your in-country allies, including the U.S. Commercial Service office, trade missions, and chambers of commerce.
U.S. Commercial Service Offices
One of the first places to consider are your local and in-country Commercial Service offices. The Commercial Service in-country offices offer U.S. exporters business partners in China—boots on the ground in the country—and include representation by a Chinese agent, distributors or partners who can provide essential local knowledge and contacts that can be critical for your success. You can learn more about in-country offices in our article, Tapping into the U.S. Commercial Service's In-Country Offices.
District Export Councils (DECs)
DECs across the country can help exporters by supporting trade and services that strengthen individual companies, stimulate U.S. economic growth, and create jobs. DEC members also serve as mentors to new exporters and can provide advice to smaller companies.
Sponsored by state and local trade offices as well as commercial service offices, trade missions are a great way to get introduced to and network with contacts. Check into them.
International Trade Administration (ITA)
If you're facing issues with trade barriers in China, the ITA is an excellent resource to help you combat problems. Staff at the ITA are resident experts in advocating for U.S. businesses of all sizes, customizing their services to help solve your trade dilemmas as efficiently as possible. If you find yourself caught in an unfair international trade situation, the ITA is a valuable resource that can expeditiously help you understand and solve your problems. The ITA makes it easy to report a problem, allowing you submit your report online.
U.S.-China Chambers of Commerce
Chambers of commerce may be a way to help you export to China. You can learn more about various chambers in our article, The Chamber of Commerce Role in Exporting.
Export Document Requirements for China
According to export.gov, the documents you need to export to China will vary depending on your products, but they include:
Customs declaration
Insurance policy
---
---
In addition, there are some more specialized documents that may be required:
Import quota certificate for general commodities (where applicable).
Import license (where applicable).
Inspection certificate issued by the General Administration of Quality Supervision, Inspection, and Quarantine (AQSIQ) or its local bureau (where applicable).
Other safety or quality licenses.
The Chinese importer will gather the documents necessary for importing goods and provide them to Chinese Customs agents.
Export Compliance Issues for China
It's important to understand the regulations covering exports to China. You must be concerned with complying with export regulations no matter where you ship, but you are more likely to need an export license shipping to China than Canada. It's a part of the world where more items are controlled, so you need to understand what is required of you and what you risk if you don't do your job in complying with those regulations.
Product Classification for Export Controls
The first step in ensuring export compliance is determining who has jurisdiction over your goods: the U.S. Department of Commerce under the Export Administration Regulations (EAR) or the State Department's Directorate of Defense Trade Controls (DDTC).
If they fall under the jurisdiction of the Commerce Department, which most products do, you must determine if your export requires authorization from the Bureau of Industry and Security (BIS), which is part of the Commerce Department, you need to answer the following questions:
What is the ECCN of the item?
Where is it going?
Who is the end user?
What is the end use?
To do that, you must know how to determine the correct classification of your item, also known as determining the Export Control Classification Number (ECCN). There are three ways to classify your products for export controls: you can self-classify your products, submit a SNAP-R request for a ruling, or rely on the product vendor. You can learn about that process in our article, 3 Ways to Classify Your Products for Export Controls.
By making sure your product is classified correctly, you'll be protecting the U.S. from threats abroad and protecting yourself from severe fines, penalties and even jail time.
Export License Determination
There are several reasons the U.S. government prevents certain exports to China without an export license. Companies must use the ECCN codes and reasons for control described above to determine whether or not there are any restrictions for exporting their products to specific countries. Once they know why their products are controlled, exporters should refer to the Commerce Country Chart in the EAR to determine if a license is required.
---
---
Although a relatively small percentage of all U.S. exports and reexports require a BIS license, virtually all exports and many reexports to embargoed destinations and countries designated as supporting terrorist activities require a license. These countries are Cuba, Iran, North Korea, Sudan and Syria. Part 746 of the EAR describes embargoed destinations and refers to certain additional controls imposed by the Office of Foreign Assets Control (OFAC) of the Treasury Department.
The Shipping Solutions Professional export documentation and compliance software includes an Export Compliance Module that will use the ECCN code for your product(s) and the destination country and tell you if an export license is required. If indicated, you must apply to BIS for an export license through the online Simplified Network Application Process Redesign (SNAP-R) before you can export their products.
There are export license exceptions, like low-value or temporary exports, that allow you to export or reexport, under stated conditions, items subject to the Export Administration Regulations (EAR) that would otherwise require a license. These license exceptions cover items that fall under the jurisdiction of the Department of Commerce and not items that are controlled by the State Department or some other agency.
Deemed Exports
Surprise! You May Be an Exporter without Even Knowing It! That's right—an important compliance issue for exporting to China is deemed exports, or exporting without shipping a product. A deemed export occurs when technology or source code (except encryption and object source code, which is separately addressed in the EAR under 734.2(b)(9)), is released to a foreign national within the United States.
Sharing technology, reviewing blueprints, tours of facilities, and other disclosures of information are considered potential exports under the deemed export rule and should be handled accordingly.
For example, this applies to Chinese nationals coming to United States for work or education. The same export regulations that apply to shipping goods to China applies to exposing controlled technology to Chinese nationals in the U.S.—from students at U.S. universities to workers at aerospace industries to visitors and tourists. You can learn about how to apply this principle here.
Restricted Party Screenings
Restricted party lists (also called denied party lists) are lists of organizations, companies or individuals that various U.S. agencies—and other foreign governments—have identified as parties that one can't do business with.
There are several reasons why a person or company may be added to a restricted party list. For example, they may be a terrorist organization or affiliated with such an organization, they may have a history of corrupt business practices, or they may otherwise pose a threat to national security.
Restricted party screening (or denied party screening) refers to the process in which a company checks a potential customer or business partner against one or more of the restricted party lists to ensure they are not doing business with a restricted party.
The primary restricted party lists in the United States are published by the Department of Commerce, Department of State, and Department of Treasury. However, several other agencies produce lists as well. These agencies recommend that companies perform restricted party screening periodically and repeatedly throughout the movement of goods in the supply chain.
When exporting to China, it's imperative you check every single restricted party list every time you export.
Fines for export violations can reach up to $1 million per violation in criminal cases. (Bureau of Industry and Security).
Administrative cases can result in a penalty amounting to the greater of $250,000 or twice the value of the transaction.
Criminal violators may be sentenced to prison for up to 20 years, and administrative penalties may include denial of export privileges.
Export Documentation and Compliance Software
If you're an exporter who is considering exporting to China, consider this: Shipping Solutions export documentation software can help you quickly create the necessary documents and stay compliant with export regulations. Download a free trial version of the Shipping Solutions software to see how it can revolutionize the way you're currently creating your export paperwork.
---
This is the first article in our series investigating exporting to various countries across the globe. In our next installment, we'll identify what you need to know about exporting to Canada.