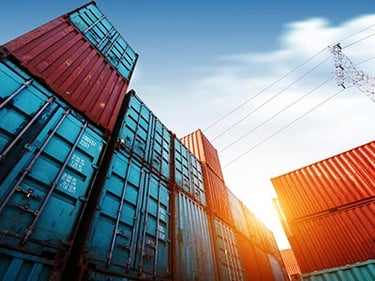 Most exports from the United States must have the electronic export information (EEI) filed through the Automated Export System (AES). Depending on the terms of the export, the exporter, a freight forwarder, or some other agent may do the actual filing.
Even if your company isn't submitting the EEI filing, it's still important for all exporters to create an account on the Automated Commercial Environment (ACE) where this filing is done. In this article, we'll identify how to register for AESDirect on ACE and why it's a must-do for U.S. exporters.
Why AESDirect Registration Is Important
When exporting from the U.S. to a foreign country, AES filing is required for most exports of merchandise valued at $2,500 or more by Schedule B number. AES filing is also required for all exports that require an export license from the Commerce or State departments regardless of value. Exports from the U.S. to Canada don't require an AES filing, regardless of the value of the merchandise, unless an export license or license exception is required or it includes a used vehicle.
Instead of filing yourself, you may be relying on your freight forwarder or a third party to file through AES on your behalf. Or, in a routed export transaction, the buyer could nominate a forwarder who files through AES. (I think it's a bad idea to have someone else file through AES even in a routed export—see my post, Why I Hate Routed Export Transactions.) In any case, you should still be registered, so you can audit what's being filed using your company's Tax Identification number.
It is possible to run reports from the ACE portal of the EEI that have been submitted by your company or submitted by someone else using your company's Tax ID. You should be regularly checking these reports to confirm the information for each transaction is accurate and to ensure no EEI is being filed with exports that don't involve your company. (You can learn about these specific reports in our articles, Exporters: Review the ACE Reports of Your AESDirect Filings and Discover AESDirect Reports on ACE.)
Now that you understand the importance of filing, let's discuss how to register for AESDirect.
AESDirect Registration: A How-To
In early 2016, AESDirect was moved to Customs and Border Patrol's Automated Commercial Environment. These are the steps to follow in order to create an AESDirect filing:
1. Get an ACE Account
To file with AESDirect or to generate filing reports, you must first get an ACE username and password. If you are an importer as well as an exporter, you may already have one. (In that case, just make sure that your account has the Exporter Account Type.) If you don't have an ACE account, the application is on the CBP website.

2. Log Into ACE for the First Time
Once you have your ACE account, login to the ACE Portal on the CBP website to accept the AESDirect certification statements. You must turn off the pop-up blocker on your web browser.
You may be asked to verify your account. If you see a screen with your company name, click the radio button next to it and click Select and Continue. If your company is not listed, contact the ACE Account Service Desk at (866) 530-4172, option 1.
If your company imports, it may already have an ACE account. In that case, your account administrator can add the exporter role to the account.
If you aren't an importer or don't already have an ACE account, you can apply for an ACE account using the ACE Exporter Account application. The application is simple and only takes a few minutes to complete. An ACE account allows for multiple EINs to be managed under a main account, so be sure to create the main account first and then add additional EINs to the main account.
3. File Your EEI
Once you have set up your ACE account, you can begin filing your EEI from the ACE portal or using export documentation software like Shipping Solutions. The video below walks you step-by-step through, what you need to know as you file through AESDirect using the ACE portal:
Additional Resources
Our comprehensive guide, Filing Your Export Shipments through the Automated Export System, is one of the very best resources you can find online about AES.
Our recent webinar in collaboration with NASBITE International, How to Properly File an EEI through AESDirect/ACE, is a must-see. In it, AES experts Robert P. Imbriani and Lisa Nemer teach the proper way to submit your EEI to AESDirect on the ACE portal, including the requirements, responsible parties, when you need to file, how to correct a filing, and more.
Finally, check out the AES section of our International Trade Blog archives, where we've written more than 40 articles about general and specific topics related to AESDirect, the ACE platform, and more. (You can also sign up to receive weekly notifications of what we've posted on the blog that week, so you never miss an article.)