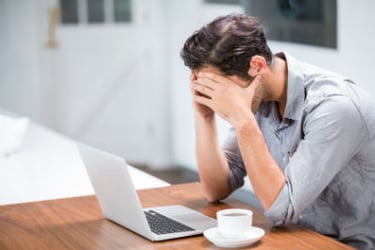 "Why does exporting have to be so hard?"
You laugh when you say it—and it's kind of funny—but it's true, isn't it? Even though exporting sounds sexy and appealing, it requires skill and hard work to be successful.
Here are five reasons I think exporting can be difficult:
1. Distance
Exporting requires some physical distance, which you don't have to deal with if you are selling to your neighbors or even to other cities within the United States. Exporting is hard because you have to find the right people, market to them, convince them, sell to them, and deliver to them. When you're used to shipping your goods via truck and decide to become an exporter, you have to find other means of transportation as well as make sure you're completing the right transportation documents for every shipment.
2. Language and Cultural Issues
It's hard to be an exporter because you will face a language barrier, unless you export only to English-speaking countries. You may also face cultural issues, from unfamiliar business customs and norms to extended periods of time away from the office (at least during non-pandemic times). Being unaware of any of these things when you export may cost you time, and if your shipment is delayed, it may cost you money.
Check out these articles by Becky DeStigter and Stan Klatka for more information on dealing with cultural issues:

3. Trade Terms
Ugh. Incoterms. If you're a new exporter (and perhaps even if you're a seasoned exporter), these exporting trade terms may make you want to rethink the gig completely. Incoterms can be complicated, and because they're different than the Uniform Commercial Code terms we use when trading domestically, they require even more knowledge and understanding.
The International Chamber of Commerce typically updates the Incoterms every 10 years. The latest set of terms—Incoterms 2020 rules—went into effect on January 1, 2020. If you don't have much experience with Incoterms, download the free white paper: An Introduction to Incoterms 2020.
If you're looking for a helpful tool for selecting the correct Incoterms 2020 rule for your international shipments, download the free summary: Incoterms 2020 Rules: Chart of Responsibilities and Transfer of Risk.
4. Customs and Country Regulations
The very nature of exporting means you're required to work with different customs authorities, varying country regulations, and myriad legal requirements—including contracts, different import requirements in different countries, and understanding when you need to have get permits (for example, food, drugs and cosmetics are just a few things that require extra approval).
In addition to these foreign regulations (which affect customs), you're also dealing with U.S. requirements. This essentially doubles your workload.
5. Getting Paid
The last (but obviously not least) challenge of exporting? Getting paid! When you're exporting to someone across the world, how do you make sure you get paid for your shipment? You have to deal with different currencies, different banks, different documentation, and different financing structures, and all of these elements make the payment structure more difficult to navigate.
You also have to take into consideration customer risk and creditworthiness. It's much harder for exporters to know whether or not the person is creditworthy or if they need to get paid upfront. In addition to customer risk, you also have the risk for the country risk—some countries are just more difficult and troublesome to work with than others. Our white paper, Evaluating Export Markets: How to Assess Country and Customer Risks, goes through these risks in detail and provides specific help in each area.
Is Exporting Worth It?
"If it was easy, anybody would do it." It's a cliché because it's true—especially in exporting.
But there are strategies and tools that can make it easier:
Find the Right Partners
Finding vendors who can help with the tasks in which you aren't an expert and banks that understand your goals are two good places to start. Also, companies who help you simplify your export documentation are crucial to making the difficult jobs easier.
Create a Written Plan
You might think your company has the proper procedures in place for your export shipments, but are you certain? By creating and following an Export Compliance Program (ECP), you can be certain your export process more efficient and your shipments don't violate any export regulations.
Put Systems In Place to Help Guide You through Exporting
One part of your EMCP is to regularly audit your processes to make sure they're keeping your company in check. Audits from outside companies can also help you see areas that need attention from an unbiased perspective.
Know Where to Look for Help
We live in an age of incredible resources. From the BIS website, to U.S. Export Assistance Centers, to local chambers of commerce, to webinars and seminars hosted across the globe, to the Shipping Solutions International Trade blog, if there is something you need help with, there is almost certainly a place you can go. You can also leave me a comment below—I'll be happy to try and put you in contact with the right folks.
So yes, exporting is hard. But even though it's hard, it is immensely rewarding. As an exporter, you get to:
Identify and overcome new challenges.
Learn about new cultures.
Meet interesting new people.
Travel to interesting places.
Despite the current trend against globalism, international trade does benefit individuals, companies, and even our country. Exporting means you can sell more products and make more money, for starters. And companies that export have happier employees, because they're able to earn higher wages.
From a national perspective, exporting benefits our country by growing our economic base. It also promotes peace, as countries that trade with one another are less likely to fight. The more interconnected the world is, the better and safer we all are.
---
This article was first published in December 2016 and has been updated to include current information, links and formatting.