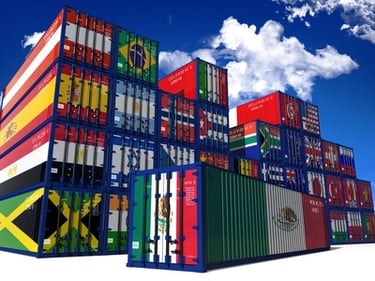 The certificate of origin is a document issued by an exporter that confirms and certifies the country of origin of its products.
Alternatively, it might be a separate letter or form that incorporates a statement indicating the country of origin is as stated on the commercial invoice and certifies the document is true and correct; it is then signed by the exporter's employee.
It is issued by the exporter, stamped by a Chamber of Commerce, and supported by a commercial invoice declaring the same information.

The Certificate of Origin Form
A certificate of origin should accompany almost every export, as it might follow the product through its life, including reexports. You can learn more about certificates of origin for exports in our comprehensive resource for all exporters, Export Procedures and Documentation: An In-Depth Guide.
To help determine when a certificate of origin is required, the U.S. International Trade Administration provides a summary of documentary requirements, which you can find by searching specific countries on their website. The Export Reference Library published by Bloomberg BNA is available with a paid subscription. And Shipping Solutions Professional export documentation and compliance software includes an Export Compliance Module, which includes free access to the Country Document Determination Wizard.
The certificate of origin is documentary evidence that the goods originated in the country stated in the certificate, commercial invoice, or packing list. Customs expects the certificate to be a separate document from the commercial invoice or packing list.
Customs does not require it to be signed by the exporter, but it does require the signature to be notarized. In some cases, the customs authorities at destination may even name the chamber of commerce who is to add its proof of review to the exporter's certificate of origin.
The proof of review can occur through the addition of the chamber's official embossing stamp and the signature of an authorized chamber representative. Most countries also accept an electronic certificate of origin (eCO) that has been electronically signed by a chamber of commerce, who then registers the legitimacy of the certificate with customs authorities around the world. Using an eCO can be faster and less expensive than traditional paper certificates.
Electronic Certificates Of Origin (ECO)
Electronic certificates of origin are secure, easy to use, and fast. With an eCO, you can submit the required documentation online and get an electronic certificate stamped by a chamber of commerce in less than a day or, if you prefer, receive an expedited paper certificate overnight.
Shipping Solutions has partnered with American World Trade Chamber Of Commerce, whose certification staff is accredited by the International Chamber of Commerce World Chambers Federation. You can be assured that your chamber of commerce document will comply with the rules, regulations and best practices of international trade. You can learn more at the eCO web page.
A certificate of origin may also be required by the buyer in the documentary requirements stated within a letter of credit. The letter of credit may specify additional certifications or language within that must be noted in order for the certificate of origin to comply with the stated requirements.
Free Trade Agreement Certificates of Origin
Free Trade Agreements (FTAs) and Trade Promotion Agreements (TPA) made by the U.S. with other countries don't typically require a specific form to be used as proof of origin. Instead, they identify the information that must be included on a certificate of origin or some other document like the commercial invoice to prove that the goods qualify for preferential duty rates.
In order to make sure they are including all the required data elements, exporters, producers and importers who wish to claim that their goods qualify under the rules of origin for an FTA or TPA usually use the appropriate suggested certificate of origin template.
The U.S. currently has 14 FTAs in force with 20 countries. You can download a free certificate of origin template for each of these agreements by clicking the link below:
---
This is an adaptation and an update of an article that was originally written by Catherine J. Petersen and was first published in January 2015. It has been updated to include current information, links and formatting.