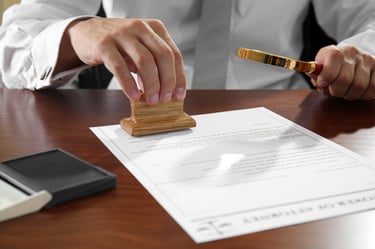 As an exporter, you are required to provide documents to accompany your international shipments. The number and kinds of documents that you must prepare will vary depending on where, what and how you are shipping.
A certificate of origin (COO) may be one of the export forms you need to produce.
Generic Certificate of Origin
There are certain countries whose customs authorities require exporters to submit a certificate of origin that has been authenticated by a chamber of commerce in the exporter's country as a prerequisite for customs clearance. One of those countries is Saudi Arabia. The Saudi Arabian government also requires an irremovable label showing the country of origin affixed on the commodity.
A certificate of origin identifies the country of production or growth. The document is self-issued and may be certified by an independent organization, such as a chamber of commerce or consular office. An exporter may issue a certificate of origin with products from multiple countries itemized.
A certificate of origin contains the following facts about an exporter's shipment:
Exporter's name and address;
Importer's name and address;
Shipping details, including the ports and the carrier, the shipping marks and numbers;
Product details, including the product name, number of packages, country of origin, weight and cubic measure; and
Certification stating that the goods as described were shipped and consigned as indicated and are products of the countries identified above.
Electronic Certificate of Origin
A traditional paper generic certificate of origin requires exporters to print out a copy of the form, take it to or have it couriered to a chamber of commerce, wait for the chamber staff to review and hopefully stamp the form, return it to the exporters office, and then send it to the importer. It can be a time-consuming and sometimes costly process.
The advent of electronic Certificates of Origin (eCO) has simplified the process. Now you can enter the required information online and have a certified certificate delivered to you by email or express mail, whatever you prefer.
Your application is reviewed and approved by a U.S.-based chamber of commerce that is accredited by the International Chamber of Commerce World Chambers Federation (ICO), which means you can be assured that your electronic certificate of origin will comply with the rules, regulations and best practices of international trade.
Free Trade Agreement Certificates of Origin
In addition to the generic certificate of origin form, free trade agreements between the United States and other countries utilize a certificate of origin to document that the goods listed qualify for special tariff treatment under the terms of the free trade agreement (FTA).
According to the U.S. Department of Commerce, the United States has 14 FTAs in force with 20 countries:
The North American Free Trade Agreement (NAFTA), which includes Canada and Mexico;
The Dominican Republic-Central American Free Trade Agreement (DR-CAFTA), which includes Costa Rica, Dominican Republic, El Salvador, Guatemala, Honduras and Nicaragua; and
Individual FTAs with Australia, Bahrain, Chile, Colombia, Israel, Jordan, Korea, Morocco, Oman, Panama, Peru and Singapore.
Exporters must use specific versions of a certificate of origin form for the NAFTA and U.S.-Israel FTA. You'll find a sample NAFTA certificate of origin form here. Instructions for the NAFTA form can be found at the export.gov website.

While exports to Israel qualifying for duty-free entry into that country once required the green U.S. Certificate of Origin for Exports to Israel, that form is no longer required (or permitted). It has been replaced by the U.S. Origin Invoice Declaration that must appear on a commercial document, which is typically the commercial invoice.
The remaining free trade agreements do not require a specific form, but the exporter must provide certain data elements. According to the U.S. Department of Commerce, a certification of origin can take many forms such as a statement on company letterhead, a statement on a commercial invoice, or a formal certificate of origin.
Customs in the U.S. free trade agreement partner countries have identified required data elements and supporting information for a preferential claim. For example, Chilean customs requires the following data elements on a certificate of origin:
Exporter Name and Address and Tax Identification Number,
Blanket Period for Multiple Entries,
Producer Name and Address and Tax Identification Number,
Importer Name and Address and Tax Identification Number,
Description of Good(s),
HS Tariff Classification Number,
Preference Criterion (The preference criterion applicable to each good as provided in the Rules of Origin),
Producer (Designation of whether the goods were wholly obtained, there was tariff shift, or produced of originating materials),
Regional Value Content (Identify if regional value content was used, if yes, then designate if it was the build-up or build-down formula), and
Country of Origin
You'll find links to sample COOs below:
Exporters can choose whether or not to provide a free trade agreement certificate of origin to their customers. Except for NAFTA, the importer is ultimately responsible for making the declaration. However, the information needed to support the declaration will typically be provided by the exporter or producer of the goods. In other words, the importer is heavily dependent upon the assistance and cooperation of its U.S. suppliers in producing accurate and well-documented declarations of origin.
To meet the needs of your international customers, it's important you understand when it's appropriate to complete a certificate of origin and the type of certification that's required.
---
This article was first published in February 2015 and has been updated to include current information, links and formatting.